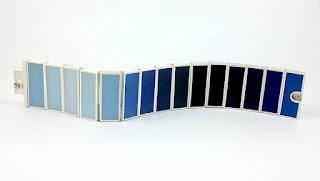 In my last blog post I wrote about the work of prominent jewelry artist Eva Eisler who, along with some of her students, will be selling her work at LOOT next month at the Museum of Arts and Design. However, this will not be the only student work available for purchase at the show. The curators have invited the 2012 Graduates of the Jewelry Design Program at FIT, New York to also participate.
Here is what else you can expect ...
Emmeline Hasting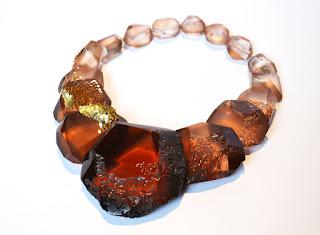 Hasting bold jewelry is made of carved perspex, stainless steel, titanium, and precious metals. While in my opinion the artist's jewelry resembles marine life, she says that she was inspired by the visualisation of sound waves, music and related natural phenomena.
Ullie Kaiser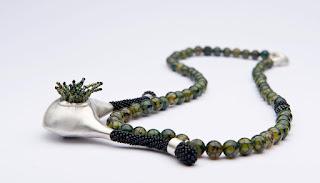 Kaiser's one of a kind jewelry combines beads, pearls, and silver in unusual and very attractive ways. She has studied metalsmithing and bead crocheting and therefore employs both in her jewelry. Whether it is a ring, a brooch, or a necklace, her beaded work is non-traditional. Kaiser uses the beads as decorative details and not as the main component.
Momoko Kumai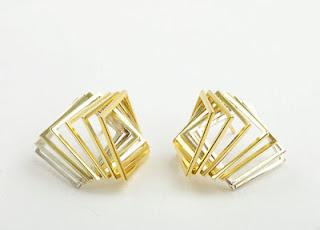 Kumai splits the materials that she employs, and the resulting work, into three categories: "the transformation from permanence, semi-permanence to impermanence." In the permanent series, she makes rings out of silver and gold, even developing her own alloys. In the semi-permanent series, she combines permanent materials, such as silver with impermanent materials, such as silicon and yarn. Inspired by the forms of twisted paper. And finally, in the impermanent series, she makes "wearable" paper jewelry using tissue paper and Washi (Japanese paper) which she says are are very strong when twisted. Of these pieces she says, "I keep my design simple because I want to emphasize the beauty of paper's shades."
Ute Kolar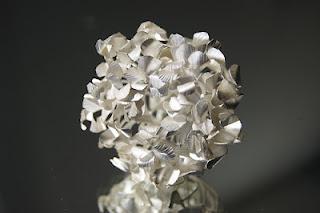 Kolar's work is inspired by gardens. Her original jewelry, made of sterling silver and decorated with pieces of glass, beads, and stones such as onyx and coral, resembles ruffled flower petals. Kolar says that her 'work has evolved in time, acquiring a visually light and airy quality as well as becoming physically weightless in spite of its volume."
Cinnamon Lee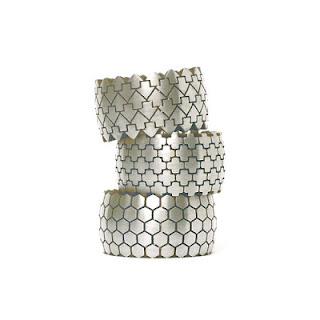 Lee puts as much thought into the creation and design of her jewelry as she does into lighting design. Sometimes combining the two. The rings from her Covert series, which look like regular steel and silver rings on the outside have per-programmed LED displays which light the rings up from within. Trained as a gold and silversmith, Lee uses "3D computer modelling and rapid manufacturing processes in conjunction with traditional gold and silversmithing techniques to produce work that explores the intersection between technology, the machine and the hand-made."
Dominique Labordery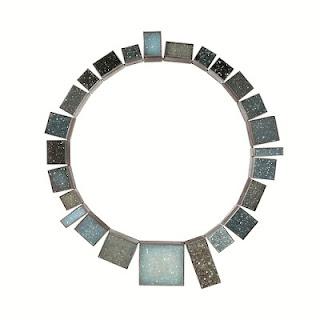 Labordery's jewelry is described as being "deceptively simple". The above necklace is made from pieces of agate, oxidized silver, and gold.  The jewelry artist, painter, and designer creates pieces that are sculptural and very minimalist in their aesthetic; yet like a building by a great architect, speak volumes without saying much.
Stefania Lucchetta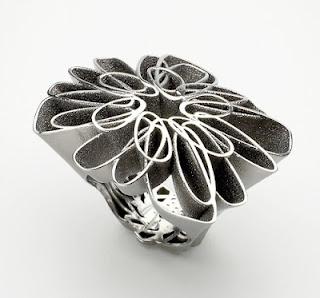 Industrial designer Lucchetta's jewelry "recall the machine age, organic chemistry models, or even Japanese lanterns" is designed to "challenge the preconception that the artist and the machine are always at odds." This particular ring, from the Sponge series, is a limited edition and was made from stellite, an alloy known for wear resistance. Jewelry that stands the test of time, now that is something that can be worn proudly.
Asagi Maeda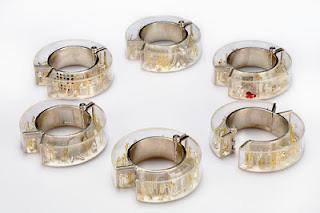 Asagi Maeda's delightful pieces were the subject of a blog post several months ago. The above bracelets (2008) are from an ongoing project called Department Store of Dreams. If you look closely, you will see tiny little gold figures going about their "lives" inside clear plastic bands. About her unusual jewelry, Maeda says "My favorite motif is a box...it contains a world that is separated from the outside world. The possibilities of the inside world are unlimited. I like that a box can overflow with my imagination." 
Alissia Melka-Teichroew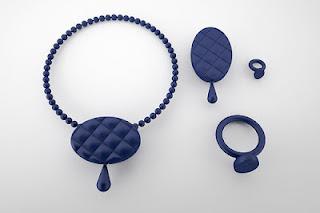 Melka-Teichroew is the founder and creative director of New York-based design studio byAMT, which creates jewelry, home goods, and furniture. Under byAMT, the artist has created a line of jewelry called Jointed Jewels which are pieces made of ball and socket joinery using 3D printing process laser sintering, where a ball can be 'printed' inside another one. The concept was developed around ball joints that are normally found in hip replacement surgery. The result is an innovative, colorful, and simply fun collection that references traditional jewelry forms.
For more visit http://madaboutjewelry.tumblr.com/
LOOT will be on view at MAD from September 11-15, 2012.