Over the past few weeks I have accumulated a few more empties so I thought I might as well include them in another empties post for you! I'm still on a mission to use up more of my products as I seem to have a never ending supply in various places around my room so it feels good to have used up a few more since the last post.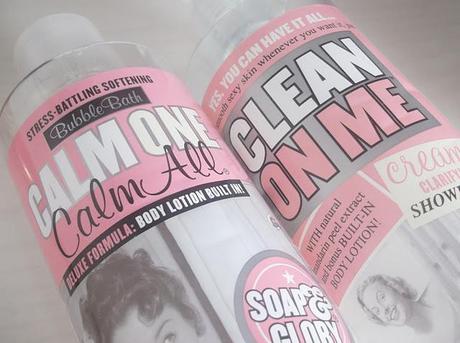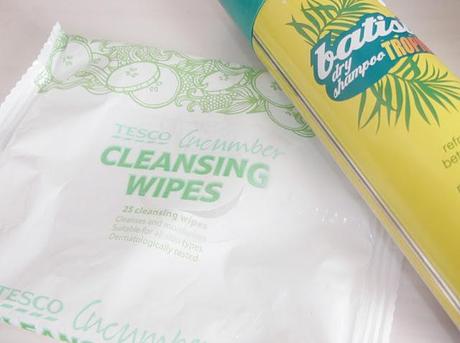 Soap & Glory Calm One and All Bubble Bath: I got this bottle of bubble bath in the Big Splendour gift set at Christmas and this is me just finishing it which says a lot, although I did chop and change between a few bubble baths and bath bombs in that time so it did get its fair share of use every now and again. I wouldn't say this was the most amazing bubble bath that I've tried as it was nice enough but didn't seem to create as many bubbles as I expected. I did really enjoy it for the Soap & Glory smell alone but I can't see myself repurchasing as it was nothing too special and at £5.50 it is a fairly expensive bottle of bubble bath that didn't wow me.
Soap & Glory Clean On Me Shower Gel: On the other hand, this Soap & Glory shower gel is my absolute favorite and comes in a large 500ml bottle (with a pump which comes in very handy!). I am in love with the smell of the shower gel and I find that it leaves skin so moisturised after use which is always a lovely feeling when you get out of the shower. I think that this has been my third bottle so far and the shower gel is still my favorite Soap & Glory product of all time. A little of this product goes a long way as it lathers up nicely and I will definitely be repurchasing this shower gel for the foreseeable future. I've already got another bottle as back-up so that will quickly be getting put into the shower.
Tesco Cucumber Cleansing Wipes: I don't know how much I can say about facial cleansing wipes as they all seem to do the same thing in the end, but these Tesco wipes have been great for those nights when lazy me can't be bothered to take my make-up off with my Cleanse and Polish. The cucumber scent is very refreshing but doesn't linger to long which is nice and I do feel as though my skin is left feeling very clean and make-up free after use. I can't remember how much these cost but for Tesco's own brand I can't imagine them being more than a pound. I would definitely repurchase these wipes when I use up the other packets that I already have.
Batiste Tropical Dry Shampoo: Surprise surprise, I have gone through another can of Batiste dry shampoo but I thought I would include it anyway as it was still an empty. I use dry shampoo quite a lot as I tend to have really oily hair the day after washing, with a few sprays leaving my roots looking clean and dry again. I love the tropical version of the dry shampoo as the scent just screams HOLIDAY to me and I've had a few people ask what the nice 

coconut smell is when I'm out and about. I usually buy Batiste in the older 400ml cans which are available in stores such as Savers, Body Care and Semi-Chem for about £1.50 which I think is a fab deal when compared with the newer cans costing between £2.99 and £4.99. I will most likely be repurchasing although I have been looking into the Lush No Drought powder dry shampoo as there seems to be a lot of product in there which would last quite a while as opposed to me going through a can every few weeks.

So there you go, that's my most recent empties and what I thought about them. Have you tried any of these products and if so I'd love to hear what you thought about them!