We arrived in Melbourne in evening rush hour, grubby and exhausted from three days on the great ocean road. With no time to spare, we checked in to our hotel and had a quick change before jumping in a cab to the Moonlight Cinema.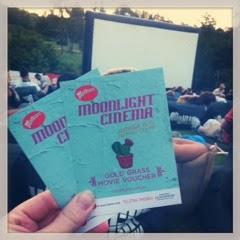 My brother had given us golden grass tickets as a present, and with the recent passing of Philip Seymore Hoffman, we decided a viewing of The Big Lebowski on our first night in Melbourne would be choice. 
Our cab driver was rubbish. He didn't know where the botanical gardens were, and kept trying to drop us off at random tourist spots before asking a local for directions. We got there eventually, and ran in, hot and bothered, but luckily in time. At the ticket office, a man dousing himself in mossie spray apologised. "Sorry, I'm a Pom" he said. We forgave him and asked if we could steal some spray for ourselves. 
Our golden grass tickets took us to the front section with bean bag seating and waitress service. We'd skipped dinner, so ordered the burger combo and some beers, and sat back in wait of the film. With city skyscrapers in the distance and numerous fruit bats flying over head at dusk, it was a pretty, new and exciting environment. An enchanting welcome to Melbourne, setting a standard for the days to come..