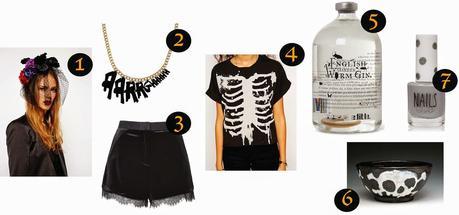 With Halloween just around the corner, here's a quick round up of some fright night inspired pieces.
1. I love this day of the dead inspired black floral veil from ASOS. Halloween is a great excuse for otherwise slightly depressing accessories.
2. This necklace from Tatty Devine is good all year round, but a must-have for Hallow's Eve.
3. Who doesn't like a bit of velvet and lace every now and then? These cute shorts from Topshop will add a bit of vintage glamour to any Halloween outfit.
4. You can't go wrong with a skeleton, and this one from ASOS is pretty much perfect.
5. Wash down your halloween swag with the English Garden Worm Gin from Selfridges. Also great as a candlestick holder once the gin's been had.
6. If you're celebrating at home, this little skull bowl is perfect for keeping candy at arms reach.
7. I do love a bit of gray. This shade of nail varnish from Topshop is satisfyingly dull.