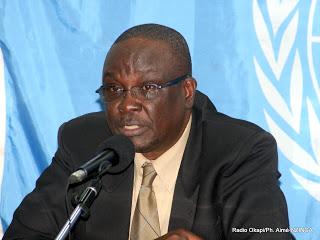 (PHOTO: Madnodje Mounoubai, MONUSCO spokesman)
***
At the MONUSCO weekly press briefing of Wednesday, November 28,
MONUSCO Spokesperson Madnodje Mounoubai bristled at the notion long
peddled by supporters of President Joseph Kabila that the DRC is under
a crippling arms embargo.
That notion, now widespread in the DRC, was no doubt concocted to
justify the poor performance of the DRC in theaters of operations.
(Full disclosure: I've time and again repeated that false assertion on
this blog.)
Bristling at a question posed to him regarding this supposed arms
embargo, Madnodje Mounoubai retorted:
"This country is not under an [arms] embargo by the United Nations.
The embargo was imposed by the Security Council of the United Nations
in 2003 and it was lifted in 2008."
Madnodje Mounoubai was referring to UNSC Resolution 1807 of 31 March
2008 which, in its Paragraph A, Subparagraph 2, stipulates that the
Security Council "decides that":
"[...] the measures on arms, previously imposed by paragraph 20 of
resolution 1493 and paragraph 1 of resolution 1596, as renewed in
paragraph 1 above, shall no longer apply to the supply, sale or
transfer of arms and related materiel, and the provision of any
assistance, advice or training related to military activities to the
Government of the Democratic Republic of the Congo [...]"
As a final nail in the coffin, Madnodje Mounoubai added:
"There's an embargo on arms destined to the DRC. But that only
concerns armed groups and not the Congolese government. There are
anyway rules that regulate the sale of weaponry. We're seen weaponry
paraded here on the [main Kinshasa] boulevard on the occasion of the
fiftieth anniversary of the independence of the DRC. Weapons are not
manufactured in the Congo. They were purchased somewhere!"
--With Radio Okapi & Kinshasa media--
***
PHOTO CREDITS: Aimé-Nzinga
Via:
www.radiookapi.net