I love monthly memes, especially ones that involve the use of a recent photo to depict a particular month.   Katarina at Roses and Stuff runs one such lovely meme, which is headed with the following:-
On the 15th of each month I will post a shot of one Particular motif, in order to document the changes of the seasons. It would be nice if you would like to join in!
There were a few days in March when I really felt that it was heralding the start of Spring.  We had some definitely warmer days, the sun shone and more importantly    it didn't rain.   However, that didn't last long and on Tuesday we had some very heavy snow on the South Coast.  It was still around on Thursday when I went for a walk along the beach.  I can't remember the last time I saw snow on the beach at Worthing so whipped out my mobile (cell) phone and took a photo.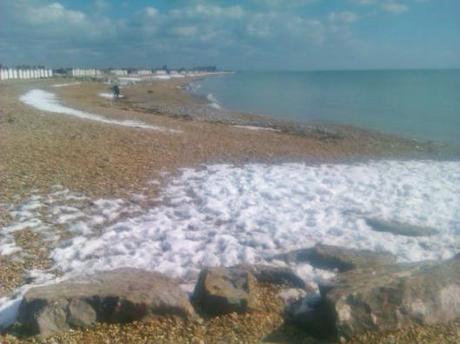 Yesterday was a beautiful warm day in the sun, so the juxtaposition of snow on the beach was all the more bizarre.