First Impressions
Coconut has become such a boring thing, with it being relegated to the role of health food or the forgotten chocolate in the quality street box.
I never tend to hold out much hope when something claims to be deliciously coconutty. But alas, I have not yet given up! I came across these whilst picking my snack in my Boots meal deal, and I was intrigued. Where thy sweet? Where they savoury? Or perhaps a mixture of both.
I quickly grabbed them, rushing to the till to buy them and munch on as soon as I got home.
The packaging is quite fun, with a playful feel to the design. The colours worked well to play on the traditional colours associated with coconut flavours (anyone actually know where this has come from...?). The font was great, both easy to read, whilst still giving you a feel for he brand and what they stand for. I really enjoyed this.
With a variety of brilliant claims, such as high in fibre, and one of your five a day, I couldn't find a reason to resist.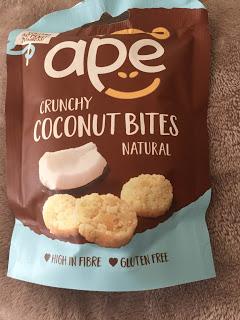 On to the review
The serving size is pretty good. It doesn't look particularly generous at first, but it becomes apparent that a little certainly does go a long way with these.
They were crunchy, and crispy, making you chew them thoroughly thus prolonging the munching. The flavor was delightful, totally natural and incredibly moreish. The coconut thankfully shone through beautifully, with the slight sweet and salty undertones only working to highlight this. This balance of flavours was done to perfection. I was left feeling satisfied and filled whilst drinking my coffee.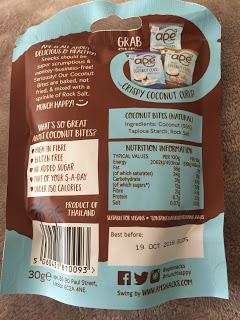 Final Thoughts
Overall, I think that these are simply brilliant. They work well as a mid day snack, or just part of your lunch instead of something like crisps. Plus, unlike crisps, they count as one of your five a day!
I really want to try the rest of the range and find out if they are just as good, I have high hopes!
Rating - 9/10
Vegan - Yes
Calories - 148 per 30g pack
Buy Again - My new meal deal staple!