Mark Webber fastest on Friday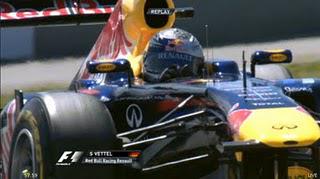 Can Vettel manage to be on pole position for
the sixth time in a row on Saturday?
Webber set the fastest time at the Circuit de Catalunya on Friday. Lewis Hamilton managed to get within 0.039 seconds of the Austrailian with world champion Sebastian Vettel another 0.327 seconds behind. The last one within one second was Jenson Button, 0.718 seconds adrift. This, once again, promises a battle between Red Bull and McLaren for the first two rows of the grid with slight advantages for the Austrian team.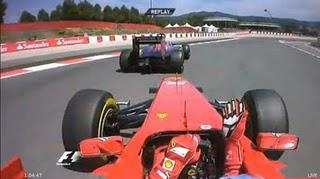 Fernando Alonso complaining
Fernando Alonso, who started fifth on the grid at every grand prix this year, was fifth fastest also on Friday in Barcelona, just ahead of the Mercedes duo Nico Rosberg and Michael Schumacher. Felipe Massa, Kamui Kobayashi and Nick Heidfeld completed the top ten.
Friday Practice 2 - final results
Pos.DriverNat.TeamTimeGapLaps
1Mark WebberAustralianRed Bull1:22.47035
2Lewis HamiltonBritishMcLaren1:22.509+0.03927
3Sebastian VettelGermanRed Bull1:22.826+0.35637
4Jenson ButtonBritishMcLaren1:23.188+0.71832
5Fernando AlonsoSpanishFerrari1:23.568+1.09834
6Nico RosbergGermanMercedes1:23.586+1.11635
7Michael SchumacherGermanMercedes1:23.981+1.51130
8Felipe MassaBrazilianFerrari1:24.278+1.80830
9Kamui KobayashiJapaneseSauber1:24.290+1.82033
10Nick HeidfeldGermanLotus Renault1:24.366+1.89631
11Sergio PerezMexicanSauber1:24.483+2.01338
12Vitaly PetrovRussianLotus Renault1:24.786+2.31643
13Sebastien BuemiSwissToro Rosso1:25.296+2.82633
14Rubens BarrichelloBrazilianWilliams1:25.303+2.83338
15Jaime AlguersuariSpanishToro Rosso1:25.457+2.98734
16Pastor MaldonadoVenezuelanWilliams1:25.603+3.13343
17Paul di RestaScottishForce India1:26.073+3.60332
18Heikki KovalainenFinnishTeam Lotus1:26.417+3.94737
19Adrian SutilGermanForce India1:27.123+4.65320
20Jarno TrulliItalianTeam Lotus1:27.189+4.71934
21Jerome D'AmbrosioBelgianVirgin1:28.036+5.56636
22Timo GlockGermanVirgin1:28.062+5.59228
23Narain KarthikeyanIndianHispania1:29.469+6.99928
24Vitantonio LiuzziItalianHispania1:29.476+7.00631
Related Articles
Barcelona - Practice 1

And the Winner Is...

Hamilton or Button?

Estimated Pecking Order for 2011
You can have a look at the archive for a list of all articles