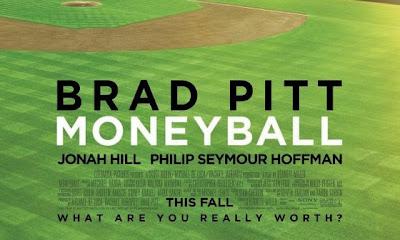 The life and times of a baseball manager, Moneyball is not a new story. It's a real life inspired story, but the disjointed team coming together because of a new coach/manager/team member and winning or almost winning a championship has been done many times. Moneyball is also very American, which is obvious since baseball is primarily an American sport.
Brad Pitt gives a very strong performance as Oakland A's manager Billy Beane who with the help of Peter Brand (played by Jonah Hill) goes about restructuring his team in a very unorthodox manner using computer analysis skipping over the roles of scouts. The film scores well because besides the whole underdog story, it also looks at the politics of the game and more so at the perceptions people make after the team's victory or defeat.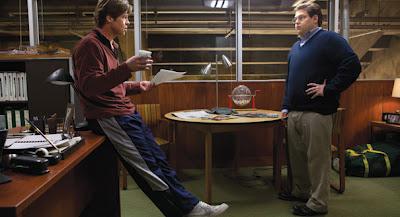 Although I have always been an equal opportunity sports person when it comes to films, I found Moneyball too technical and thus a tad boring at times. Had it not been for the performance by Brad Pitt, I would have lost interest in the movie right at the start. I understand that the changes that were brought about by Billy Beane were revolutionary for baseball, but for once I felt personally they didn't mean much, to me, and thus the diminishing interest in the story of the movie.  
Surprisingly enough I also found a lot of similarities between The Damned United and Moneyball. Both the movies somewhat show a similar father-child relationship. Both managers don't watch the games their teams are playing. Both films have the manager's assistant as the real brainchild behind good team selections. The Damned United had more spunk to it, more panache, and better characterization, and thus is a much more interesting film.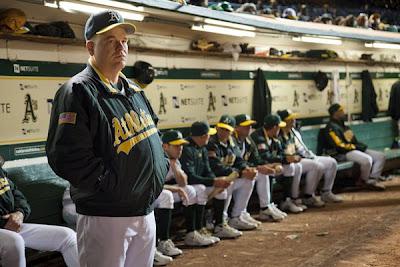 I also was very unimpressed with the fact that Jonah Hill got an Oscar nomination for his role in this film. Yes! He has come a long way from his Superbad days and it was a more mature and good performance, but it failed to leave a strong impact, certainly one that would or should lead to a nomination.
Which brings me to the most annoying factor of the movie; the misuse of Phillip Seymour Hoffman. To have someone of his acting caliber and give him a part that has very little screen time (I am aware greatness can shine in even few minutes, but still) and just not enough meat in the character was truly disheartening.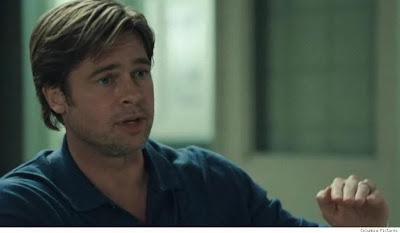 Moneyball is a well made film and a film that seemed very sport specific. I did not dislike the film, but it lacked a certain intensity and a worldwide appeal that might have made it more interesting for people who don't follow the game of baseball.
Rating 3/5