If you read my last post about my 'not so casual look', and how I end in dressing up my casual looks too, then you've hit a jackpot today, as I am talking about a few other ways you can effortlessly elevate any casual look. 
Accessories play a major role in determining the sartorial success of any outfit, and when I say accessories I don't just mean jewelry- your handbag, your shoes, your scarf, all of the aforementioned is accessory. Usually the chicest, trendiest looks are the hardest to find, but an accessory that you spot on the runway can be used to play up your regular outfits and to give them a fresh look. 
If you put my look through the fashion scanner, you would spot the following accessories, that I used today to dress up that casual blue dress: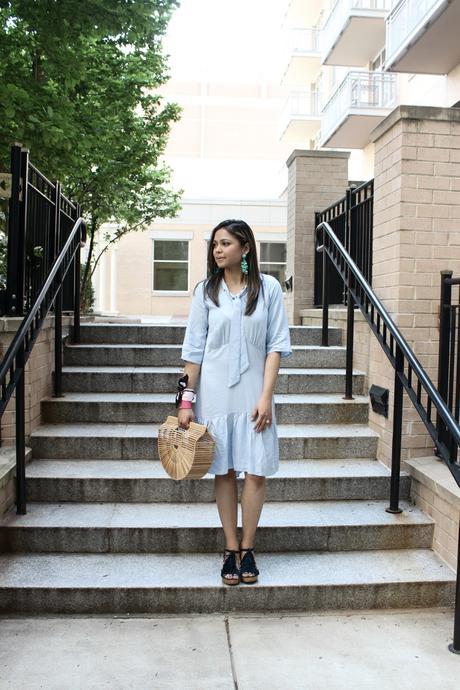 1) Earrings/ Jewelry- if you love statement jewelry, then show that love in your look. Jewelry has always been a girl's best friend and is the most easiest and most affordable way to update any look. Choose one that matches your personality. If you love statement earrings like me, then these are a must-have. 
2) Shoes- shoes can definitely make or break any look. The best of the best look can look grim, if the shoe-game is not played well. Your shoe doesn't have to be boring and black, go for one that is fun, comfortable and coordinates with your look. Spring/summer is all about open-toe fun and this year I am going all wedges with a side of fringe.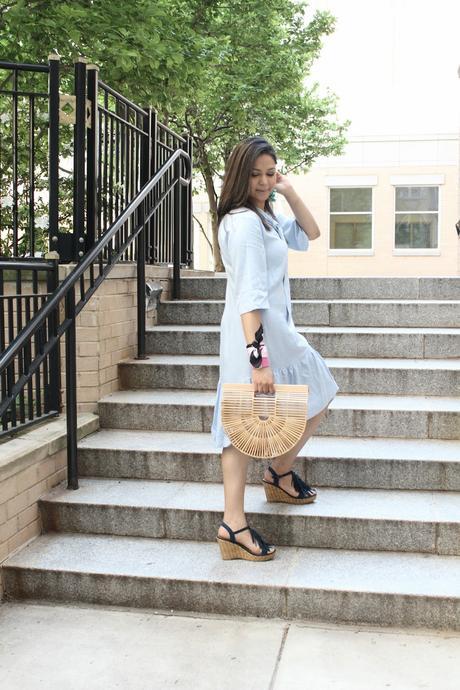 3) Bag- my favorite accessory happens to be 'the bag'. Earlier I was a hoarder, I would just buy any bag of any quality and then loathe over the zipper breaking, leather-cracking and sort. Now my motto is to buy less, splurge and stick to classics. Over these years I have added a few classics like this and this to buy wardrobe. As much as I love a classic bag, there is always some wiggling room for an occasional indulgence in the trendy. For instance this Cult Gaia bamboo bag has been the most sought after bamboo bag year after year and after some self-deliberation, I caved in this year. It is summer-perfection and the most sturdiest wood bag I have ever come across. I would  totally recommend giving it a try.
4) Scarf- believe it or not, a scarf is the easiest way to dress up your neck and your arm and even your handbag. This little piece of fabric is an accessory wonder. A scarf comes either square or oblong. Both drape well around the neck, but the square gets an edge over the oblong when wrapping around the wrist. I have been coupling my scarves with my accessories, picture here and here, and I am loving it.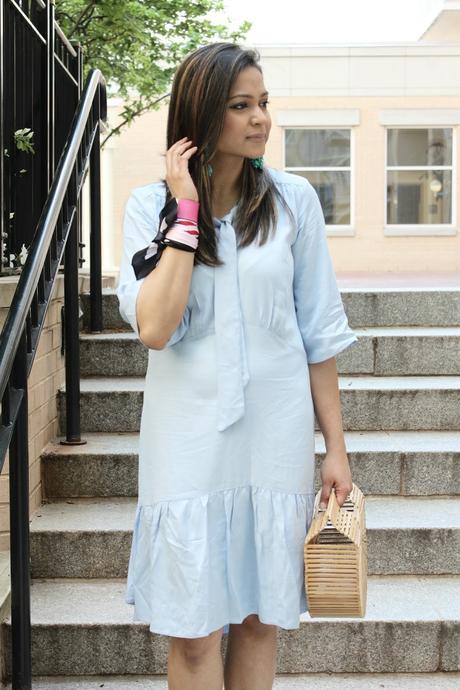 I AM WEARING 
dress- c/o Closet London, buy same  heels- c/o Pink Martini collection, buy same  ( similar ) bag- Cult Gaia, buy same earrings- c/o Sachin and Babi, buy same ( another gorgeous color )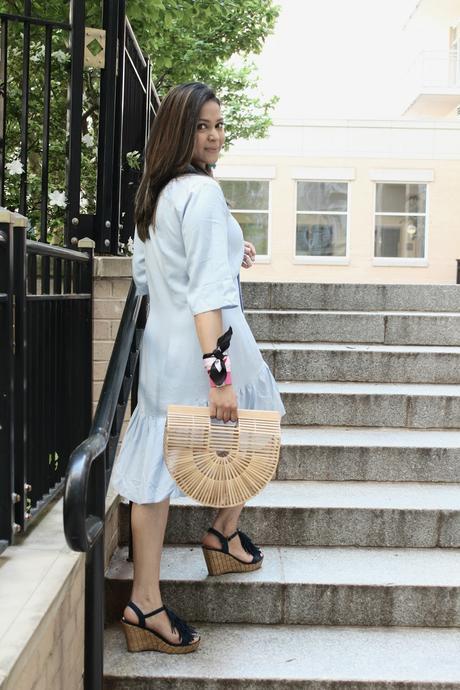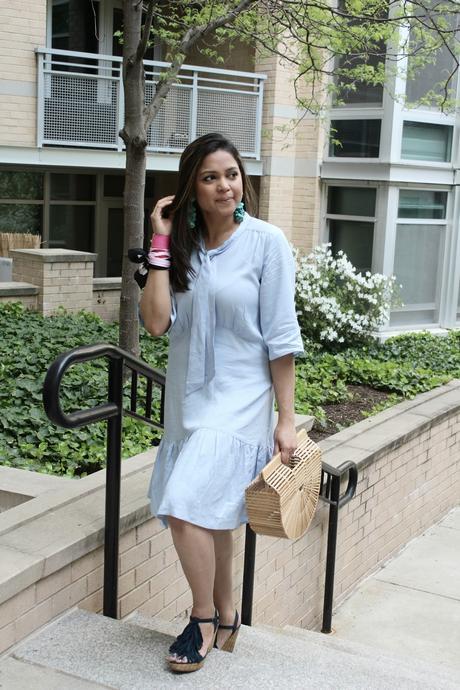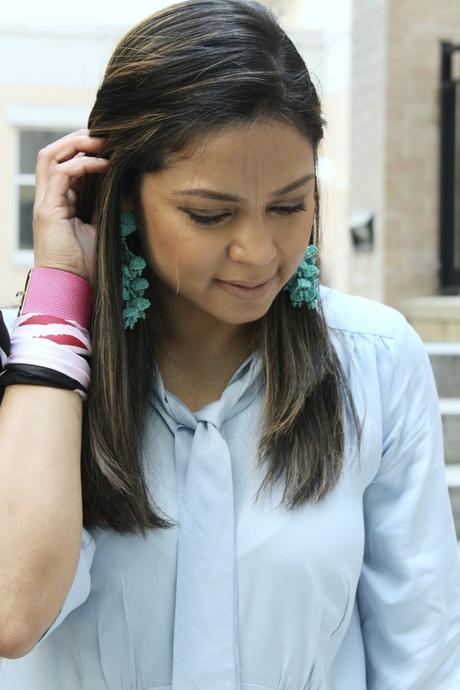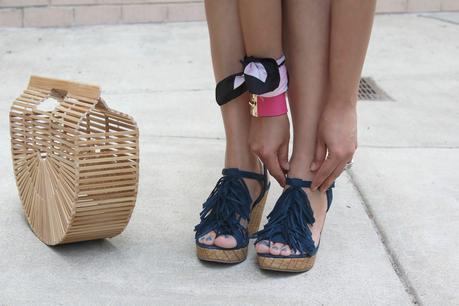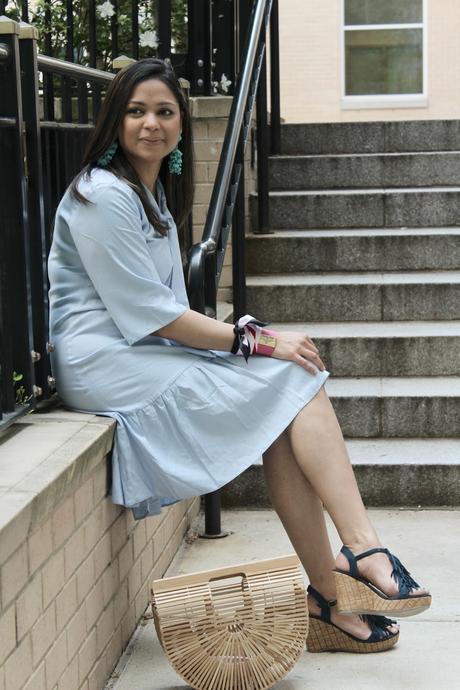 SHOP MY LOOK