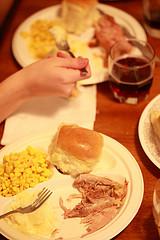 Image by Pink Sherbet Photography via Flickr
Happy Monday after a long weekend holiday –
If you're anything like me you had a great holiday weekend – with a lot of left over's, a lot of family, a lot of indulgence and a lot of deserts!
Okay – I hope you're not like me on this – I over ate and over indulgenced and had a great time with the 11 year old nephew who shared our lives for the last four days and the other boys, girls and animals that graced our home, barn and horses this past weekend.
And as this Monday begins I will recommit to my routine, my habits and my consistency that helps with my focus and my results.
Though the results I experienced in reading fairytales aloud, lopping horses with young boys and giggling with girls was a wonderful trip away from routine and even though I adore my routine and my habits I am glad for a long holiday weekend – I'm grateful and isn't that what a Thanksgiving day/weekend is for?
I think it is – I think it's good to be grateful and to be present and to be – and I'm also grateful for Mondays and new weeks and restarts – I hope you are too!
Happy Monday – do you have your week planned? If not why not do it now?
Remember, you create your day by the way you think! Make it magnificent!
Blessings, Shawna