My mom was born and lived most of her life in Hyderabad before we could call Bombay our home; the place where spicy curries and Biryani's and Qubani ka Meetha (sweet dish from dried apricots) reign over everything else. I have grown up watching and admiring her passion for everything she does and not only just food. She has this superb knack of tackling her day job, tutoring,  giving time to her family, constantly falling back to her hobby of crocheting and putting up a fabulous feasts for her friends without even making it look like an effort. Her dedication is intense – a league from which I consider myself far behind.
If you ask my mom, this Egg Curry she'd cook as part of our meal every couple of months is pretty simple. Something that anyone can do or probably nothing to boast about; but it is special to me because of the memories attached to it mainly of whole family gathering on a Sunday brunch table to enjoy something as straightforward as this. Having Andhra genes in her, she'd cut through this Egg Curry like a pro; creating a perfect balance between hot and sour while coconut milk adds a perfect creaminess to the dish.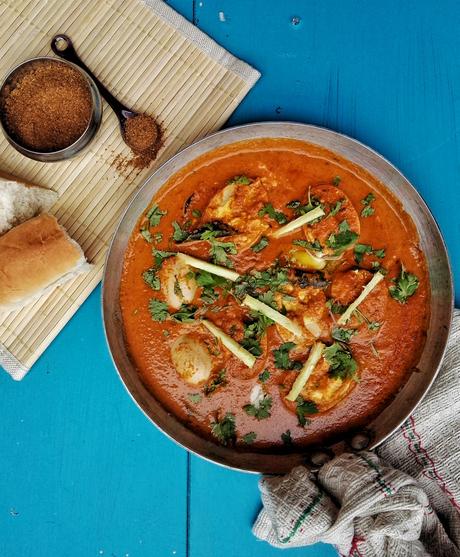 Egg Curry is my personal favorite, however, it isn't always I cook in my kitchen as hubby is wary of eating eggs for lunch and dinner. So, whenever  he is away, I take the liberty to whip it up in double quantities so I can repeat it next day. Although my mom used to go a traditional way in grinding the spices on a rolling stone and it definitely enhanced the flavor of the dish, I cut my time in half using meaningful appliances in my kitchen that creates heart-warming meals for my family.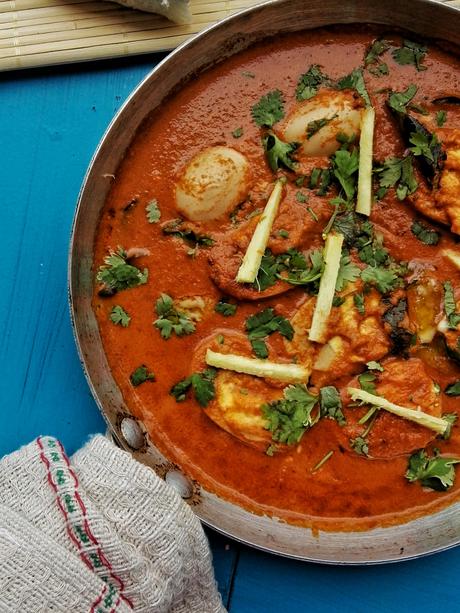 Mom's Egg Curry
Ingredients :
Eggs – 4, hardboiled and peeled
Onions – 3
Tomatoes – 3
Cinnamon – 1 stick
Star anise – 2
Ginger – 1 tsp, freshly grated
Garlic paste – 1 tbsp.
Red chilli powder – 1 tsp
Turmeric Powder – 1 tsp
Cumin powder – 1 tbsp
Tandoori masala powder – 1 tbsp, optional
Green chillies – 1 tsp, finely chopped
Tamarind pulp – 1 tbsp
Jaggery – 1 tsp, grated
Coconut milk – ⅓ cup
Coriander leaves – a handful, chopped
Vegetable oil – 4 tbsp.
Butter – 1 tbsp
Salt to taste
Method :
Fix the onion blade and basket in Philips Onion Chopper. Place onions and chop it finely. Remove and chop tomatoes. Keep aside. In a cooking pot, heat a tablespoon oil and saute ginger garlic till it sizzle. Add onions and cook until translucent. Add the spices and saute for a couple minutes more; followed by tomatoes until they turn mushy. Switch off the gas and let the mixture cool.
Blend the onion-tomato mixture in Philips Food Processor to a fine paste using a small jar. Add only little water, if needed.
Heat the remaining oil in the same cooking pot and add whole spices – cinnamon and star anise until they release the flavors (for 2-3 minutes) on a medium heat. Pour in the onion-tomato paste and green chillies. Cook till oil starts to leave from the sides, stirring continuously so that it doesn't stick to the bottom of the pan. Meanwhile cut the boiled eggs in half and keep aside.
Add salt, boiled eggs, coconut milk, tamarind pulp and jaggery. Stir with a light hand, being careful that the eggs don't break. Simmer for a few minutes. Serve garnished with chopped coriander and ginger sticks and a dollop of butter.
Disclaimer – I've been commissioned by Philips Middle East to share 6 of my best family recipes for #30daysofhomemade, however, the views, story and recipe remain my own.