Walking down 24th Street last week I noticed an exhibition of the work of Ico and Louisa Parisi at Sebastian + Barquet Gallery, a gallery which specializes in 20th century and contemporary design. I was delighted to see the Parisis' work on view but not at all surprised. After all I had just read an interview with the gallery's director, Nicholas Kilner, who revealed that he is seeing a revival of interest in Italian design and was planning on including some rare pieces in his booth at TEFAF Maastricht (the world's most important art fair which is closing this weekend), including a
secretaire
and chair by Gio Ponti.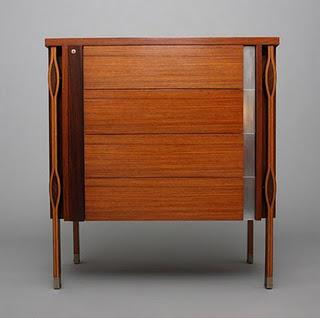 Ico and Luisa Parisi, Small Chest of Drawers (1959), solid and veneered rosewood, molded teak plywood, brushed metal and polished metal elements, produced by MIM Rome.  Image courtesy of Sebastian+Barquet.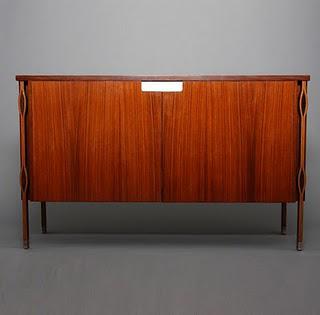 Ico and Louisa Parisi, Two-Door Credenza (1959), solid and veneered rosewood, molded teak plywood, brushed metal and polished metal elements, produced by MIM, Rome. Image courtesy of Sebastian+Barquet.
Titled "Enigma Variation: Ico & Luisa Parisi Between Architecture & Design", it is hard to believe that this is the first exhibition devoted to this talented husband and wife team in the United States. Works on view include pieces from some of their most important private commissions, including the Casa Zucchi in Como, and also examples of their designs for mass production by companies such as M.I.M. and Cassina. According to the show's press release "The concept behind the show is the unfolding of the Parisi oeuvre, in all its multiplicity and complexities, from the immediate post-war years and the duo's independent beginnings in Como up to the ambient of the 1960s-70s, when Parisi presented his Hypothesis for an Existential House at the Venice Biennale."   
Parisi, born in Palermo but worked mostly in Como, had a fertile imagination and lent his talents to the design of furniture and objects and was also an artist and an architect. He liked to stay busy and founded several important art and design collectives. He collaborated with his wife Luisa for much of his career. The 1960's through the 1980's were most fruitful for them (although the pieces in the exhibition date even earlier). During this time they produced the bulk of their furniture designs in a clean, modern style which became their trademark. The Parisis' work is devoid of decoration in that there is no ornamentation but it is never boring as the lines of the tables, chairs, whatever the piece may be, are never straight. We can describe their form as being in constant motion, if the legs of his furniture could actually move, they would run away.
Several things caught my eye in this exhibition, including a beautiful and rare multi-colored enamel and steel "Iride" floor lamp (1970), a beautiful sofa upholstered in blue fabric with elegant tapered walnut legs (ca. 1946), and a fabulous walnut vanity (1951) commissioned by the Zucchi family. This particular piece is a favorite of mine. The upper portion of the frame encases the drawers and the mirror is hinged. It is quite surrealist actually.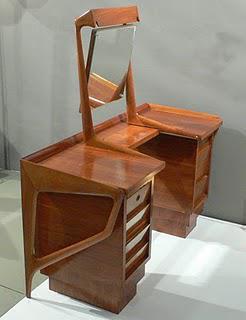 Ico and Luisa Parisi, Custom Vanity (1951), walnut, mirror, metal hardware.Provenance: Zucchi family estate, Como. Image courtesy of Sebastian+Barquet.
Whether there really has been a recent revival in interest in Italian design, I am not sure. Good Italian design, regardless of the decade, has always done well at auction. Prices have always been stellar for important pieces by Bugatti, Mollino, Ponti and Parisi. Personally, I love Italian design. I do not think it can ever be confused with work produced in other countries. It is so unique and stylish, and regardless of its age, young and sexy. But I guess the same can be said of the people who live there.
This exhibition is also co-curated by Brian Kisch, an expert in Italian 20th century design, and will be on view through the end of April.
Sebastian+Barquet Gallery544 West 24th Street, NYC