Our first time at Tresind last year left us in awe and we loved how Chef Himanshu Saini carefully curated an Indian menu with a unique touch. I never went writing about it here because everyone was talking about the restaurant at one point, however, it had to be one of my most memorable restaurant experiences in Dubai (that I have recommended to relatives and friends on several occasions), and something that made me re-evaluate Indian cuisine. Tresind creates hallucination with your palate but not flavors and offers a laid-back fine dining. Situated on the second floor of Nassima Royal, this restaurant is successfully delivering a gastronomical food experience for more than a year to the residents of UAE. And just a little after eight months or so, we had to be back! Just had to….!  
I am dreaming of cosy meals right now. And this Daulat ki Chaat sprinkled with 24 carat gold dust (only in Dubai I tell you!) we had a few months back @tresind_dubai comes to my mind. #notfair #thoughtsoverchai #rainyday #throwback #tbt #dessert #cosymeal #nofilter

A photo posted by Tasneem Rajkotwala (@thoughtsoverchai) on Nov 12, 2015 at 5:20am PST
Tresind can be a hit and miss for few but what really works for me here are the chefs in the kitchen who know what they are doing. They take an extra care for the diners to experience their art through food, are active, energetic, asking for your feedback and are at your table (when required) live-demonstrating their skills in the preparation of their dishes to keep you engaged with what you are going to eat next. And it has to be nothing less than extraordinary!
Here's what we tasted from their summer menu :
A favorite from last time, we revisited Chaat Trolley that is a pure joy of taking street food to the next level. Dhoklas were dipped in liquid nitrogen, freezed and cracked with chutneys, yogurt and other snacks, to prepare what was the beautiful blend of authentic street flavors we have always known.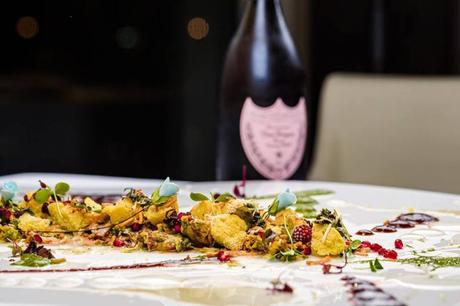 Image Source – Tresind.
Next in line was a deconstructed Pani Puri, a molecular take on another street favorite. Don't expect a regular crisp round gol-gappa but the same old crackling flavors from your popular chaat vendor.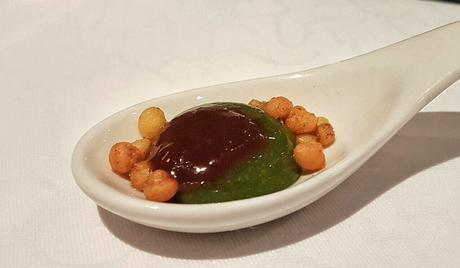 Now, a very unique (something we never had before) Wild Mushroom Chai took us by surprise. A pot of simmering dehydrated shiitake mushrooms (instead of tea leaves), white truffle oil powder converted into a milk powder all looked and tasted like a dream. If you are just as brave, don't give this a miss!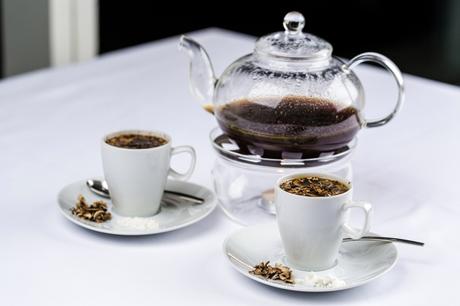 Image Source – Tresind.
While I am totally into my skin with mutton at home, I have to admit I shy away when it comes to eating in a restaurant. Tresind does a wonderful soft Braised Lamb Chop that just melts in the mouth and isn't too spicy as well.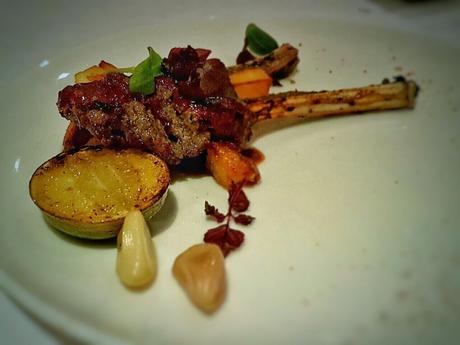 Our starters just didn't end there. The server at our table suggested we shouldn't miss Portobello Steak cooked with Tandoori spices. The chef charmingly showed us how he makes a green chutney to go along with the mushrooms in a molcajete (similar to mortar and pestle) carved from a volcanic stone to bring out the umami flavors naturally in our condiment. This whole dish is so good on its own, we didn't miss the meat at all.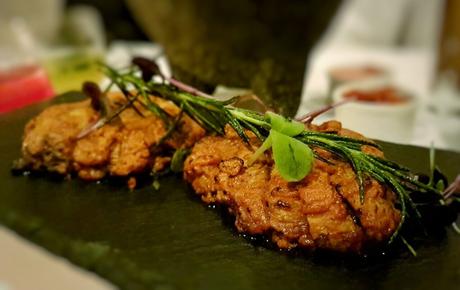 It was a celebratory moment when Chef Himanshu himself came to our table and prepared us a delightful Goan Cafreal with wok fried crisp veggies to go along. I've had cafreal before but I have to say nothing comes as close to this.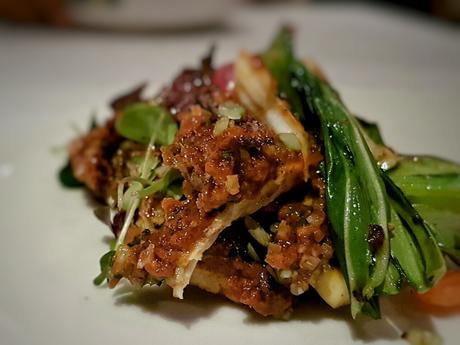 With the start so unforgettable, each of the two mains we had that night were right on par with our appetizers. The first look at hanging "roomali rotis" so tiny made us grin and excited at the same time. We went crazy assembling our chapatis with Chicken Kurchan (although it tasted a lot like butter chicken), chutney and pickled veggies.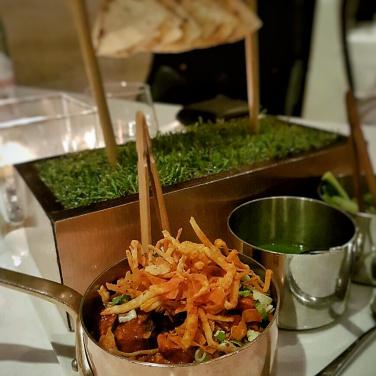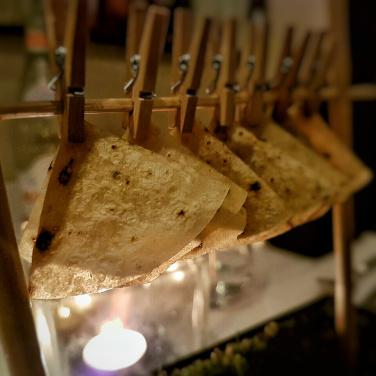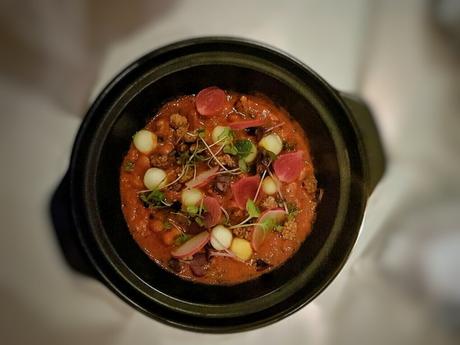 Never leave such an astounding meal without a dessert! Last time we had Daulat ki Chaat, it was an intelligent use of Sohn Papdi with fluffiest cream possible, yet super light on our tummies. This time around Chef displayed all his energy in making us (a popular) Deconstructed Black Forest Cake while we slipped into a food coma. He threw together and formed layers of melted chocolate, caramel, cocoa powder, doda barfi (milk and whole wheat fudge), chocolate shavings, cherries and cracked in whipped cream (frozen using liquid nitrogen). It is HEAVY and def meant to be shared!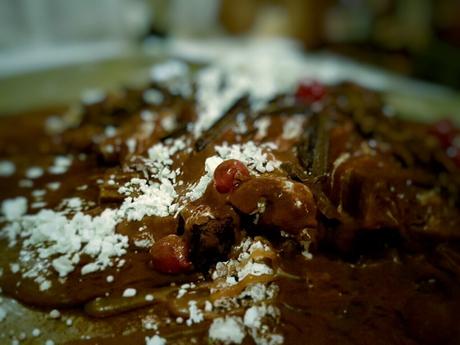 What set Tresind apart is the way chefs treat Indian food so creatively yet don't compromise on authentic flavors. Every plate served is presented well and is a feast for eyes, making the meal so thoroughly enjoyable and alluring for the senses and also making it interactive between the diners and the chefs.
For more details, visit their webiste.
Venue : Tresind, Dubai
Where? : Level 2, Nassima Royal Hotel, Trade Centre, SZR
Contact : For reservations, 043080440.
Cost : Approx. 450-500 AED for two people.
Disclaimer : We were invited at Tresind for the purpose of the review. However, with the food that just speak for itself, all the above views and story remain my own. A few of the images above, of Chef Himanshu, Chaat Trolley and Wild Mushroom Chai, are provided by the restaurant and includes the part of our meal.