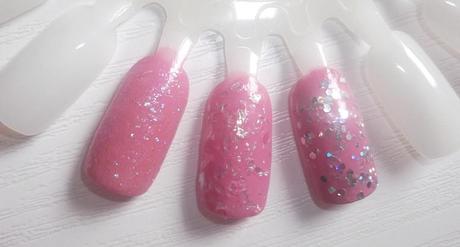 L-R: Jack Frost, Snowflakes, Blizzard (all swatched over OPI Sparrow Me The Drama)
Today is an exciting one for me as I finally managed to get my hands on a few polishes from the new Models Own Wonderland collection (posted about here) which launched in Boots stores last Friday and also launched on the Models Own website this morning at 10am! After searching high and low in the Boots stores near me I finally came across a Models Own stand with the Wonderland section and managed to snap up the 3 effect topcoats, Jack Frost, Snowflakes and Blizzard (and on 3 for 2 which was an even bigger bonus!). Northern Lights and Southern Lights are the other two nail polishes in the collection and feature pink and lilac holographic glitter respectively but I decided to stick with these 3 as they are just so darn beautiful and perfect for the Christmas season.
Jack Frost is full of gorgeous blue iridescent glitter which adds plenty of sparkle to any color on your nails, however I wish I'd swatched this over a darker polish as it looks very subtle over light colours. Watch this space and I promise I'll post a better swatch soon! Snowflakes is very well named as it is a clear polish full of gold and silver flakes which put me right into the Christmassy mood, however this one does take a bit longer to apply as you tend to need a few coats to give a good covering of the flakes. Blizzard is your more conventional glitter polish with various sized pieces of holographic glitter and was a joy to work with as one coat added a lovely layer of glitter to the nail.
Overall I'm so happy that I managed to find these beauties in Boots and can see them getting a lot of wear over the next few months as we get closer to Christmas. Nothing else in my collection was anything like these three polishes so they were a very welcome addition and I'm looking forward to creating plenty of new nail looks with them all, whether it be for an accent nail or a full set of glittery goodness. As I've already said, the Wonderland collection is available in selected Boots stores and currently included in a 3 for 2 offer, and is also now available on the Models Own website where you can buy the full 5 polish collection and a 3-in-1 Base + Top Coat for £20.