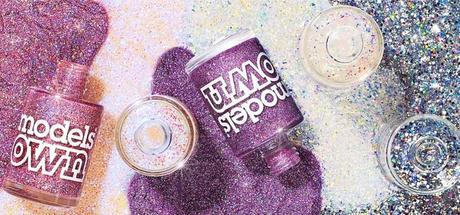 Hooray, Models Own have announced yet another collection and I have to say that this one is my favorite by far! The Wonderland collection is hot off the press right now and already looks like it is causing plenty of excitement on Twitter and Facebook, and a severe case of nail polish drooling from me. I'm not the biggest fan of large and solid pieces of glitter in polishes so the Mirrorball collection wasn't quite for me but it looks like I'll be adding a few of these beauties to my Christmas list as they are the perfect finish for the Christmas season and would jazz up any color on your nails. The collection includes 5 polishes and consists of..
"

Five magical polishes ranging in gradients of subtle to dense glitter for a sophisticated grown-up glimmer. For a manicured finish use the iridescent shades to give an accent of glitter, or be brave and layer up the polish until it's opaque! Each polish gives a different nail finish from frosty to full on snowstorm: 

Jack Frost

, a wash of iridescent soft sparkle in a translucent cloudy base;

Snowflake

, a mesmerising transparent mix of white gold flakes; 

Southern Lights

, an opaque holographic multi-tonal glitter in a lilac finish; 

Northern Lights

, a fine holographic multi-tonal glitter in a pink finish; 

Blizzard

, a dense mix of hand cut glitters to give a silver day-night sparkle" (image and descriptions taken from Models Own Facebook page).


The Wonderland collection should now be available in selected Boots stores and also at the Bottleshop in Westfield London and are priced at the normal £5 per polish, and after a little wait the collection will be available to buy direct from the Models Own website on Friday the 12th of October! What do you think of the new collection?