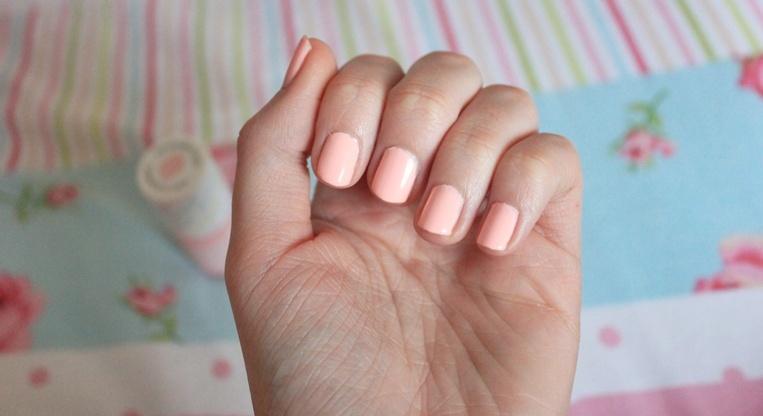 After getting so excited about the Models Own Fruit Pastel scented collection a few months ago, it's crazy that I'd only gone and forgotten about the colours until now! Over our anniversary weekend I wore the shade Grape Juice from the collection (a gorgeous lilac shade but is even a bit on the vibrant side) but silly me forgot to photograph my nails until they were starting to chip and were very worn looking. Before I ramble on too much about that shade, I'd better get back to the point of today's post..
My next pick from the collection was Strawberry Tart as I'm a sucker for pink shades on my nails and this polish is certainly no exception. I was worried incase Strawberry Tart would be pretty much identical to Pastel Pink which is already in the huge Models Own collection of shades, but thankfully I can see a difference in the two which means I can justify this purchase (huzzah). While Pastel Pink can definitely be described as your standard pastel pink shade which I'd even say is slightly cooler toned, Strawberry Tart is the warmer of the two and I'd describe the shade as being a pretty pastel pink which has a little hint of salmon. It's the hint of salmon pink that made me fall in love with this shade as soon as I'd painted my nails as it's unlike any other pink that I own and one that I even find to make my hands look a bit more tanned which is always nice.
Application was nice enough as the color was opaque in 2 coats and the scented formula makes this nail polish even more fun as the smell just takes me back to the scented gel pens that I was obsessed with when I was at primary school. All in all this shade has been a massive hit for me and one that I've really loved wearing! If you're looking for a pretty pastel pink shade which is a little different, I'd definitely recommend Strawberry Tart. You can find this shade on the Models Own website and selected Boots stores for £5.