I finally got around to swatching my purchases from the recent Models Own 'Freshen Up' spring/summer collection of 2012 and here they are. I initially ordered Peaches & Cream, Soda Pop Pink and Bare Beauty  from ASOS but unfortunately Bare Beauty arrived with a broken lid and amazingly the brush was missing too, so of course it was sent back. I had asked for a replacement to be sent but somehow they didn't get the memo and I was refunded instead which in turn was probably the best thing for my bank balance. So here are Peaches & Cream and Soda Pop Pink, just in time for summer.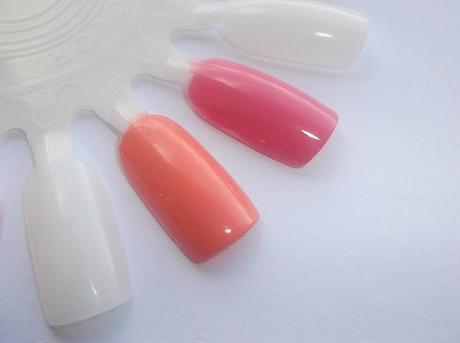 L-R: Peaches & Cream and Soda Pop Pink
As you can see these shades are definitely summer appropriate as they are both bright without being neon toned and I can imagine both of them looking great with a tan this summer. Unfortunately my skin just doesn't allow for tanning of any sort as I'm practically Snow White so I won't be able to reap those benefits but I'm sure those of you with a lovely golden tan this summer would do these colours justice. Peaches & Cream is a very orange toned peach polish and Soda Pop Pink is unlike any other pink I have in my collection as it features more of a muted pink tone but is still considered a bright. I'm horrible at explaining things and that probably sounded better in my head but hopefully you get the idea and can see what I mean from the swatch above! These polishes and the rest of the collection can be found on the Models Own website or ASOS and are priced at £5 each.
Have you tried any of the new Models Own nail polishes?