I had some fabulous time doing makeup for a jewelry event at the Four Season's Hotel, Mumbai hosted by Anita Vaswani (a fabulous jewelry designer) and Jasani Jewelers (at Altamount Rd, Kemp's Corner, Mumbai). The event was the launch of their jewelry line on the lines of Classic, Bridal and Urban (designed by Anita for a free spirited urban woman). The styling for the show was done by the effervescent and talented Tia Paranjape for Style Cracker.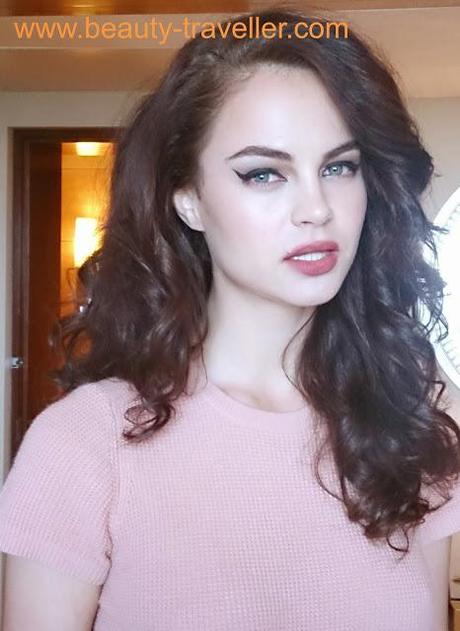 It was fun backstage (in a hotel room) to do makeups to the models from Anima Creatives Model Management and the models were chosen with the amazing personas they had. The Classic lady aka Victoria wore this fabulous salmon colored top and gray skirt and we talked about the classic Hollywood style eye liner flick and plummy stain, all inspired by Pat McGrath.
So lets see how to get this look (all ethnicities btw)..............
Victoria is a beautiful, glowing, vibrant and amazing girl from
Russia
and a model for Anima Creatives Management.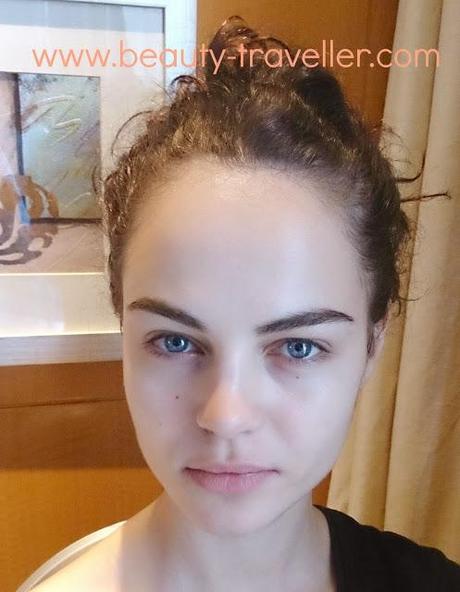 FACE
Begin with cleansing, toning and moisturizing the face. Apply Clarins Beauty Flash Balm to give a touch of flawlessness. Then I primed the face with Smashbox Photofinish Light Primer to keep the makeup lasting longer. To add a touch of luminscence I added YSL Teint Parfait Complexion Enhancer in #2.
For foundation I mixed Lancome Teint Renergie Lift Foundation no.02 with Kryolan Ultra Foundation Cream in Light-Olive and OB1 to get the perfect coloring for her face. I used OB1 as a concealer in the under eyes.
Fixed it all with Makeup Forever HD Finishing Powder.
CHEEKS
Shiseido Accentuating Stick in Rosy Flush on the cheeks first. 
Contoured ever so slightly with Benefit Hoola Bronzer to create dimensions.
For the blush, I applied Clinique Fresh Bloom All over face color in Peony and used the lightest of the colors as the highligher.
On the heights of the cheeks and center of the nose, I applied Accentuating Stick in Glistening Flush S3 to catch and radiate light.
EYES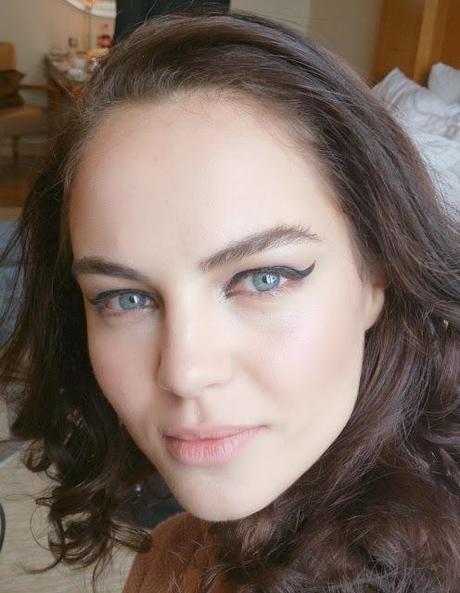 I primed the eye lids with NARS Pro Prime Smudgeproof Eyeshadow Base. 
Then fixed it with Estee Lauder Pure Color eyeshadow in Latte to create a gorgeous uniform lid.
I began tracing the upper lash line with Estee Lauder Artist's Eye pencil in Black and drew the flick. Then to fix and darken the liner, I applied Maybelline Eye Studio gel liner in Black and to give it a glossy touch, I used the VOV eye liner pen (yess...its fabulous). For certain corrections, I dipped a cotton bud in a moisturizer and corrected the feline flick to give it almost a  geometrical edge.
Since the model had small eyes, it was getting a bit difficult and involved a lot of cleaning of the residues and all but in the end we managed. 
To define the crease I used Urban Decay eyeshadows from Naked palette in Naked. On the lower lids, to add subtle shadows, I applied the same color.
On the lid, as a highlighter and in the inner corners I applied a mix of Urban Decay eyeshadows in Virgin and Sin. Filled and combed the brows into place with Urban Decay eyeshadow in Buck.
Just to define the outer corners, I applied MAC Brown Down and blended everything in place.
Curled lashes with Shiseido eye lash curler and applied Loreal 4D Lash Architect mascara which is the worst mascara ever made on this earth.
LIPS
Prepped the lips with Kiehl's Lip Balm in my favorite Cranberry Flavour.
Then outlined the lips with Bourjois Lip Liner in Prune
With a lip brush, applied MAC lipstick in DIVA and then pressed it with fingers to create a sophisticated stain that literally lasted throughout the evening.'
Hope you liked the look. Do let me know in the comments.
Till then,
Ciao

Please do not copy any pictures or content of Beauty Traveller without prior permission. Thanks for reading my blog. I don't give 100% on the authenticity of the content here and it is subject to change without prior notice. Please read the disclaimer for any questions.Thanks a lot for reading my blog. Do subscribe, follow and support. Thanks.