D E L I C I O U S ! ! ! – I love the aroma of lemon & thyme.  My friends' mom uses these flavors in her homemade Zaatar (a blend of Middle Eastern Spices such as these: thyme, oregano, dried lemon zest and sesame seeds). And since I had a lot of chickpeas (soaked and ready to eat), I thought this would be a perfect addition to my homemade hummus. Not only do these spices make the flavor pop, it also has a nice visual appeal.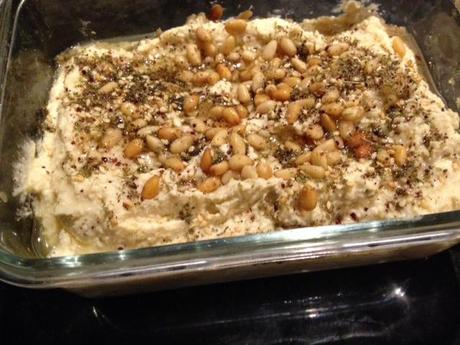 Here's the recipe:
2 cups garbanzo beans (aka chickpeas) – I soaked dried beans, but you can use canned.
1/3 cup lemon juice
1/4 cup olive oil
2 Tablespoons Tahini (sesame butter)
4-6 cloves of garlic
pinch of sea salt
2 Tablespoons of pine nuts (for garnish)
2 Tablespoons Zaatar (for garnish)
2 teaspoons sesame oil (to drizzle on top when it's done) – You can use the oil from your Tahini (sesame butter).
In a blender add garbanzo beans, lemon juice, Tahini, garlic and sea salt and pulse until coarsely combined. Set to blend and slowly drizzle in oil until it becomes creamy. If still too course, add in more lemon juice (or chicken broth) a Tablespoon at a time. Scoop mixture into a glass tupperware. Sprinkle pine nuts and Zaatar on top and drizzle on sesame oil.
Nutrition info. per (1 oz) serving: Cal 78, Fat 5g, Chol 0mg, Sodium 70mg, Carb 7g, Fiber 2g, Sugars 1g, Protein 2g
Hope you enjoy!
Filed under: diet, healthy lifestyles, Nutri-Savvy, nutrition, Recipes