For dinner tonight I went low key and checked out homegrown which I had heard about over on the chowhound boards.  This is kind of a local 'fast casual' restaurant - meaning you order at the counter and they give you a number for your table and then bring the food out to you.  The twist is that homegrown's menu is seasonal and local and is only written on a big chalkboard at the front since it changes daily.  I would definitely recommend it if you're in the area and looking for a quick, casual lunch or dinner.  
I went with the farmer's salad with (local) chicken.  The salad itself was great and the local farmstead cheese was particularly good but I was unimpressed with the dressing.  It was balsamic that I thankfully got on the side since it was oilier than I would have liked and kind of impossible to mix up properly in the little cup.  I find that I like less oil in my dressing than the average person though so for most people it may have been fine.  For me the oil is just there to take the edge off the vinegar.  In fact, I typically just use vinegar only or vinegar and some honey when I have salad at home.  After making it through half the salad trying to dip my fork down to the bottom and get mostly vinegar I made a visit to their wonderful condiment collection and topped the rest of my salad with honey and ground pepper and was much happier after that.  A little splurge in the background....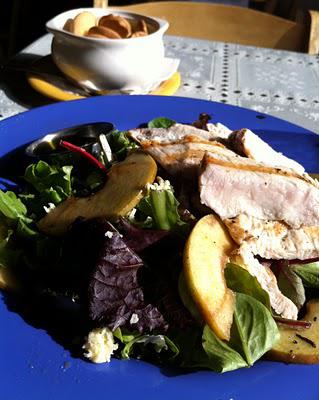 And now coming up for it's closeup - banana pudding!  Not sure how local this was since NC isn't exactly banana country but it was YUMMY.  Served with mini 'nilla wafers and chunks of banana and just about the perfect thing.  This is definitely my favorite thing I've eaten since I've been here and so simple.  I should try and come up with a healthy version of banana pudding, maybe something involving greek yogurt or silken tofu?  I'm open to ideas!