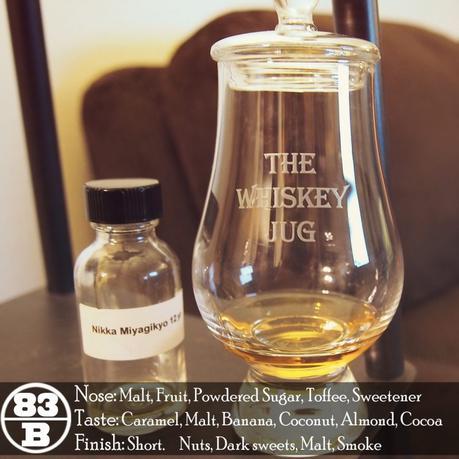 Miyagikyo 12 was one of the casualties of last year's age-stated axing by Nikka and is now fetching some crazy prices on the secondary market and in specialty shops. Looking around online shows prices of $600 – $700, but it looks like at auction they're closing more around the $300 – $500 range so if you're interested I'd look towards whisky auctions first.
Miyagikyo 12 hasn't been replaced by an NAS version, like Taketsuru was, here in the USA yet, but I do see a NAS 500 ml "Single Malt Miyagokyo" listed on Nikka's site so maybe it's on its way. If you're curious about the distillery Miyagikyo was built in 1969 on the island of Honshu which is to the northeast of Tokyo. In addition to the making traditional single malts the Miyagikyo distillery also houses 2 Coffey stills which produce grain whisky used to make Nikka's blends and is where the Nikka Coffey Grain Whisky comes from.
Miyagikyo 12 Info
Region: Honshu, Japan
Distiller: Nikka
Mashbill: 100% Malted Barley
Cask: ex-Bourbon
Age: 15 years
ABV: 45%
Price: Was $120, now much more on the secondary and specialty shops.
Miyagikyo 12 Review
EYE
Amber
NOSE
Sweet malt, fruit, powdered sugar, toffee and artificial sweeter with mere hint of wood and spice. Interesting, but not enticing.
PALATE
Caramel, malt, banana, coconut, almond, cocoa and a light bit of wood and smoke. The smoke comes through lightly and helps balance out the sweetness a wee bit, but it could use a bit more.
FINISH
Shortly lived and comprised of nuts, dark sweets, malt and a wisp of smoke.
BALANCE, BODY & FEEL
Has an ok balance to it, medium body and soft smooth feel.
OVERALL
Miyagikyo 12 doesn't exist any more and I'm not terribly heart broken by it. The Miyagikyo 12 has an interesting nose that's sweet and nutty, but lacks the dimension and depth of many Scottish single malts of a similar age. The same goes for the palate which was pleasant and interesting, but not enticing. I'll be upfront and admit I've struggled to truly like many Japanese whiskies and at the end of the day the price you had to pay here in the USA often wasn't worth what you got; the Miyagikyo 12 is a perfect example of that.
In this sample of the Miyagikyo 12 I got from a friend I found things that I liked and things that I felt ambivalent about, but nothing that made me sit up and say "YES". By no means is it a BAD whisky, but even when it was available in the states it wasn't a whisky I wanted to pay $100+ for let alone the $300+ it's now fetching at auctions, in specialty stores and on the secondary market theses days.
SCORE: 83/100