I made this Tofu sabzi few weeks back.I had  Tofu  quite a few times in Thai and Chinese recipes and loved the taste, so thought of giving it a try myself, it doesn't taste like Paneer but still good. Tofu or Bean Curd is made from Soy Milk and is high in protein. We had this Sabzi with Chapati. So for all Tofu lovers out there can try this Mix Veg Tofu Sabzi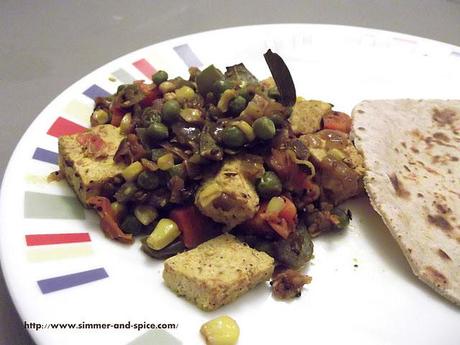 In Pan add oil , once warm add mustard, cumin, sesame seeds, bay leaf , 1 inch cinnamon and 2 whole peppers, stir it for about 2 minutes on a slow flame.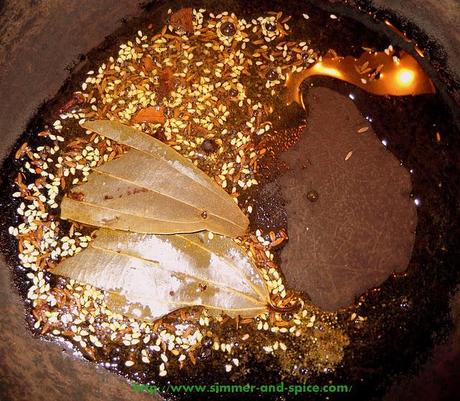 Now add onion , green chili , ginger and garlic to this mixture along with little salt and cook till onions become translucent.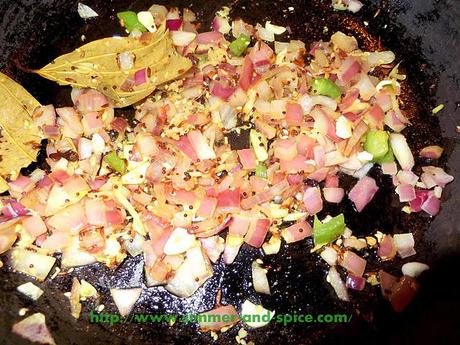 Once this is done add all the vegetables and other spices to this. Mix well and let it cook for about 8-10 mins  by covering it with a lid on a medium flame till all vegetables are cooked.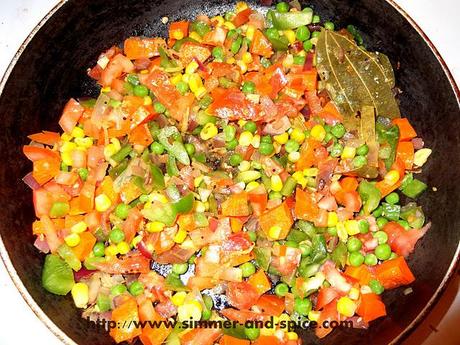 Finally add cubed tofu pieces to these veggies and stir fry for about 5 mins.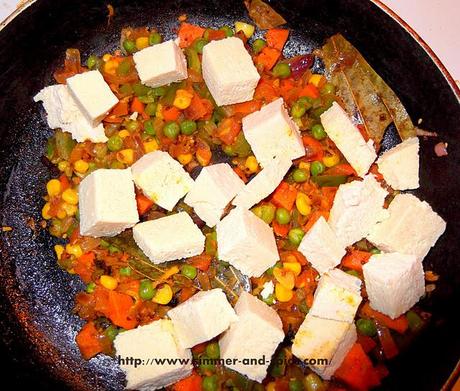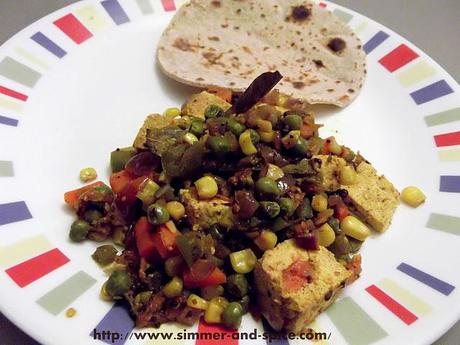 Recipe Details  :- Ingredients :-
10 ounce of firm tofu cut into 1/2 inch pieces

1/2 tsp mustard seeds

 1/2 tsp cumin seeds

1/2 tsp sesame seeds

1/4 tsp asafetida powder

1/2 tsp of turmeric powder

2 -3 whole pepper

1 bay leaf

1 1/2 tsp garam masala powder

salt to taste

1/2 tsp black pepper

 1/2 tsp chili powder  

1 tbsp of  oil

1 medium onion finely chopped

1 tbsp of ginger/garlic paste

2 cups of   mixed vegetables (carrots, Bell Pepper, corn, peas)

1 tomato finely chopped.
Method :-
Heat oil in a  pan once warm add  mustard, cumin, sesame seeds ,asafetida  bay leaf and whole pepper and cook it for about a minute.

Add the finely chopped onions, green chili, ginger/garlic paste along with salt, cook till onions become translucent.

Add the mixed vegetables and continue to saute for 5 more minutes. Stir frequently to avoid burning. Add the tomato , turmeric powder, chili powder, garam masala and black pepper .

Add the tofu pieces and continue to stir fry for up to 5 more minutes until vegetables are tender.
Add more salt, black pepper, or chili powder to taste.
Our Tofu mix veg is ready.Serve it hot with Chapatis.