MIUI 8 Style Icon Pack is a free Android Application available on Google Play Store: Click Below to Download Miu – MIUI 8 Style Icon Pack v135.0  APK File Directly on Your Android Device with the Given Links Below: (Updated: Sep 19, 2016)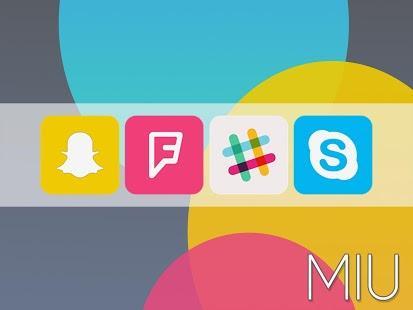 it is a MIUI styled icons crafted keeping in mind the main goal: provide a complete, colourful, vivid, sharp and always updated icon pack.
Miu – MIUI 6 Style Icon Pack
Introducing Miu : It's a pleasure for eyes and it perfectly fits every phone. In order to use it you need a custom launcher.
Features
*2500+ HD Icons
*22 Cloud Wallpapers – if when applying it doesn't perfectly fit your screen, please download them and then set manually
*MIUI 6 Style Icons with a vivid color palette
*Muzei Support
*Behang Support for BLink
*Frequent Updates
*Dynamic Calendars
*Alternative Drawer & App icons
*Advanced Material Dashboard
*Alphabetical Ordering in Nova Manual Icon Picker
*Icons Request – note that only most requested ones will be added each week so please don't leave a bad rating because of this
*Works with those launchers: Nova/Apex/Atom/Adw/Holo/Action/Trebuchet/Go/Smart/Unicon/Aviate/Next/Inspire/KK/Nine/TSF/Themer
*Compatible with CM12 Theme Chooser
*May works with other launchers that are not listed
What's in this version :
– New Icons (3000+ Reached!)
– Activity Fixes
– Thanks for your support
Requires : Android 4.0.3 and up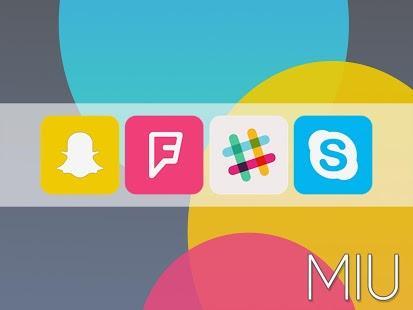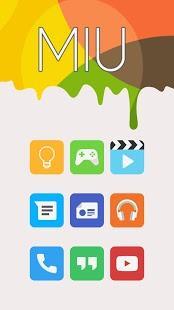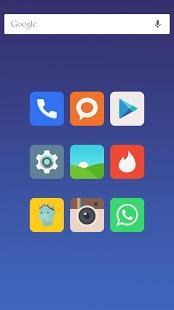 MIUI 8 Style Icon Pack Download Link
DOWNLOAD APK (21 MB)
–
DOWNLOAD MIRROR (21 MB)
MIUI 8 Style Icon Pack OTHER VERSIONS:Miu – MIUI 8 Style Icon Pack v129.0 APK
DOWNLOAD APK (21 MB)
Miu – MIUI 8 Style Icon Pack v132.0 APK
DOWNLOAD APK (21 MB)
Miu – MIUI 8 Style Icon Pack v133.0 APK
DOWNLOAD APK (21 MB)
Miu – MIUI 8 Style Icon Pack v134.0 APK
DOWNLOAD APK (21 MB)