If you remember from our stay in Galveston how we loved the old houses there, especially the more modest homes of we commoners, well Natchez offers up a more traditional "this is how the rich folks lived" trip back in time. Plus slavery.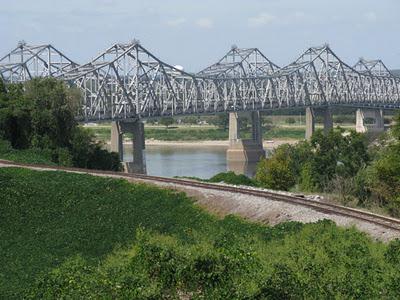 Natchez itself is beautifully situated on the Mississippi, and back in the early 19th century it was not only a major centre for plantations and their grand houses. If the commentaries on the tour guides are to be believed, several grand houses in Natchez were the first of their type, each subsequently much copied throughout the South.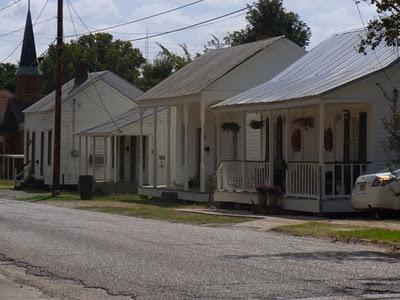 Fortunately, they haven't just preserved the rich guys' houses, and throughout the charming, sleepy downtown area of Natchez many old houses are well preserved, lived-in and loved.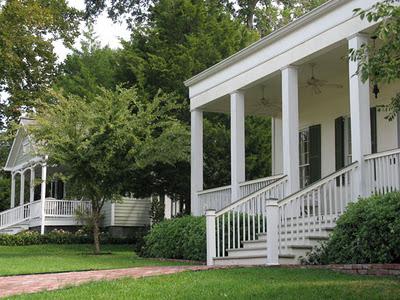 A few streets here are filled with lovely old houses offering B&B accommodation. This is the old part of town, and it's almost deserted. Very very quiet indeed. The rest of the people of Natchez live further out in a typical suburbia of modern houses and shopping malls. It's just the tourists and the B&B proprietors and other service providors who mostly inhabit the charming streets of the old downtown.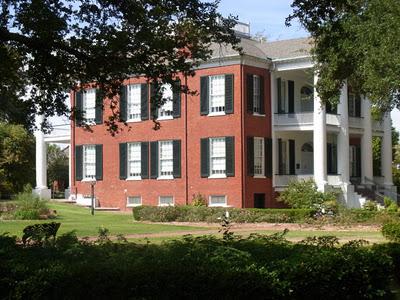 Walking along one of the main streets close to our hotel we came across this grand pile, named Rosalie, and there are several of these dotted around the town. The extensive lands around them have long been subdivided and turned into housing or shops, so we headed out of town just a few miles to find one of these old plantation homes, Melrose, which still sits on a generous acreage and includes all the traditional outbuildings, including the slaves' quarters.

The driveway into Melrose glides past groves of trees draped with ghostly Spanish moss.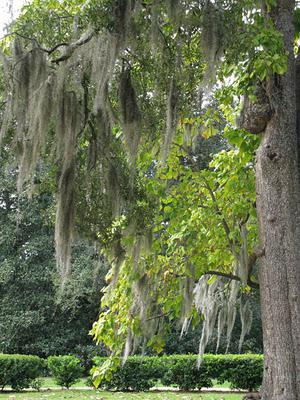 For Pam and I, these trees were the star attraction here. A gentle breeze was wafting through the property on the day of our visit, so the bending fingers of the Spanish moss seemed to beckon us over.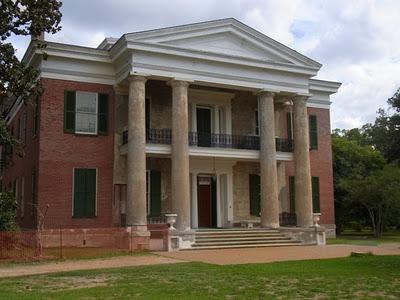 I don't want to oversimplify what was a complex cultural institution, but this is where the baddies lived at Melrose. All other sides of the building are currently covered in very attractive scaffolding, as the crumbling mansion is being refurbished yet again, and from the state of those columns, it needs a lick of paint. Melrose is run by the US National Parks, and when we arrived there the enthusiastic guide asked us if we wanted to do the paid tour of the main house. She was a little crestfallen when we said "no" and then added that while viewing the rich folks' home carried a fee, looking around the slaves' quarters was free. How times change!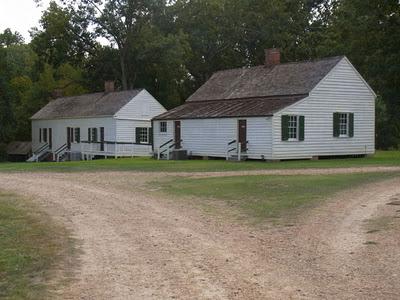 Located about 200 yards away from the back of the main house, the slaves' quarters now look like any two nicely kept old houses. When you go inside the first room there are displays with lots of photos and words that attempt to do justice to the whole institution, from several sides of the story. What was spooky was walking into the second room, where a motion sensor detects you wandering in and triggers off a bit of music and voice telling you all about how the slaves' daily lives passed. Who, what, where, what! Spooky.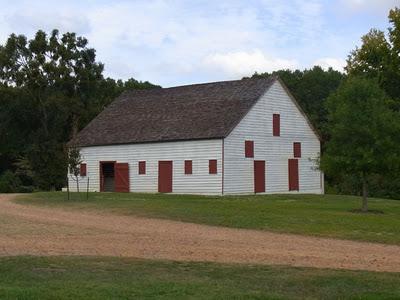 All of the outbuildings are preserved at Melrose, even the dunnies, and all are freshly painted and quite quaint, such as the stables pictured here.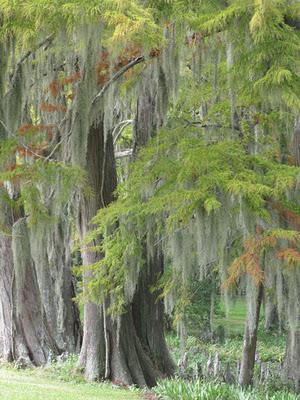 I'm glad they've preserved a whole property here, and not just the grand mansion, but for us the trees covered in Spanish moss were what really captivated us. I know we're going to see a lot more of this stuff (and indeed we have already seen large amounts of it all through Louisiana), but I thought I'd finish off with one or two more photos of it.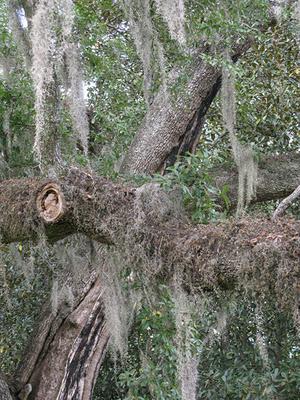 Spanish moss is a bromeliad, the type known as air plants, or to be botanical for a moment, Tillandsia usneoides. It gets all the moisture and nutrients it needs from the air, and it's not a parasite of the trees it infests, and it can be found on all sorts of trees, anywhere it can latch onto, but I've been told that it's most common on the Southern Live Oak.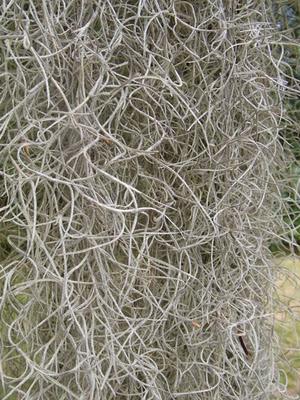 Up close it's just a tangle of soft grey fibres, and indeed Spanish moss has been used in the past as a stuffing for upholstery and mattresses, even car seats back in the early days of motoring.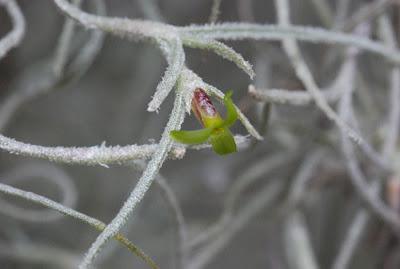 Now, this photo is me cheating just a little. This is the Spanish moss I have growing back home in Sydney.In November 2009 while taking photos of it I noticed little flecks of green on the plant. Out with the macro lens and voila! Tillandsia flowers. As it's the fall season here the Spanish moss wasn't blooming, but this plant does flower, ever so discreetly.
As usual, we're a bit behind schedule with our blogging and driving, as it's a warm yet slightly cloudy morning here in New Orleans as I write this. Quiet, old-world Natchez proved to be a good choice to break the spell of deep-fried, toe-tapping Acadiana before heading to the more raucous, jazzy fun of New Orleans, which I hope to tell you a bit more about in the next posting.