Hey Guys! It's officially Day 1, 9:58am pacific time, and I'm one workout down and one breakfast down of…. wait for it…. wait for it….
66 workouts and ~310 meals/snacks!
let the count down begin.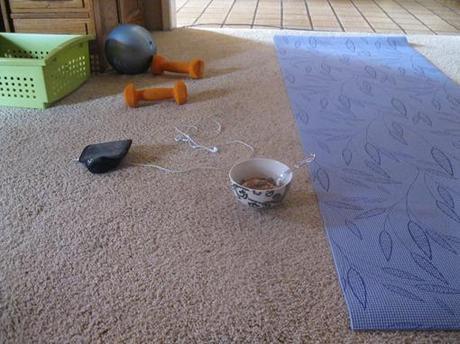 So make it 65 workouts!
Do you want to know what I did? I did a Nike Training Club circuit on my iPhone and it was HARD! I had everything someone beginning to work out suffers from.
I felt like I would vomit once
I had to make my 1 minute rest time in the middle about 10 minutes
I couldn't even do one of the exercises, those darn burpee things
I did a Get Lean, according to my plan in the intermediate category. Maybe this was too hard, but usually the beginner exercises are just too easy for me. I picked The Shredder because it sounded good.
Warm Up
2 min straight leg kicks
2 min back pedal
1 min slide and glide
1 min recover
Work Out
2 min alternating forward lunge with arm curl
1 min plank
30 sec tuck jumps
2 min side lunge with medicine ball rotation
2 min ski jumps with medicine ball
1 min reverse crunches
1 min hip lifts
2 min single leg deadlift dumbbell row (this was so hard!)
1 min burpee to shoulder press
30 sec squat flips with 180 degree turns
1 min push away balance
1 min recover (try about 10)
2 min plank row (I couldn't even do this one, the plank holding the free weights really hurt my hands so I did 1 min plank and then 1 min rows)
1 min reverse crunches
30 sec modified burpee
1 min push away balance
30 sec kick downs
Cool Down
1 min lying quad stretch
1 min standing hamstring stretch
2 min pretzel stretch
The good news, is my ankle feels great. It's handling today's workout great. I think changing up my workouts and not doing the same thing over and over really helps. Running is just too reparative.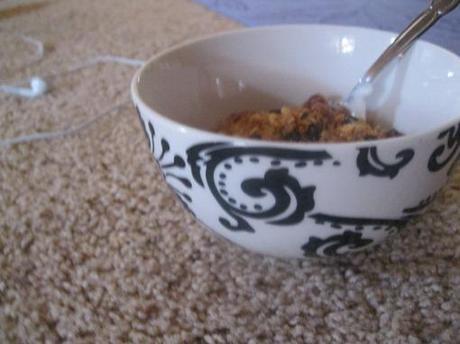 Breakfast, despite feeling like I might up-chuck was Dannon Greek yogurt with some Barbara's Blend granola. Why change up something that's perfect?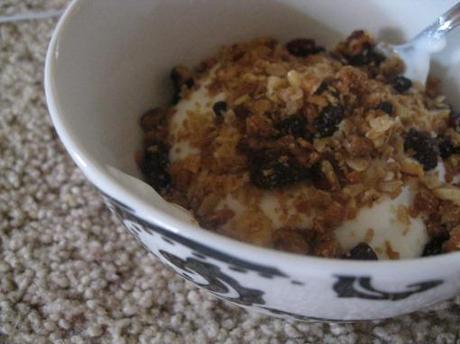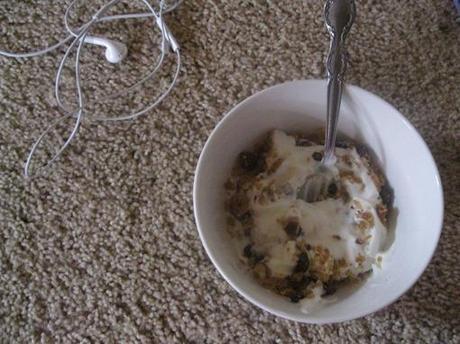 Question of the Day
Are you making plans to get ready for Beach Season?