Last Thursday was a special day for me. I began my day sitting-in on a lecture by an applicant from the Peabody school to be a new musicology professor at the Conservatory. We talked about John Dunstable. It was certainly difficult to maintain my concentration, enough so that I originally wrote this confusing him will John Dowland.  In any case, here's a great John Dowland lute song:
After that was over at around 10:45, I drove over to Visitation Catholic Church near the Conservatory.  It is a beautiful space - a modern church that was built in an old Spanish Mission style.  It is quite beautiful.  Here, I sang a lunchtime performance of Bach's Cantata 196 with a chamber string ensemble and three other soloists.  It went splendidly!
Bach continues to be "my thing".  I am really considering putting more time into finding opportunities in Bach performances than opera at the moment, precisely because I know that voices for Bach are a rarity and I think that I fit the mold just perfect.  And as luck would have it, I received a couple new Bach gigs as of late.  I have two different cantata performances within the next 2 months here in KC, but next April - that's April 2013 - I will be performing the Evangelist in St. John's Passion and be the tenor soloist for Bach B Minor Mass with symphony and chorus at the Kauffman Center, on my birthday no less.  I am super excited for that opportunity.
I am very excited for the Evangelist role, because it is one of the most demanding baroque tenor roles that I know of.  I am very honored to be asked to perform that.
So after my cantata was finished, I headed back to the Conservatory to talk about early American music.  We talked about a technique called "lined out".  This is a technique that Puritan churches used in the 1600s - see if this sounds familiar - where the congregation follows a leader in singing a song where they, at most, have only the words to read from, without the use of written music.  When the pilgrims came to America, they read music from hymnals.  Over a few decades, people weren't taught how to read the music in hymnals and it eventually lead to this call and response type of singing with a song leader singing each verse and the congregation joining in every phrase.  After a many years without following written music, the music inadvertently evolved so much so that the same hymn may sound completely different at the church down the street.  The music got so bad that some churches split from the Puritans to form singing schools (the puritans thought most music was sinful).  As you may of guessed, the singing schools caught on and luckily, music education became an important part of the early American church.  Here are two clips - one of lining out and one of a modern congregation.  Are there any similarities?


I hope we enter a new era of music education.  Singing from a screen doesn't help anyone.  Think if your congregation could make music, read parts, sight sing...I'd be out of a job - the music would be so beautiful!
After my class was over, I went downtown.  The Symphony gave me a special invitation to audition for them. They were filling their concert schedule for next year and asked to hear me sing several excerpts of things.  I arrived pretty early, so I was left sitting next to the security guard in the performers entrance lobby for quite some time.  After a while, I saw several symphony players leave for the day before a lady came to escort me down to my dressing room.
I went down the elevator - an elevator that speaks the floor names in an Australian accent no less - and arrived at the backstage area.  As I turned the corner to pass behind the Helzberg Hall entrance, there was a group of people that I had to move around to continue down the hallway.  As I got closer, I realized why there were so many people crowded in that area.  Yo-Yo Ma was there, practicing with the symphony, immediately before my audition.  The lady that escorted me slowed and then stopped at Yo-Yo Ma's dressing room, waiting for people to clear the way.  Once a few people excused themselves, she made, oh, three more steps and said, "here's your dressing room! We'll give you a seven minute warning before you're on."
My dressing room was right next to Yo-Yo Ma's.
Now, if you didn't already know, I am an opportunist.  I set my leather bag down and checked out my dressing room for a few minutes.  It had a shower, large bathroom, flat screen TV, lighted mirror, some furniture - certainly the nicest dressing room that I've ever been in, however it was pretty gray and black.  Nonetheless, I opened the door to see if I could get in on the Yo-Yo Ma action next door.  Unfortunately, the crowd of people were making their way down the hall and on their way out.  I missed my chance.
I indeed got a seven minute warning - what an awkward time increment - and then was sent out to the Helzberg stage.  The hallway was in a "T" shape.  A left turn at the end of the hall would take me on to the Helzberg stage, a right turn led to the elevators and lobby.   As I was rounding the left turn to get on stage, immediately in the hallway on the right was the crowd of folks and Yo-Yo Ma.  What a way to freak a guy out right before you go on stage.  In my head, I knew he could hear everything I was doing, even though in reality he probably paid no attention to me.  Nevertheless, I went out to center stage and sang.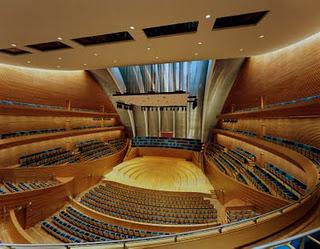 The hall is impeccably pristine.  It is very live and enormous.  Unlike most large halls, there was no awkward sound escape; I felt as if I was in a practice room.  As for the audition, it went well, except for the end of one of the excerpts - I lost some resonance there unfortunately making the high notes sound pushed.  The Symphony maestro, Michael Stern, had me repeat some portions, changing the musicality to fit what he had in mind.  And five or six minutes later, I was finished.  As I exited, the crowd of people next to the stage door had left, and the auditions coordinator said "Congratulations" even though I wasn't too ecstatic about how I did.  Then, I quickly left to see if I could see Yo-Yo Ma as he was leaving, but he was long gone.
In the end, it was an afternoon of misses.  I missed Yo-Yo Ma and unfortunately, I missed the ending of one of my excerpts.  That always bugs me.
The following day, I sang at the Conservatory as they filmed some promotional videos for their production of Carmina Burana on February 20 at the Kauffman Center.  I believe it is already sold out, so I'm sorry if you wanted tickets.  I do have a couple of tickets to the Symphony's dress rehearsal of Mahler's Ressurrection Symphony on Feb. 2.  If you are interested, let me know!
Tomorrow, I have an audition for Union Avenue Opera in St. Louis and on Friday and Saturday, I'll be a guest artist at Kansas State University's Vocal Arts Day.  I'm super excited for that as well!
Finally, it wouldn't be my blog if there wasn't a bad national anthem video, and thankfully, American Idol judge Steven Tyler demonstrates why real singers should be asked to sing the Star-Spangled Banner.  I wonder how he is taking the criticism?