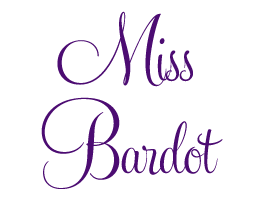 Today is such an exciting day for Ladylike Chic!  Cincinnati's best makeup artist, Nancy Dawson of BRIDEface, is now officially our go-to expert for everything beauty.  She is truly an artist with a makeup brush and is (bonus!) a highly enjoyable writer.  When we decided to switch blogs for the day, I told her how much I love vintage makeup looks, but I had trouble translating them to 2012.  So, she's taken on the challenge with her very first post.
So, without further ado, I give you all Miss Bardot by the very talented Nancy Dawson of BRIDEface...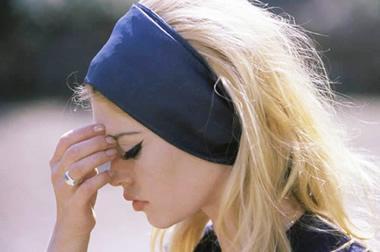 Brigitte Bardot's effortless glamour has been and continues to be a huge influence.  Claudia Schiffer, Pamela Anderson, and Anna Nicole Smith all borrowed heavily from her sexy, lived-in look.  You felt that she had made herself up, done her hair, and then spent the afternoon drinking wine and having a roll in the hay.
Start with a matte finish foundation; dewy shiny skin was not her thing.  Skip bronzer!  It was all about rocking the pale creamy skin.  She favored peaches and corals, which are so fabulous on blondes.  The lips were always a matte; Try Obsessive Compulsive Cosmetics lip tar in Grandma.  But just a dot, for a stained look.  NARS Orgasm is a good choice for the cheeks, to give that naughty flush.
For the eyes, begin with a goldy-champagne cream shadow such as Maybelline Eye Tattoo in Bad to the Bronze.  Apply to the whole lid, angling up at the outer corner.  Next, line the inner rims and top lash line with a black pencil.  Start with a thinner line and then build the line from the mid-eye to create a dramatic winged shape.  (It is easier to build on this gradually than to make one thick swath, unless you are particularly well versed at cat eyes.)  You could always use a liquid liner in a pen form to achieve this.  Use tons of mascara and top with falsies.
Brows were not a huge focus, so simply run Anastasia blond brow gel through them to give a bit of color without creating sharp definition.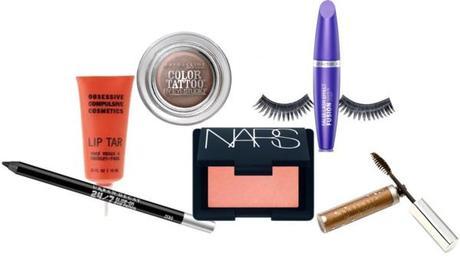 Brigitte Bardot by nannobanan featuring maybelline eyeshadow



Napoleon Perdis faux eyelash  nordstrom.com



Anastasia Beverly Hills eye makeup  nordstrom.com



NARS Cosmetics creme blush  $33 - johnlewis.com



Maybelline eyeshadow  walmart.com



Lip makeup  beauty.com


Max factor mascara  $28 - nelly.com


Urban decay eyeliner  urbandecay.com
All photos courtesy of Polyvore.