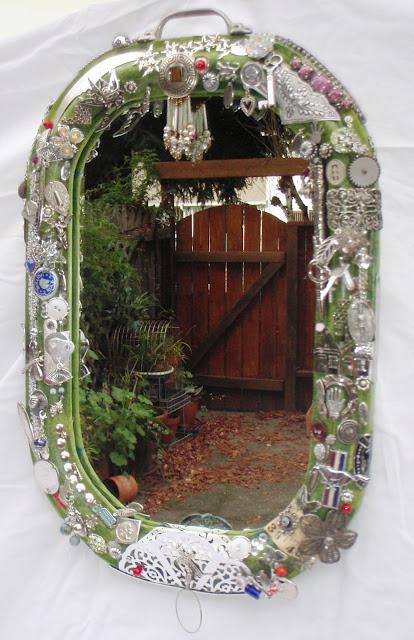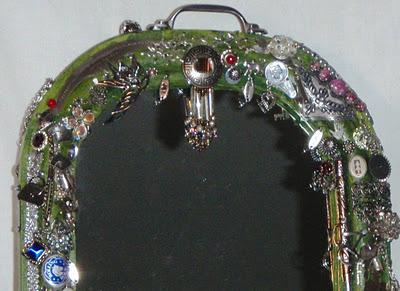 "Mirror Me"

●


   A couple of weeks ago, after a few friends and I finished working on a mosaic project, I invited them all over to my studio, because they were all curious to see my 'workplace'.
   At the time, I was working on a several pieces, but "Burbank - The Hollywood Horse" was front and center on my work table. Also on the work table was "Rocky", the Rooster, you might remember both of these from earlier posts. I think everyone was amazed at "how much stuff" is needed to carry out the work of an assemblage artist. (truth be told, I am often over-whelmed myself).
   Both "Rocky" and "Burbank" are made in the style of the 'memory jars' popular in the 1800's.  Memory jars were made by covering the vessel in mortar and attaching small objects such as keys, shells, coins and personal mementos belonging to someone who had passed away.
   I call my interpretation of this art form: Memory Art.
   This piece titled "Mirror Me" was commissioned by a dear friend, and former co-worker, after her visit to my studio. The only criteria she gave me was: "I really want you to make me a mirror like this. . . and i would really love it if you could use all 'silvery things'.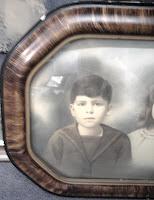 The wood frame of a vintage mid-century mirror is the foundation for this piece. (similar to the fame pictured here)
First, I collaged the frame in layers of green and blue tissue papers. Then, I embellished the front and sides with vintage silvery keepsakes, including clock parts, jewelry, buttons, coins, bottle caps, beads and other found objects.
 
So here it is.  I hope she loves it . . .cause I really do.


If you want to take a closer look at any image,  hold down the '

control' key and tap the "+" key several times to enlarge.  hit "control" and  the "-" key to reduce