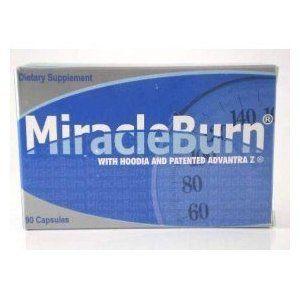 Of all the diet pills out there, you have to hand it to the company behind MiracleBurn. While a lot of companies shy away from claiming to be miracle diet pill, they embrace it with their name.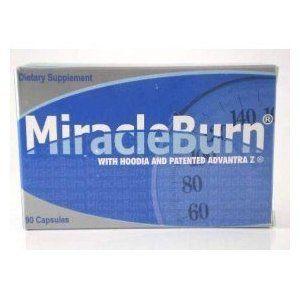 Miracle Burn Ingredients
Well work through each of their ingredients as pitched on their (at the time of this writing) productinfo.htm page.
Their first major heading says, The MiracleBurn Difference and they mention how the herbs contained in their supplement are grown by top producers that are extremely expensive because of the care that went into growing them.
The difference is the way they feel. What? What are they talking about? Theyre just blowing smoke.
Miracle Burn also mentions that they have a proprietary manufacturing process that uses only herbal extracts that are concentrated many times their normal strength. Ignoring the grammar, I can assure you that this is just more smoke.
Miracleburns first mistake is including a worthless ingredient called Hoodia (read the full review for more info).
Hoodia wins the Most Hype without Actual Results Award. Dont be fooled. The only legitimate study done for Hoodia (with rats) drew the researcher to the conclusion that it would probably be impossible to take a dose high enough to have any appetite suppressing effects.
Advantra-Z is their other flagship ingredient. While a patented ingredient, as a rule of thumb, usually fares better in clinical studies (theres a reason the company wants it patented), that doesnt necessarily mean the ingredient will provide the results youre expecting.
Synephrine is the main active ingredient found in Advantra-Z. Synephrine is being touted as an effective ephedrine alternative (with the same side effects as well).
In an article in the Mayo Clinic Journal, Synphrine was implicated in a case of variant angina. With any stimulant, you run these types of risks.
I would especially be leery of a company pushing that its an ephedrine alternative (though I didnt find Miracleburn explicitly stating that in their materials).
One study found that Synephrine did have significant stimulant abilities, demonstrated by increased blood pressure, heart rate, etc.
Im not contending the fact that Synephrine is an effective stimulant, only that its side effects may outweigh the benefit.
From Miracle Burns sales pitch:
In a placebo controlled clinical study involving fourteen females and nine males, blood pressure and heart rate were measured following Bitter Orange consumption. All of the individuals had not conducted exercise for 24 hours before the trial started and they had an overnight fast of no food. The results of the study indicated that that Bitter Orange increases an individuals resting metabolic rate.*
What I found particularly interesting was the asterisk (*) they included at the end of their statement about a placebo-controlled clinical study.
While you would think the asterisk would maybe bring you to a citation of the actual study, where a serious reader could perhaps read the study (or at least an abstract), they bring you to a disclaimer that MiracleBurn may not be for everyone.
The ingredient list also includes:
Unfortunately they dont list the amount of these ingredients that each pill contains, so its anyone guess if the dosage is sufficient enough to produce the desired results.
Miracle Burn Before and After Pictures
My favorite aspect of the Miracle Burn pitch has to be the Before and After photos on their customerpictures.htm page.
At the end of each summary they include a statement saying Results not typical. You can say that again.
At the very top of the page they show a rather hefty lady, and then a muc thinner lady, also blonde, but with straight hair and conveniently enough sunglasses.
Why the sunglasses? I dont know. Maybe because these two women are two different people? Just a thought.
Are these women the same person? Miracleburn thinks they are. I could go and on with these pictures.
Actually, I will. Each Case Study is numbered, and if I use the case number to refer to it, theyll probably switch them around on me.
But they use the classic tactics: bland clothing, push out your gut, stand slouched with the light shining directly on you, giving you a pasty look and also an appearance of not having any muscularity.
For the after photo theyll have the person suck in their gut, smile, get a tan, and give some nice cross-lighting to give the illusion that the person has lost weight.
Hydroxycut has become (in)famous for this. For some reason, Miracle burn also decided to have a lot of the people dye their hair from one photo to the next? Im not sure why.
Photo tactics
The guy looks like hes maybe lost a few pounds, or at least dehydrated himself for a while.
But the real difference comes from the tan, the cross-lighting, and the fact that hes sucking in and flexing his abs in the second picture, while hes totally pushing out his gut in the first and standing as relaxed as possible.
Same person?
Besides the obvious difference in setting (going from somewhere cold and snow-laden to the beach, watching the tide roll in), what the heck happened to the first girls face in that Before shot? Its like they bleached it or something.
It makes it *cough* very hard to tell if theyre actually the same person.
Did Suzana really lose 40 pounds? I guess well never know.
Free Trial - a Customer Nightmare
Miracleburn masks this nightmare as a complimentary Auto-Ship serviceyoull automatically and conveniently receive a new box of Miracleburn every month for as long as youd like.
Autoship programs are moneymakers for companies and headaches for consumers.
They're confusing, full of loopholes (that only the company is aware of) and simply a gimmick 99% of the time. I was really floored when Miracleburn laid this out:
The Auto-Ship Service is not only FREE you will receive complimentary insurance on every shipment. If for any reason you do not receive your order, we will replace it free of charge.
They try and make the consumer feel like theyre doing them some sort of favor by offering an autoship for FREE?
Please. Hi, Im going to set you up with a contract, where you'll have to jump through a few hoops to cancel, and for that, Im going to have you buying my high-margin product every month! What a joke.
The Free Trial needs to be taken with a grain of salt. If you give them your credit card information, Miracleburn will only charge you for the shipping ($7.95 at the time of writing).
Theyll send you a 7-day supply. The cost to them of sending the seven-day supply? Extremely cheap.
Mine hasnt arrived yet, but itll probably arrive in a cheap plastic wrapping that costs them nothing to make.
Since the entire bottle probably cost only a few dollars to manufacture, you can guess that 7-day supply is nothing to them.
Add that to the fact that theyre charging $7.95 to ship something that should cost around $1 to ship domestically, and you can see why theyre so anxious to get you to sign up for the free trial. Theyll make about $5 on the sale.
But wait, theres more. Now that youve signed up, you're also locked into their authoship program, so in 7 days, be looking for a charge of $39.95 for the product plus another $7.95 for the shipping.
To be clear, you can cancel before that shipment comes in, but you better act fast because 14 days isnt a whole lot of time to evaluate the efficacy of Miracleburn now is it?
Frankly, we will be puzzled if you decide to not try your FREE 7-day sample of Miracle burn.
No Mr. Miracle burn, you shouldn't be puzzled.
Miracle Burn Review Conclusion
Miracle burn is just another diet pill, with a mixture of ineffective ingredients (Hoodia Gordonii) and probably-effective, but also probably-dangerous ingredients (Synephrine) mixed with some other potentially good ingredients whose actual dosage amounts are hidden (for whatever reason).
This diet pill is marketed using questionable (to put it nicely) before and after photos.