Any any given moment there are usually at least 100 lego pieces scattered somewhere on my floor, so I'm amazed, given my propensity for 'gluing household crap to make jewellery', that it took Desiree's picture of her new lego ring to open my eyes to its possibilities for personal adornment. I had a quick look on Pinterest, a speedy rummage through the ginormous box of bricks, and was able to make this cute heart necklace in a matter of seconds. [And with no glue for once!]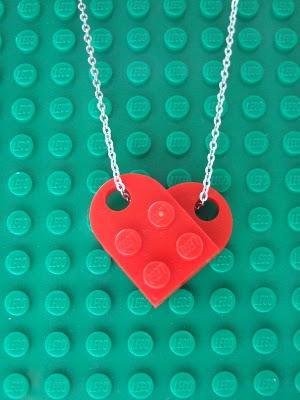 Never lego of your love
It looks like this idea has been around for a while, the image below was originally pinned from Etsy, but the page no longer exists. Hopefully it's ok for me to use the photograph to illustrate the difference between mine and those I've seen for sale.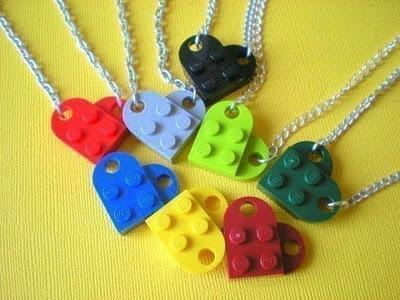 So funky. No need for jump rings and pliers though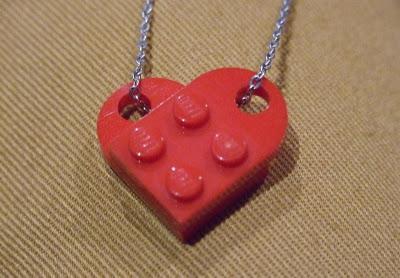 As a lazy type, it won't come as any surprise to you that I couldn't be bothered to attach jump rings and separate pieces of chain to make my version. Just thread the chain through from the front, pull across the back and out of the front of the other hole again. It hangs perfectly well like this and is a lot quicker. Also you can change the color any time you want, like those 80s plastic watches which clipped together so you could match the dial to your outfit. Did anyone have one of those?
Anyway, speaking of tacky 80s accessories, who could forget those hideous 'split heart' necklaces that always took up a full page of the Argos catalogue? One half for you, one for your boo. They were next to the page selling the terrifying articulated clown pendants and looked something like this: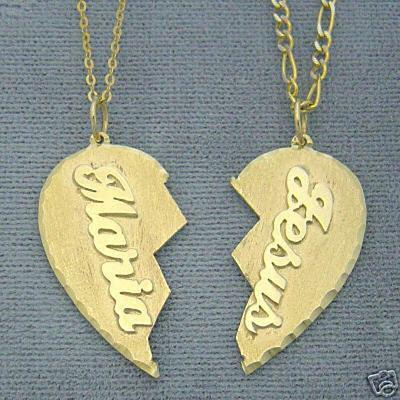 Note the heavier, more MANLY chain for Jesus
Who doesn't want the geek-chic crafty version, huh? Huh? Ok, so it's probably only going to work as a Valentine's gift if you met at a legoland or something, but it's good to know the option's there.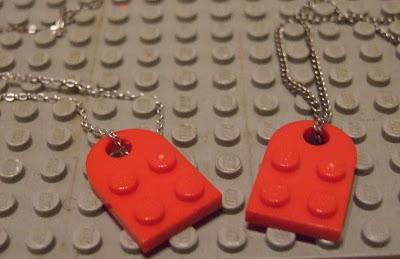 If you can get your significant hipster other to wear one of these, I'll be impressed.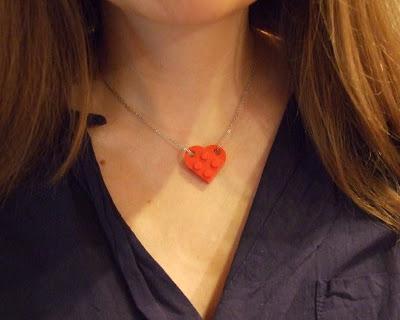 Who needs Tiffany's?
They'd make great party favours for little girls at a lego themed party too. 
I spoil you with this stuff, don't I?
Lakota x
Linking up to Nifty Thrifty TuesdayAnnie's Monthly Make for January