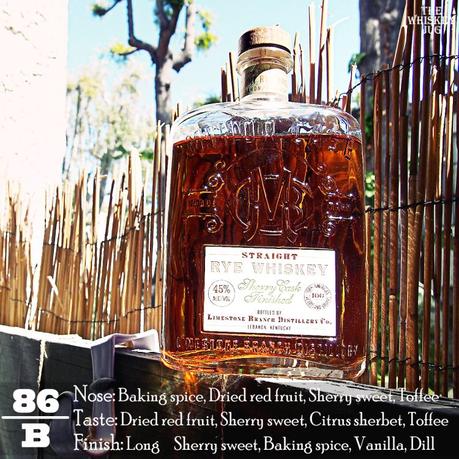 Minor Case Rye is a two-year-old MGP rye whiskey (95/5) that's been finished in sherry casks to round out the rough edges and give it a different kind of sweetness and spice that's not normally found in a 2 year rye.
In Limestone Branch's Words: Minor Case Rye
"In our release, Minor Case Whiskey, we explore what might have been if the talent-fueled M. C. Beam had the opportunity to have his stills unsilenced and his production reawakened through prohibition. With this product we raise a glass in tribute to Minor Case; the man, the unrepentant passion and the product he sought to create. We'd like to think he would be proud of what we've been up to, and we hope you are too."
Normally young rye has a bit of a fruity essence to it that fits more of a orchard / tropical type of profile and with MGP the spice is more of a dill character. The sherry casks though change the fruit to more of a dark fruit profile and the spice to more of a baking spice style. There's a bit more to it than that which we'll dive into right now in the Minor Case Rye review.
Minor Case Rye Info
Region: Indiana, USA
Distiller: MGP
Bottler: Limestone Branch
Mashbill: 95% Rye, 5% Malted Barley
Cask: New charred oak, ex-Sherry
Age: 24 months
ABV: 45%
Non-Chill Filtered | Natural Color
Price: $50*
Minor Case Rye Review
EYE
Amber
NOSE
Baking spice and dried red fruit lead the charge through the nose followed by sherry sweetness, citrus sherbet, toffee and a touch of dill, grain and a wee bit of soap.
PALATE
Dried red fruit, sherry sweetness, citrus sherbet, toffee, baking spice, vanilla frosting and a bit of dill and grain.
FINISH
Long sweet and spicy fade of sherry, baking spice, toasted grain and dried fruit.
BALANCE, BODY & FEEL
Great sense of balance, medium body and a slightly thick feel – like a light syrup.
OVERALL
A part of me can't believe I'm saying this, but I'm really enjoying the Minor Case Rye. I expected the sherry to be completely un-noticable and to be a gimmick, but it's definitely there. The youth of the whiskey does come through in that it's sweet, fruity, not very complex and lacks a deep sense of oak and age.
The aroma has a nice sweet and spicy character that comes across like a mulled sherry and the palate continues that tradition which then gets translated to the finish. The lack of complexity and oak is really what keep it out of the higher ranges. It needs a third dimension to it to give it more of a multifaceted feel, but for what it is the Minor Case Rye is interesting and Tasty.
SCORE: 86/100 (B)
*Disclosure: This Minor Case Rye was graciously sent to me by the company for the purposes of this review. The views, opinions, and tasting notes are 100% my own.