Winning the bid to host the prestigious Arbuthnot Lecture is a big deal in the world of children's books... like winning the bid to host the SuperBowl or Olympics in the sports world!
When one of my relocation clients came to the University of Minnesota as Curator of the Children's Literature Research Collections (CLRC) at the University of Minnesota, one of her first goals was to bring the May Hill Arbuthnot Honor Lecture to the Twin Cities... and she was successful!

Lisa Von Drasek is such an energetic champion for children's books that it should have come as no surprise that she would immediately strive to raise awareness of Minnesota as a place to come for children's literature.
The CLRC at the University of Minnesota includes the Kerlan Collection, one of the world's great children's literature research collections. It includes books, original illustrations, and manuscripts significant in the history of children's literature... including those of author Andrea Davis Pinkney, selected to present this year's May Hill Arbuthnot Honor Lecture.
Andrea Davis Pinkney is a New York Times best-selling writer of more than 20 books for children and young adults, including picture books, novels and nonfiction with a focus on equality and civil rights. She will be presenting on Saturday, May 3, 2014, at 7:00 pm in Willey Hall at the University of Minnesota.
The event is free and open to the public, but advance tickets are required for admission. Reserve your tickets at z.umn.edu/Arbuthnot or call 612-624-4576. Reception and author signing to follow with books available for sale.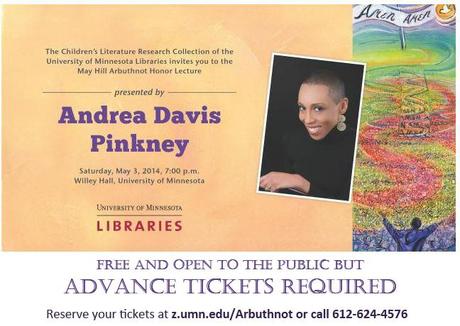 My thanks to Lisa and my awesome daughter-in-law LibLaura5 for raising awareness of Children's Literature for me and thousands of other Minnesotans.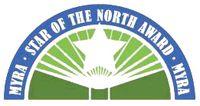 Laura was key in starting the new
Star of the North Children's Picture Book Awards
, which recently announced their first year winners based on the votes of students who had read at least 8 of the 10 nominated books... over 30,000 children voted!!  
Minnesota is indeed a hotbed for children's literature, thanks in part to the work of these two amazing women... and amazing parents and educators who support and encourage kids to read... and amazing local children's bookstores... and amazing local children's book writers and illustrators!  (Did you know that this year's Newbery Medal award winner was Minneapolis writer Kate DiCamillo?  This was her second Newbery Medal, awarded annually to the author of the most distinguished contribution to American literature for children.)
Sharlene Hensrud, RE/MAX Results - Email- Minneapolis Realtor
RELATED POSTS
Big Brain Comics... destination spot for comics and graphic novels
A Great Twin Cities Relocation Experience
It's all about listening...