Minnesota was named Best Trails State by American Trails, not surprising to those who live here and experience our extensive systems of paved, scenic trails through both cities and countryside. In fact, we have more paved bike trails than any other state. This year we join other states along the Mississippi River in creating the Mississppi River Trail, which starts in Minnesota at Itasca State Park
Minneapolis was named Most Bike Friendly City by Bicycling Magazine, but looking at a Google map with bike trails shows that the trails extend throughout the entire metro area. If you are looking to find a place to live near trails, this can be a great tool... you may even find yourself seeing green after studying the map for a while! If you like to use alternate forms of transportation, Google maps also provide directions for biking, walking and transit in addition to driving... great for checking out commuting options.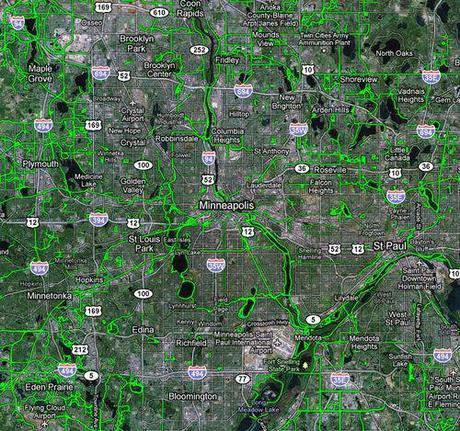 Opportunities abound for recreational trails as well... we also happen to have one of the best park systems in the country. Here are links to other trail info, both local and statewide...
Twin Cities Bike Maps
2011 Hennepin County Bike Map
Grand Rounds National Scenic Byway