First-time homebuyers have long searched for Nokomis area homes for sale because of their affordability and charm. Most of the homes were built in the early 1900s... in comfortable neighborhoods that still have have local businesses like a corner hardware store and neighborhood market you can walk to.

The Minnehaha neighborhood is one of four neighborhoods located between Lake Nokomis and Minnehaha Falls Park that make up the Nokomis East Neighborhood Association.  They share a  shopping district on 34h Avenue between 50th and 54th Streets which has a post office, library, banks, a grocery store, award-winning restaurants, and a variety of other businesses.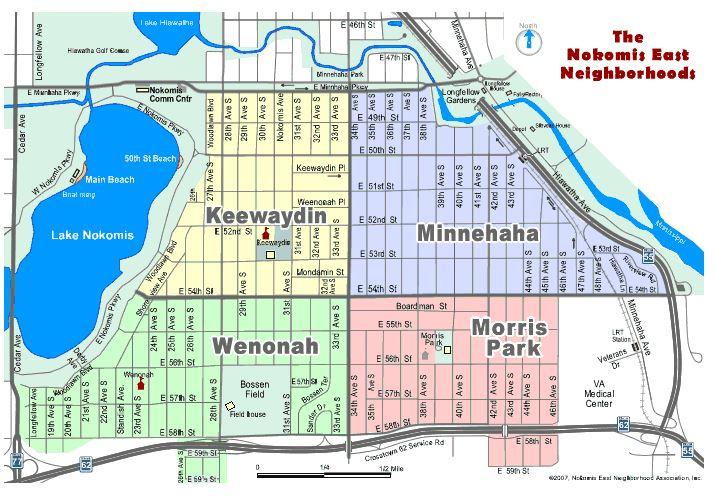 The Minnehaha neighborhood borders Minnehaha Parkway on the north and the LRT light rail transit on the east, bordering Hiawatha Avenue and Minnehaha Falls Park. It extends south to 54th Street and west to 34th Avenue.

This area is rich in Native American History including its name, which,  like the Falls, means 'Laughing Water'. Its location has easy access to not only lakes, parks, the Grand Rounds National Scenic Byway of 50 miles which includes Minnehaha Parkway... but also transportation to both Minneapolis and St. Paul as well as the airport.
A unique piece of history of this neighborhood is area in the northeast corner where Minnehaha Parkway crosses over Minnehaha Creek where it widens before going over the falls. (click on the photo below to enlarge)

If you continue on Minnehaha Parkway over the bridge you find yourself next to an open area named Longfellow Gardens. It has nice views of the homes across the creek and although they have started a new garden area at the top of the hill, there isn't much there besides Longfellow House, the former home of the man who once owned this property, R. F. "Fish" Jones.

The Longfellow House in the center photo above  is a 2/3 scale replica of Longfellow's house in Massachusetts, built by Jones in another Minneapolis location and moved to this site in 1996... the former site of Longfellow Zoological Gardens. He obviously must have been a fan of the poet!

Mr. Jones opened Longfellow Gardens, which was part zoo and part amusement park, in 1906. It featured free roaming flamingos and seals along with assorted other attractions including caged lions, tigers and bears.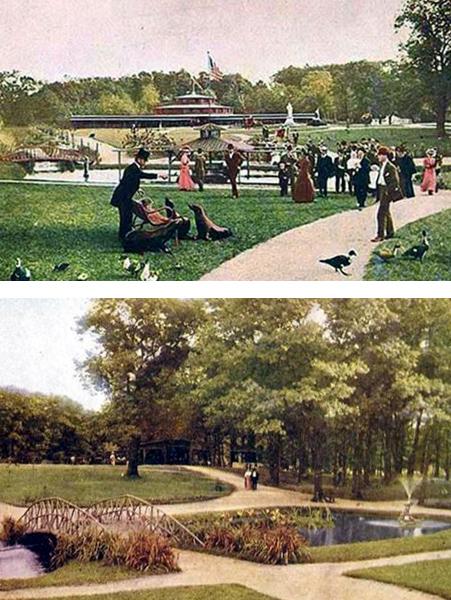 Much as zoos are today, Longfellow Gardens was a popular family destination.He even had a well dug and pump installed to create a reservoir to hold water for regulating the falls display.
The zoo was only open from 1906 to 1934, with the grounds donated to the Minneapolis Park Board in 1924 and animals donated to the Como Park Zoo when it closed.
Today all that remains of the zoo is the statue of Longfellow, which today stands alone in a meadow near the creek. If you look at the photos above you can see it in a current photo and two of the historic photos.  Click on the photo below for a short TPT video on the Longfellow Zoological Gardens.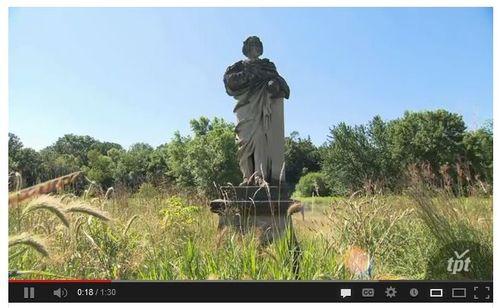 This site is in the upper northeast corner of the Minnehaha neighborhood, next to Hiawatha Avenue and Minnehaha Falls Park. This is a great neighborhood for first-time homebuyers, with lots of small tudors... check out Minnehaha homes for sale. There are currently 21 homes for sale in the Minnehaha neighborhood, ranging in price from $110,000 to $425,000... 16 houses with an average year built of 1931 and average list price of $215,050... 5 condos with average price of $141,980 and average year built of 1997, most of them near light rail.
Sharlene Hensrud, RE/MAX Results - Email - Minnepaolis Nokomis Area Realtor