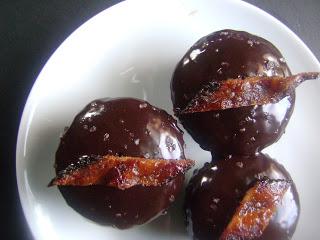 Hey Mikey, he likes it!
Last week I decided that my blog lacks two things: 1) Dessert. Everyone could always use a little more dessert (well... not everyone, but now i feel like we're getting into one of those "spandex is a privilege" talks so we'll just say that, emotionally, everyone needs dessert) and 2) Man things. Now, I know I write a blog about cooking and crafting but that doesn't mean it can't be man-friendly. I love men! Not to mention, I always considered myself one of those "Look like a girl, act like a lady, think like a man and work like a boss" types (well, not ALWAYS act like a lady but ya know what? I'd like to see you try to down a bottle of Fireball and still act like a f#%$'n lady!)
Anyways! Man things. So I brainstormed and came up with a lot of sports, bacon, bikinis, t.v. shows, beer, bacon, bikinis and video games. Then WHAM! There it was right in front of me... bacon + dessert = happy man! So I developed THE manliest cupcake in all of the land! This recipe is beer pong winning, RGIII hail mary pass completing, Sean Connery accent imitating awesome. The warrior king of all man dessert recipes.  Are you ready? 
Chocolate Salted Caramel Cupcakes with Jameson Ganache and Candied Cayenne Bacon
.
Yeah. That's right. I went there.  It's perfect for every kind of guy: tough guy, emo guy, athletic guy, geeky guy, the mans man, the ladies man, the romantic and the bromantic.
MEN - DON'T LOOK: Ladies, this is your one way ticket to Awesomeville. Once your man hears whats in these "Just for him" cupcakes, he may actually pick up a couple of socks, take out the trash and properly replace the toilet paper roll. Once he has a taste, it's on! Hook, line, and sinker, you've caught yourself a back massagin', pillow talkin', "where would you like to go tonight for dinin'?" kind of man.
This ones for you boys so suit up! Now you may have to put on some pants and go to a grocery store... (I think I just lost half my readers, male or female)


1 pack super thick cut bacon


a handful of brown sugar
cayenne pepper
1 box of cake mix
1 cup sour cream
1/3 cup vegetable oil
1/4 cup water
1/4 cup sugar
4 eggs
1 pack of caramels (you can try any mini candy bar, Oreos, Rolos, or Peanut Butter Cups if you're not into the caramels)


24 cupcake pan liners or foil cupcake liners
1 pack of dark chocolate chips (10oz)
1 cup heavy cream
3 shots of Jameson Irish Whiskey ("1 for the recipe and 2 for me")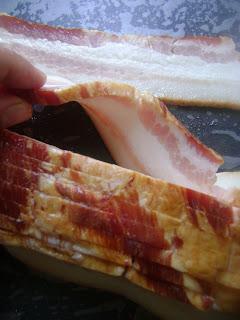 First things first: candied bacon. Preheat an empty oven to 400 degrees. Line a baking sheet with parchment (wax) paper.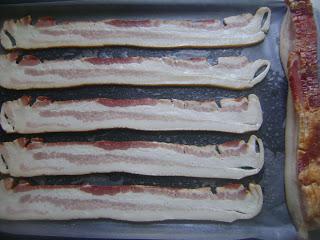 Arrange your bacon slices on the sheet. Don't let them touch each other, otherwise they will stick together.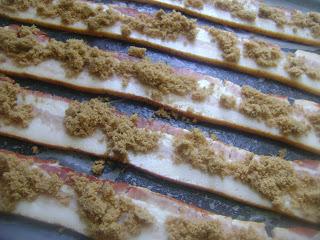 Sprinkle on a hefty amount of brown sugar.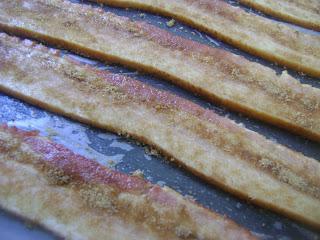 Now rub the sugar into both sides of your bacon strip. Go heavy on the side that will bake face up first. Sprinkle a little Cayenne Pepper onto each slice of bacon. Bake the bacon *giggle* for 15 minutes on the first side. Remove the baking sheet from the oven, flip your strips over, and bake again for 5-10 minutes. Watch your bacon - you don't want it to burn.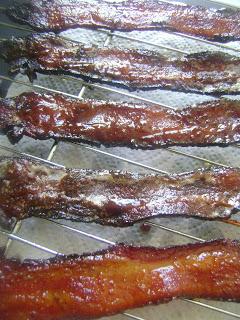 Let the sugar on the bacon become hard and caramelize on a wire rack or some kind of non-stick surface like a clean sheet of wax paper.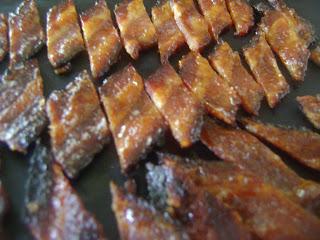 There it is. Candied bacon. I suggest making extra - you're most likely going to eat it all. (I know this, because I did. Then I had to cut my bacon into tiny little slices to get a piece onto each cupcake... I'm only slightly ashamed but I don't regret what I did.)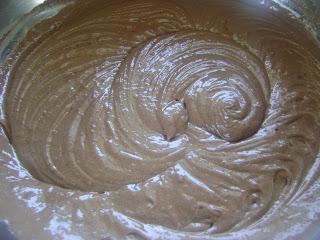 Now the cake. Preheat the oven to 350 degrees. In a large mixing bowl, dump in your cake mix, sour cream, eggs, oil, water and sugar. Using a hand mixer or your hand as a mixer, beat the batter until it is well combined and free of lumps.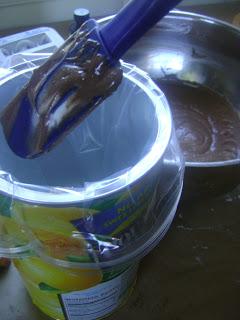 Plop your mix into a gallon baggie. This is totally optional but I find it makes clean up easier. In this photo I'm using an empty tin of CountryTime Lemonade (Ignacio's precious) to help me fill the bag with no problems.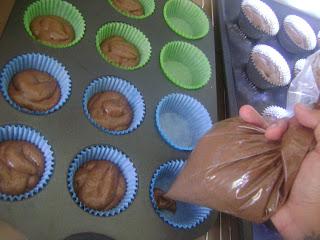 Line your cupcake pan with liners. No cupcake pan? No problem. Buy the foil liners instead, they stand up by themselves on a baking sheet. Fill the liners about 2/3 full with batter.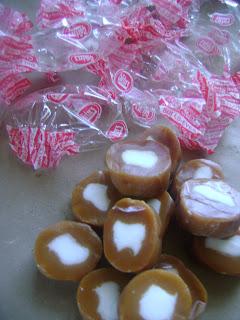 Unwrap 24 of your mini candies of choice.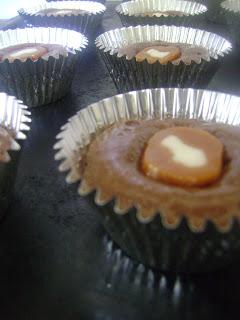 Add 1 candy to the middle of the cupcake. The candy will sink so there is no need to press down.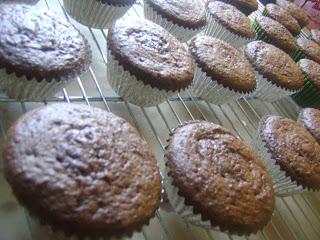 Bake your cupcakes for about 20 - 30 minutes or until a toothpick inserted comes out clean. No little gooey bits or crumbs. Cool your cupcakes on a wire rack.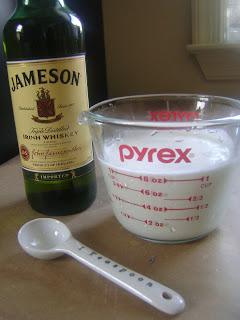 Time for Ganache. Place your chocolate chips in a small mixing bowl. In a saucepan, bring the heavy cream to a boil.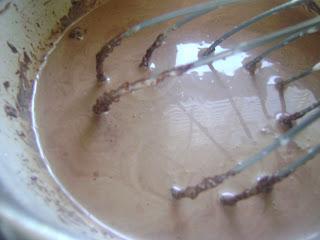 As soon as your cream is boiling hot, pour it over your chocolate chips and begin whisking.
Once your chocolate is incorporated into your cream and every morsel is melted, slowly whisk in the Jameson. This is a good time to taste your ganache. Does it need more booze? Go for it. No one is looking. While you're at it, have a little for you. You deserve it. Let your ganache cool for a few minutes, then spread it on top of your cupcakes. Some people like to make it all neat and pretty, only glazing the very top. But these are man cupcakes. So I doused the suckers with chocolate, pretty much dipping half the cupcake into the ganache.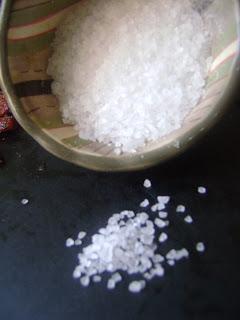 Sea Salt. This where I received extremely mixed reviews. Half of my test kitchen (my family and friends) said "mmm it
needs
the salt" and the other half said "mmm but
too
salty". So like, thanks guys, but what do I do with that? Well, I'm going to leave it up to you. I personally think 4-7 coarse chunks of sea salt is the perfect amount per cupcake.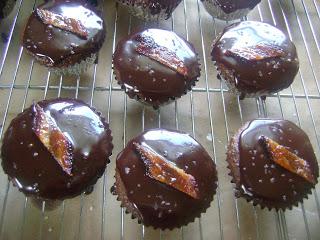 Once you've sucessfully smothered on your ganache, sprinkle on your salt - or not, whatever - and slap a piece of bacon on top. Let the topping cool. I really wish I had just made 10 packs of bacon - then each cupcake could have had its own slice! (And unicorns would roam the streets! Tupac never would have died! And all women looked like Kim Kardashian in her underwear!) Not today, friends. Not today.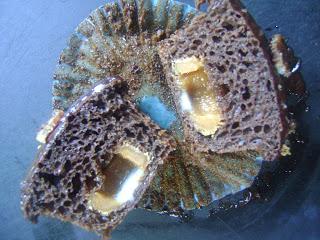 I ate this one and about 15 others. All cupcakes in this tutorial were harmed. BUT I wanted to show you what the middle looks like so I waited. For you. You're welcome. Check it out! Super moist and fluffy cake. The caramel baked to a nice crunchy toffee-like bottom, but the center stayed chewy. Creamy chocolatey ganache with a nice hint of oak from the whiskey - really complex stuff here people. And the bacon, ooh the bacon, well we all now know how I feel about the bacon. Its awesome.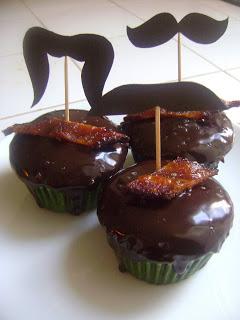 As an added bonus, if you are giving these man cupcakes as gifts, add a little bro flare. I made little mustache cake toppers, cut from card stock and taped to toothpicks.You may also want to try super hero logos or sentiments of praise such as "You da Man" or "Your Face Is Not
that
Ugly". Ladies, get naughty with it - make a mini banner that says "Brown Chicken Brown Cow" - they know what that means. It's bro code.