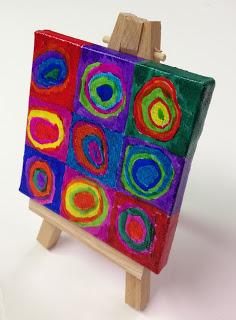 I was excited to find these mini canvases and easels online at jerrysartarama, but I noticed that Aaron Brothers sells them now too. At any rate, they are perfect for a little "Mini Masterpiece" project. And Kandinsky's circle painting is perfect for even very young ones to imitate.
1. Mini canvases come in all different sizes – this one measures 3" x 3". Start by dividing the canvas into 9 equal boxes with a pencil.
2. Using Sharpie Brush Tip Markers, color a circle in the middle of a square. Outline it with another color, and another until it almost fills the square. Finish by coloring in the background square. Continue color around to the side, when possible.
3. Spray your painting with a clear gloss to make all the colors pop and display on your easel.