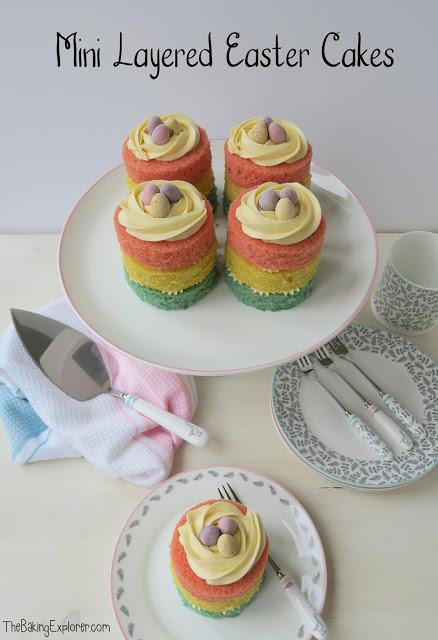 As you will know if you've been to my blog before, or if you follow me on social media, I am a huge fan of The Great British Bake Off and the Queen of Baking that is Mary Berry. Every year I 'bake along' to GBBO and it's really expanded my baking skills and repertoire. I was beyond excited when I was offered the chance to host a competition that Mary Berry herself would be judging the winner of! In this post you can find out how to enter the competition to be in for a chance to win a set of Mary Berry Homeware and a signed book from Mary!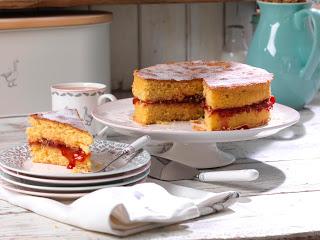 I first saw Mary Berry's homeware range at The BBC Good Food Show Winter 2016 and I immediately fell in love with it's pretty patterns and pastel hues. The range is beautifully packaged and presented and I wanted to make something that really complimented it. So I decided to use the colours in the range - pastel pink and teal to make these gorgeous layered mini cakes. And seen as it's Easter, they just had to be topped with mini eggs!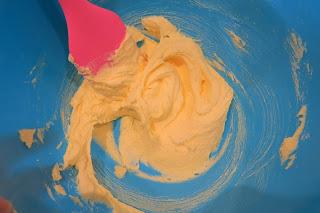 I started by making the sponges. I had three mixing bowls and into each one I put 120g butter and 120g caster sugar. I then put drops of blue, pink and yellow food colourings into the mixtures, I made the color slightly stronger than I wanted the final result to be as the eggs and flour would lighten it. I like to add food colouring at this stage as later on it can remove air from the mixture as you over mix to get the color right.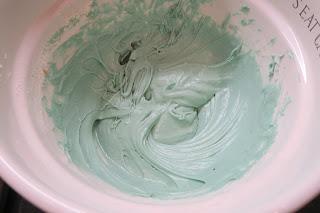 I added 2 eggs and 1 tsp vanilla extract to each bowl and whisked in. Finally I folded 120g self raising flour into each bowl.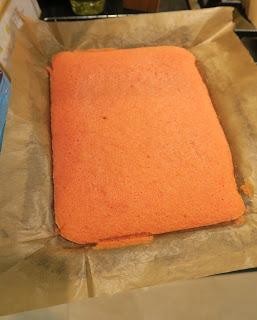 I baked each sponge in a lined traybake tin on 180C/160C Fan/350F/Gas Mark 4 for between 10-15 minutes. I inserted a skewer into them to make sure they were done. I don't have three traybake tins, I only have two, so I baked two first and then the third. I made sure not to add the flour to the mixture of the one that was waiting to be baked as this would affect the texture of the final cake.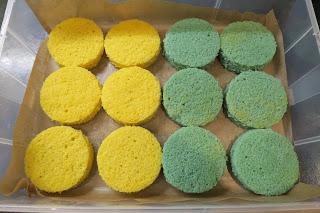 When the cakes were fully cooled I used a 3 inch cookie cutter to cut 6 circles out of each sponge. I didn't throw away the leftovers, I whizzed them up in my food processor then put them in a freezer bag and froze them. I'll use them to make cake truffles in the future (check my recipe finder page for all my cake truffle recipes if you'd like to do the same).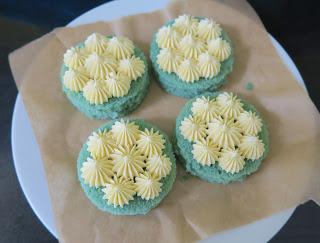 I made a vanilla buttercream by mixing 200g butter, 400g icing sugar and 2 tsp vanilla extract. I used my Wilton Number 6B Open Star tip to pipe blobs of it on the blue bottom layer.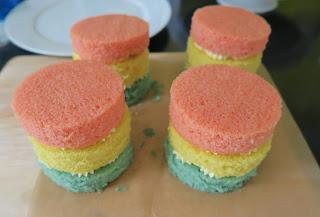 I did the same with the middle yellow layer, then topped with the final pink layer.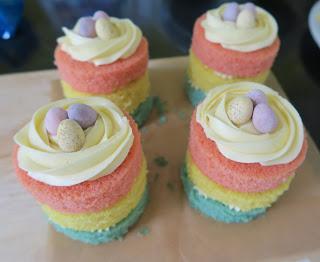 I then used a Wilton 1M tip to pipe rosettes on top of each cake and I placed three different coloured mini eggs carefully into the middle.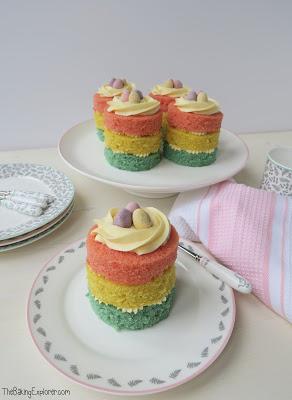 I was so pleased with these little cakes, they look so pretty and I though they really complimented Mary's beautiful homeware range. They tasted pretty scrumptious too! The sponge was lovely and light and the delicate vanilla buttercream was the perfect finishing touch. I felt like I could almost have been at afternoon tea with Mary Berry herself - a girl can dream!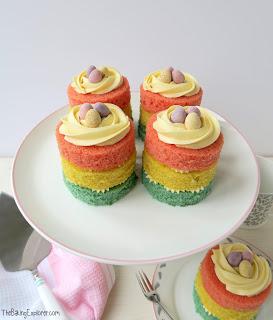 The Competition
Ok so onto the competition! What you need to do to enter is head over to
my Facebook page
by
clicking here
and commenting onto my post with a photo of your Easter bake.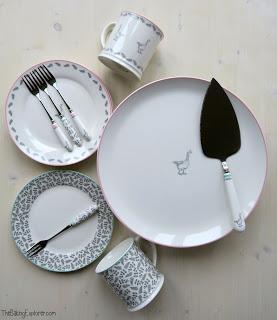 Full details:
- Bloggers and non-bloggers can enter
- The winner's prize is a Mary Berry Homeware set which includes: a cake stand, mug set, cake plates, cake forks and a cake slice
- The overall winner will win a signed book from Mary
- You use any recipe you like to make your Easter bake
- Mary Berry will be choosing the winning entry
- The competition closes on 2nd May, and Mary will begin judging in the week commencing 8th May
- If you have any questions please comment on this post and I will answer you
I can't wait to see all of your Easter bakes!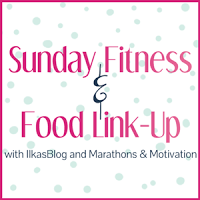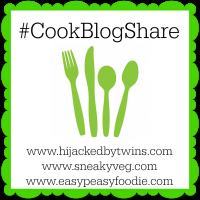 I'm linking this recipe up with the 
Sunday Fitness & Food Link Up
 hosted by 
Ilka's Blog
 and 
Marathons & Motivation
and I'm also linking up to Cook Blog Share hosted this week by
Easy Peasy Foodie
.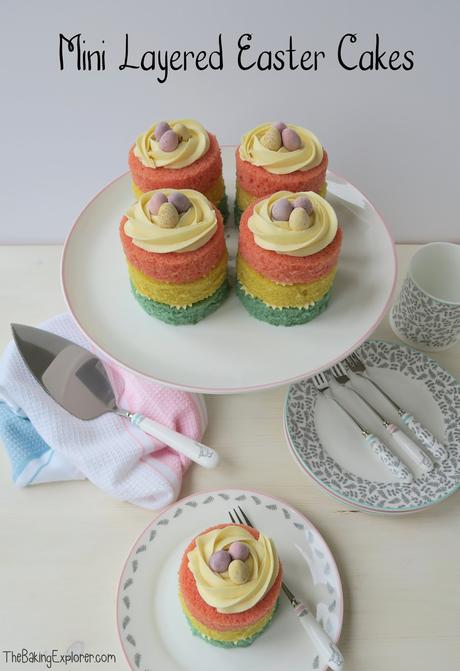 Mini Layered Easter Cakes (Makes 6)on
April-14-2017
Ingredients
560g

Baking spread

360g

Caster sugar

6

Eggs

360g

Self raising flour

5 tsp

Vanilla extract

1 bag of

Mini eggs

Pink, blue & yellow

Food colouring

400g

Icing sugar
Instructions
Grease and line thre traybake tins, or if you have one or two tins, grease and line them and then wash between batches
To make the sponges you need three mixing bowls. Into each one put 120g of the butter and 120g of the caster sugar. Cream them all together, then in the first bowl put a drop of blue food colouring, in the second bowl a drop of pink food colouring and in the third bowl a drop of yellow food colouring. Mix in well and add more if needed. Make the color slightly stronger than you want as the final result will be lightened by the addition of the eggs and flour
Add 2 of the eggs and 1 tsp of the vanilla extract to each bowl and whisk in
Fold 120g of the self raising flour into each bowl. Tip: If you have three traybake tins then add the flour to all of the batters, if not, wait to add the flour until you're ready to bake
Pour and smooth out the batter into the traybake tin(s) and bake them on 180C/160C Fan/350F/Gas Mark 4 for 10-15 minutes until a skewer inserted into the sponge comes out clean
Cool the sponges fully on cooling racks. When they are cool use 3 inch round cookie cutter to cut 6 circles out of each sponge
Make a vanilla buttercream by mixing together 200g of the butter, the icing sugar and 2 tsp of the vanilla extract. Put half of it into a piping bag fitted with a Wilton Number 6B Open Star tip and pipe blobs of it on the blue bottom layer of sponge
Cover with the yellow sponge layer and again pipe blobs of buttercream onto it, then top with the final pink layer
Put the other half of the buttercream into a piping bag fitted with a Wilton 1M tip and pipe rosettes onto the top of each mini cake, then place 3 different coloured Mini Eggs into the middle