I am so glad to be back!
I've been away on a trip to the US of A for the last three weeks.
And while i was totally having a blast and the time of my life, i couldnt help missing my oven laying cold and lonely back home.
So here's me, doing what i love most.
Baking.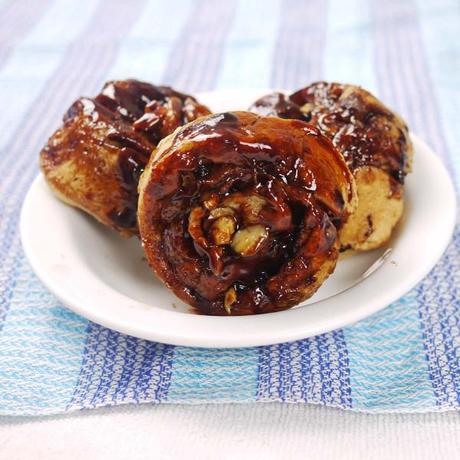 And today's baking involved a little yeast,
A little flour,
A bit of kneading,
And a whole lot of brown sugar.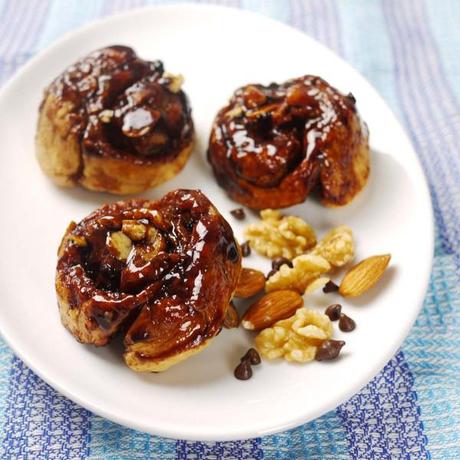 And you do want all that brown sugar.
Cause the brown sugar will caramelize, and create the beautiful glossy sheen on the surface of your rolls. Which is what these are.
These are cinammon rolls with caramel brown sugar glaze.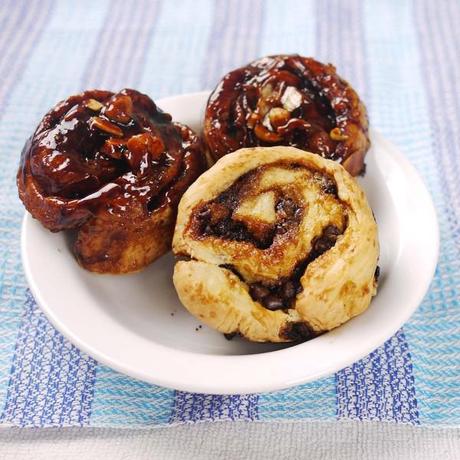 This is how they look like from the bottom.
Did you notice the chocolate chips i've sneaked into the filling?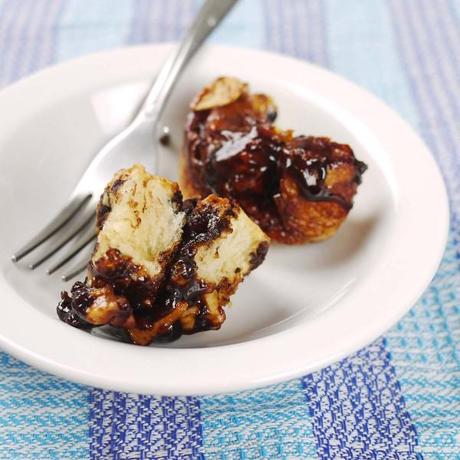 I served these for breakfast along with a bacon, scrambled egg sandwich and some baked beans.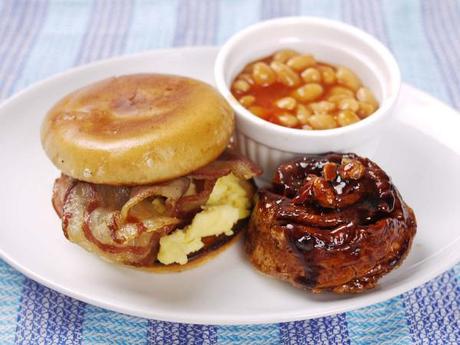 Now all i gotta do is figure out how to burn the calories in here for the day.
Mini Caramel Walnut Roll
1 package Pillsbury crescent rolls ( I made my own rolls using the recipe HERE)
1½ Tbs butter melted
1/2 tsp cinnamon
Caramel:
For the Caramel:
Mix together the butter, sugar and vanilla. Spread about 1 TBS of the mixture into each muffin tin. Scatter walnuts over the mixture.
For the Rolls:
Preheat oven to 350. Place the dough (I made my own dough instead of the frozen ones) on a floured surface and roll it with a rolling pin to make a thin rectangle. Brush topside of rectangles with butter, and sprinkle with sugar and cinnamon. Tightly roll dough rectangle starting from one of the short ends Cut the rolls crosswise and place each on the prepared muffin tins.
*Note:
My rolls were a bit on the small side. Between that and the fact that they are baked individually in muffin cups, these rolls bake up faster than usual. As a result, they were just a tad hard with a crunchy exterior. I would probably reduce the baking time for these the next time i make these.
Also, while turning these rolls out from the muffin tins to the serving plate, some of the caramel stuck to the base of the pan instead of sliding down the sides of these rolls. Again, i think i might have overbaked these which results in the sugar overcooking and turning candy like instead of remaning liquid.