These Mini Berry Tarts have a shortbread crust with coconut cream filling and fresh berries! These sweet dessert bites are Paleo, gluten-free, and vegan.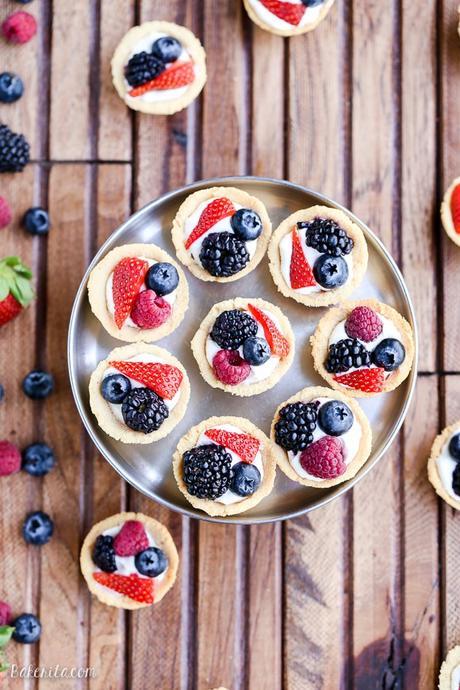 How in the world is it already May? Because May means it's been just about a year since I graduated college, and that seems totally unreal. Growing up, I remember everyone older than me always saying to enjoy where you're at in life – embrace being young and being in school and stop trying to grow up so quickly. 
The older I get, the more I understand why they said that. Not only is childhood a time to be greatly appreciated, but time seems to be speeding up as I age. Days and weeks can fly by in a haze of busy-ness with little notice. Suddenly, it's been a year since I graduated and took on Bakerita full time.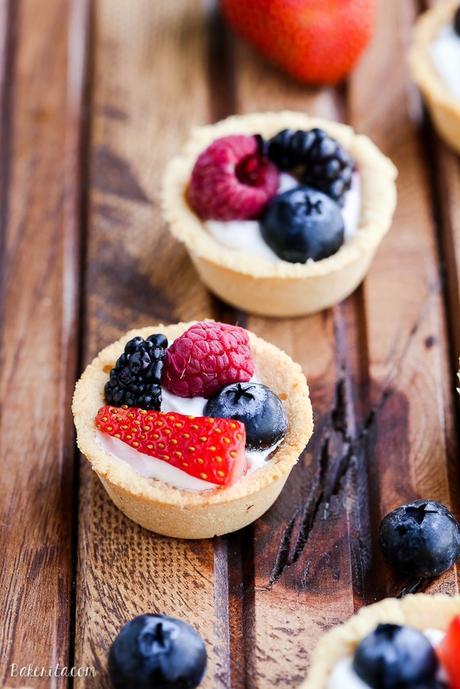 The other day, my dad posted a photo on Facebook of him, my sister and I when I was a baby, commenting that it felt like it was yesterday. I realized that for however I feel about time flying by, my parents feel that 10x over.
One of my good blogging friends, Isadora of She Likes Food, is about to become a momma herself to a little baby boy and a group of us decided a celebration was in order, so today is Izzy's virtual baby shower! Izzy, your little boy is going to be one lucky kid with such a wonderful momma. I know you'll smother him with love, and remember to enjoy each and every moment :)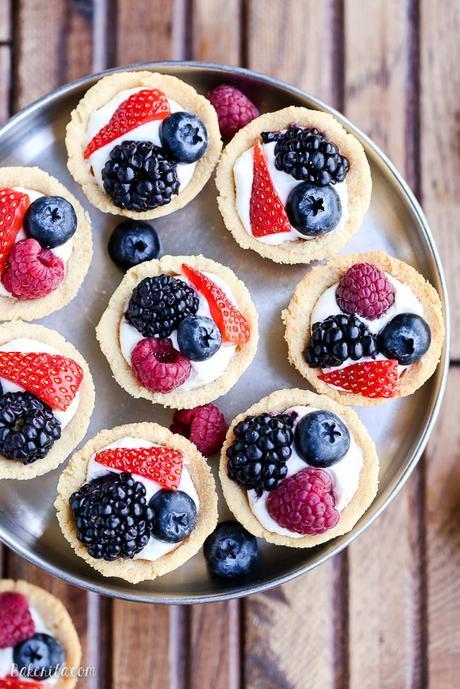 All of the talented ladies involved brought delicious treats today – you can find links to all of their recipes listed below my recipe. You can bet that I wish this was a real shower so I could nosh on everyone's goodies.
Izzy follows a gluten-free and vegetarian diet, so I wanted to make sure my contribution to the shower was something she could definitely enjoy. These mini berry tarts are just that! They're cute, simple, and absolutely delicious.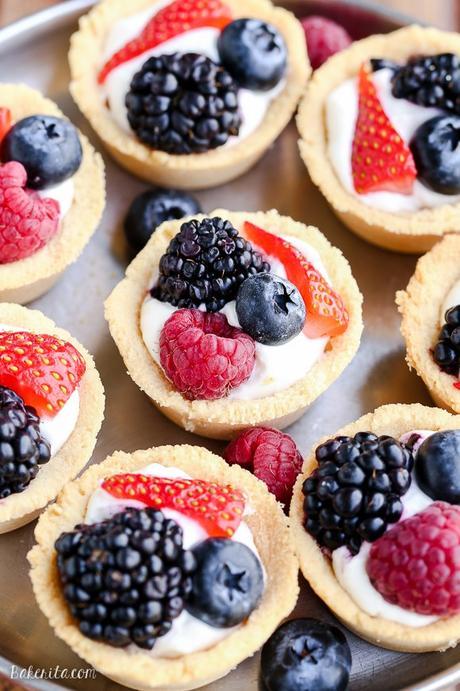 These little tarts have a simple coconut flour shortbread crust. It's sweetened with maple syrup and uses coconut oil. These dough is pressed into a mini muffin pan to make the mini cups, which are then baked and filled with coconut whipped cream. It's all topped off with fresh berries for a perfect fresh sweet treat.
These little bites take advantage of the fresh berries coming back into season, and they pair perfectly with the smooth coconut cream and crunchy, crumbly crust. These are perfect for a baby or bridal shower, a barbecue, or any other time you need something to satisfy that sweet tooth ;)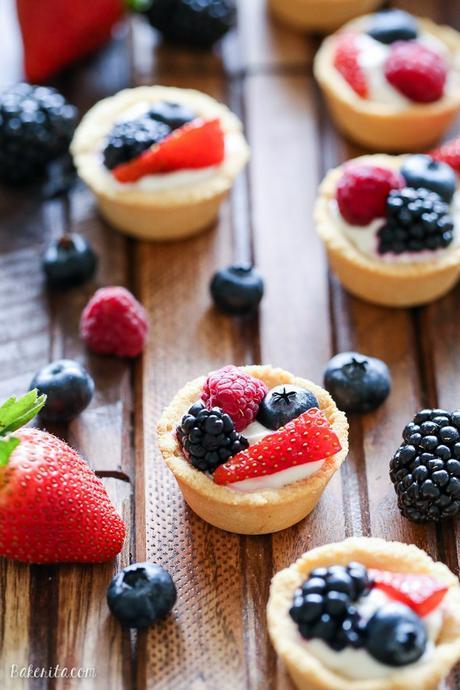 They're quick and easy to make, as well gluten-free, Paleo, and vegan! Enjoy :)
Remember to #bakerita if you try the recipe!
Mini Berry Tarts (Paleo, Gluten Free + Vegan)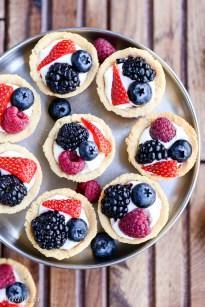 Save
Print
Prep time 20 mins Cook time 10 mins Total time 30 mins   Mini Berry Tarts (Paleo, Gluten Free + Vegan) Author: Rachel Conners Cook time: 8 mins Total time: 8 mins Serves: 24 mini tarts Author:
Rachel Conners
Serves:
24 tarts
Ingredients
For the crust
1 cup (112 grams) coconut flour
½ cup coconut oil, solid
¼ cup maple syrup
¼ teaspoon kosher salt
For the filling
1 cup coconut cream, chilled
2 tablespoons maple syrup
1 teaspoon vanilla extract
1 cup fresh mixed berries
Directions
Preheat the oven to 350ºF. Lightly grease a 24-cavity mini muffin pan with coconut oil.
Combine coconut flour and salt in a bowl. Add the maple syrup and room temperature coconut oil and mix until a large dough ball forms, pressing out any clumps of coconut oil. If you're mixing with a bowl and spoon (not a stand mixer), you may want to use your hands at the end to bring to dough fully together and make sure there aren't any lumps.
Divide the dough between the 24 mini muffin cavities and press up the sides. Bake for 9-11 minutes, or until golden brown around the edges. Let cool completely before using a toothpick or knife to pop the cups out of the muffin tin.
In a stand mixer fitted with a whisk attachment (or a hand mixer), beat the chilled coconut cream with the maple syrup and vanilla extract until smooth and creamy, 1-2 minutes.
Add a scoop of whipped coconut cream to each cooled shortbread cup and top with fresh berries. Serve immediately.
3.5.3208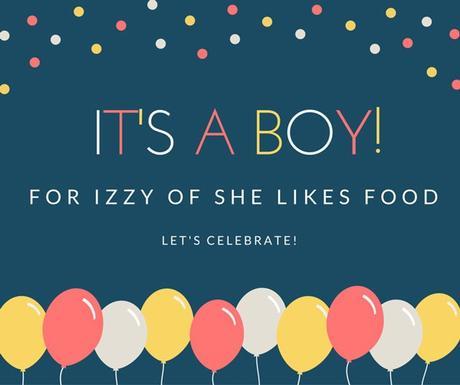 Hoecakes with Blueberry Lemon Compote from Making Thyme for Health
Mini Phyllo Strawberry Brie Bites from Flavor the Moments
Veggie and Pesto Flatbread Pizza from Cook Nourish Bliss
GF Blackberry Greek Yogurt Cake from Whisk & Shout
Chocolate Hazelnut Butter Brownies from Foodie Loves Fitness
Paleo Tres Leches Cake from The Roasted Root
Rosemary Lemonade Popsicles from Vanilla and Bean
Roasted Cauliflower with Yogurt Sauce (Zahra) from Fox and Briar
Healthy Potato Nachos from Nourished the Blog

There's more where that came from!
Chocolate Ganache Tarts with Coconut Macaroon Crust (GF +…
Chocolate Berry Bars (Paleo + Vegan)
Strawberry Rhubarb Crisp (Paleo, GF + Vegan)
Samoa Bars (Gluten Free, Paleo + Vegan)
Greek Yogurt Cheesecakes with Granola Crust (Gluten Free +…
Homemade Twix Bars (GF, Paleo + Vegan)