52 Places to Go: Week 41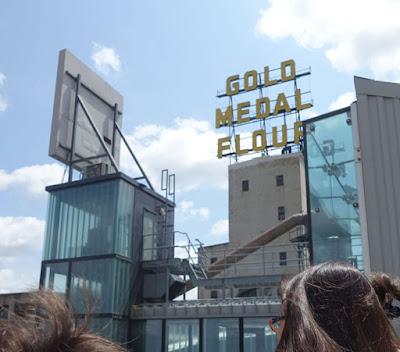 View from deck on top floor of the Mill City Museum, Minnespolis, MN

Even though I grew up in Minneapolis, I never appreciated how much the flour milling industry contributed to the growth of the city until my visit to the
Mill City Museum
. Built into the ruins of what was once the world's largest flour mill, the Mill City Museum is located on the historic Mississippi Riverfront. When I visited with my family in July 2015, my grandson proclaimed it to be the best museum he'd ever been to. Why? I asked. Because of all the interactive exhibits.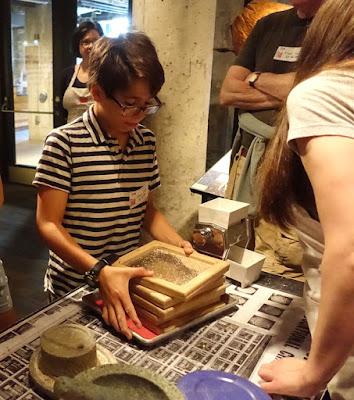 A series of graduated screens demonstrates how the finest flour sifts to the bottom
At the entrance to the museum, you are invited to turn the crank of a small rolling machine that crushes the wheat into flour. Then you shake a set of sifting screens to see how the finest flour comes out at the end. Other hands-on exhibits include a room with models where visitors (mostly kids) can experiment with dam building and water flow, a kitchen where we sampled some delicious bread made with Gold Medal flour, and videos of historic TV and radio ads for General Mills products such as Bisquick and Malt-O-Meal. In other exhibits, we learned about the invention of Wheaties and Bisquick, the history of Betty Crocker, and the early years of the Minneapolis milling industry.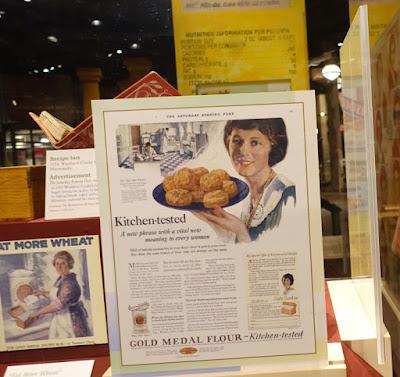 Betty Crocker was invented in 1921 to personalize answers to customer letters
For the Flour Tower tour, we sat on bleachers in a room-size elevator that stopped at floors of the former mill. We saw milling equipment, videos of the mill in action, heard comments by former mill workers, and learned about the mill from the guide. At the top, we exited to a balcony with a panoramic view of St. Anthony Falls, the iconic Stone Arch bridge, and the east bank of the Mississippi. We returned to ground level in an outside glass elevator. We finished our visit (after lunch in the museum café) with the movie
Minneapolis in 19 Minutes Flat
, a humorous and informative look at the growth and development of the city, narrated and acted by Minneapolis radio personality Kevin Kling.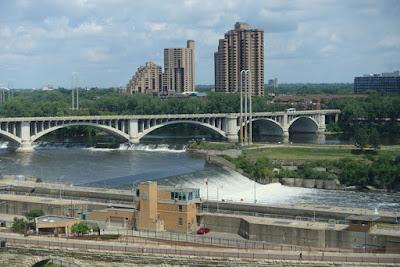 Stone Arch bridge over the Mississippi and St. Anthony Falls, power source for the mills
The Mill City Museum, operated by the Minnesota Historical Society, is inside what was once the "A" Mill of the Washburn Crosby Milling Company, which, after merging with 26 other milling companies, became
General Mills
in 1928. When I was growing up, I attended Washburn High School in South Minneapolis. Our sports teams were the Millers. I listened to the WCCO radio and television (owned and named after the Washburn Crosby Company); I watched the Lone Ranger and Rocky and Bullwinkle on television (sponsored by General Mills); I ate Wheaties and Cheerios for breakfast; and I learned to cook with the
Betty Crocker Picture Cookbook
. In more ways than I previously realized, my life was impacted by the flour milling industry in Minneapolis.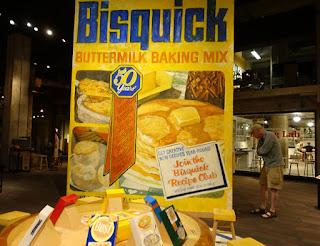 Growing up, my family always had a (much smaller!) box of Bisquick handy for making biscuits, pancakes and waffles.
Currently, the Mill City Museum is closed. Mill City Museum reopens November 4, 2021! 
This article was first published 7/27/15
All text and photographs copyright Caroline Arnold