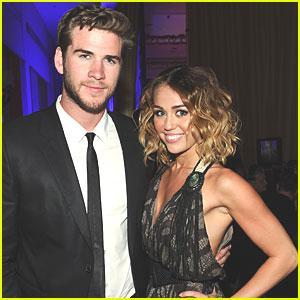 The newly engaged 19-year old star was spotted at Los Angeles International Airport, donning her diamond engagement ring gifted by her beau Liam Hemsworth.
"I'm so happy to be engaged and look forward to a life of happiness with Liam," Disney Channel child star said in an interview.
'The Last Song' star, Liam, 21 popped the big question to Miley, 19 on May 31, though the rumours about the engagement was in air since March, 2012.
Cyrus confirmed the engagement via Twitter, "Heaven is a place on earth", the next day.
She further tweeted, "Thank you for all the love today. I'm happy to share this news with you all. I feel like all my dreams are coming true."
The 'Hanna Montana' star's blinging sparkler is a 3.5-carat, cushion-cut diamond engagement ring. The stone is set in 18-karat gold along with diamond floral motifs. Liam co designed the ring with US Celebrity Jeweller Neil Lane.
"It is designed around a hand cut 19th century cushion cut centerstone", the jewellery designer explained. "It's really very, very beautiful. It takes a long time to do it. It's all handmade."
"It's a contemporary design based on vintage aesthetics," Neil said. "It has tiny little diamond work around the gold work. It's an art nouveau feeling," he explained. "Very floral, flowery, very feminine. It's a very romantic ring."
The new bling sparkles and flashes no matter how Miley moves her hand. Hemsworth was more than happy with the final product.
Liam said of Cyrus, "What happened happened, and we've been together two and a half years." "She makes me really happy. When you start, you want to be professional, but when you're filming those scenes with someone and pretending to love them, you're not human if you don't feel something", he added further.
Miley's father, country singer Billy Ray Cyrus gave his approval to the union. "All I ever hoped for as a daddy was to see my kids reach their dreams. To find happiness, peace of mind, and someday know true love", he said.
Cyrus and Hemsworth have been dating on and off since 2009 after meeting on the set of "The Last Song".
Though the wedding dates and other details are not being decided, but the sparkling rock flaunted by Miley cost at about $100,000 approximately.
Congrats Miley & Liam!!!
Also Read: Jennifer Hudson and David Otunga "Very Excited" About the Nuptials