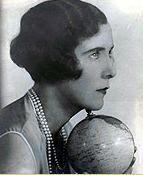 "I was going pretty fast when I reached the first corner and I clung closely to the edge, but as I neared the end of the corner, the car tried to take charge. I quickly changed down at about 70 into third gear and managed to right the car and avoid the rough where so many drivers end up. Then one more corner and the finishing straight. I had no wish to break the Capri but did want to get the maximum speed out of her. So I asked Stuart to call out my speed after I reached 90, as I wished to concentrate totally on driving the car.
"I heard him say, `Ninety... ninety-five... a hundred... hundred and five... hundred and ten... Better brake now...' I did, but the grandstand was coming at me a little too quickly. I saw the escape road ahead and thought how humiliating it would be to go down that. In my day we despised racing drivers who had to use an escape road. It meant they were bad drivers. I changed quickly down into third gear, which helped, but not enough; so down into second. All was well: though I took the last bend with squealing tyres, I pulled up in one piece in front of the clubhouse.
"I had set a new personal speed record of 110mph, not difficult in a racing car but very tricky in a standard road car."
Mildred Bruce was 78 years old and had not been on a racetrack for 40 years.
Born Mildred Mary Petre in 1895 in
Bradford-on-Avon,
Mildred Bruce lived life in the fast lane. From being the first girl in Britain to ride a motorcycle, Mildred set 17 records in cars, speedboats and airplanes. She drove a
Bentley
for 24 hours straight, at an average speed of 90 MPH. In 1930 after having purchased an airplane from a London shop window, she flew solo around the world. She celebrated her 81st birthday doing a loop the loop.
Automobiles
Mildred's taste for speed was evident when she borrowed her brother's motorcycle to secretly practice riding on her family's tennis court. At 15, she became the first girl in Britain to ride a motorcycle on the open road. She was also the first girl to appear in court to face a speeding charge. Speeds in excess of sixty miles-an-hour in 1911 were very fast. Three days in a row in front of London and her life of speed and adventure was cast.
She married another speed fanatic, racing car driver Victor Bruce. Toward the end of the 20's, they participated together in many races and rallies, including the
Monte Carlo Rally
that they won in 1926.
In 1927 Mildred Bruce persuaded the managing director of
AC Cars
, to lend her a car to enter Monte Carlo Rally. With her husband navigating, she started at the northernmost tip of Scotland and battled heavy fog, icy mountain roads, and a blizzard along the 1700-mile route. Driving for 70 hours and 20 minutes without sleep, she leaned against the steering wheel and slept and as soon as she crossed the finish line at
Casino Square.
They finished sixth overall and Mildred won the Coupe des Dames.
Another early record of Mildred's was to drive an AC to the
Arctic Circle
, the farthest north anyone had driven.
She raced at
Brooklands
, a huge, concrete amphitheater built on the estate of a rich racing-fanatic. Its circular three-mile track had curving banks 30 feet high. Early female drivers wore long skirts, and because of the openness of the cars, some resorted to tieing their hems to their ankles. Mildred once raced the circuit for 24 hours, driving over the same bump every 57 seconds. She was in pain for 2 weeks after the race.
Other forms of high-speed transport attracted Mildred including boats. She broke the record for a return trip across the
English Channel
in her speedboat, dubbed "The Mosquito".
Visiting Silverstone, another world-famous British racetrack, in 1974, Mildred retold what happened as she talked to a young racer.
"as we talked my eyes kept straying to his Formula Atlantic car. It looked such a thoroughbred. Peter noticed my interest and, to my surprise and delight, he asked me whether I would like to try it for size, which really was a compliment, because no driver likes strangers climbing in and out of his machine just before a race. In I climbed and took hold of the little steering wheel — so different from the large ones I had known long ago. As I climbed out of the car, I said to Peter, `I really must have another go on a track some day.' One of the Ford executives overheard me and asked if I would like to test their new Capri Ghia at the Thruxton circuit. The thought of driving on a track again was pure joy for me, and of course I agreed."
"On the day of the test, I drove the Rolls to Thruxton. There I got my first surprise of the day.
I had expected a few Ford and track officials waiting for me. Instead, as I drew to a stop outside the clubhouse, I was surrounded by a swarm of motoring correspondents, cameramen and television crews."
After a lap driving with another younger rally driver, it was Mildred's turn at the wheel.
"Stuart explained that, under the rules of the track, I must wear a crash helmet and he produced one. I told him I never used such contraptions in my day and I put it on back to front. I never wore any special kit. I was never keen on overalls or slacks, but always drove in a blouse, tailored skirt and a string of pearls. "
She had set a new personal speed record of 110mph. To celebrate she took three journalists and two track officials around the track at 90mph.