Milan Fashion Week SS'13:

Days 4, 5 & 6
Before I begin, I just want to start by explaining the lack of content yesterday: After looking at hits on each show review so far, I found that people enjoyed the posts where I collaboratively reviewed a few days at a time, rather than each individual day. So with that in mind, I thought I would wait a day and give you a review from days 4, 5 & 6 together to see if that received a better response! 
Day 4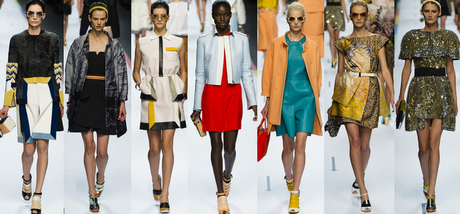 Fendi
What I loved about the SS'13 collection from Fendi the most, was the use of color and subtle prints here and there which made the collection look vibrant, inspiring and cool. One little detailing that I had a particular appreciation for, were the looks which had peplum detailing that then doubled up as pockets. The shoes were particularly gorgeous and I'll tell you why: they reminded me of being back home in Glasgow. Why? Well purely because they resembled the Armadillo: which is an exhibition centre shaped like an armadillo and covered entirely in glass. The shoes themselves had an armadillo shaped arch on the front and the heel was covered in studs - when both elements came together, the Armadillo center was just the first thing that I immediately thought of. In terms of the clothes, my favorite pieces happened to make their appearance at the end: gold, glitzy, shimmery and completely indulgent, they portrayed Fendi as the extravagant and luxurious fashion house that it is to the absolute best of their ability and closed the show with style.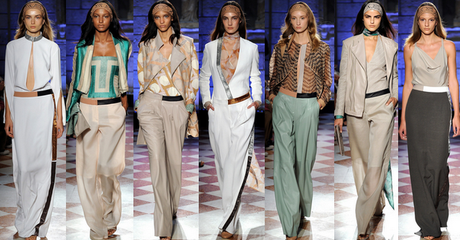 Genny
If I had to put my finger on just one factor which drew me to the Genny SS'13 collection, it would have to be the leather wide leg trousers with dual contrasting waist and side stripe. I absolutely love them, which is strange for me seeing as I really don't wear a trouser which isnt straight or skinny. The mix of soft muted tones and slightly brighter teals and turquoise were stunning and the almost subliminal use of print was a great way to introduce a little excitement to the overall look. I just loved how laid back yet dressy the whole collection felt. The head scarfs were the only negative in my opinion, but apart from that, the collection was just exceptional.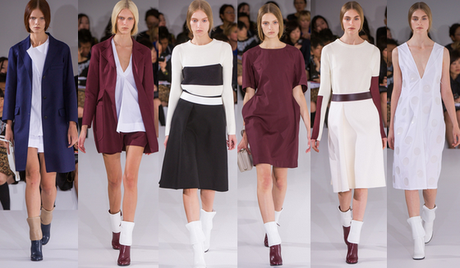 Jil Sander
The Jil Sander SS'13 collection was probably one of thee most highly anticipated shows for fashionista's everywhere due to Jil Sander returning to design for the label this season and I don't think anyone was disappointed. The collection was very clean cut, minimal and right up my street. The coats were probably my highlight, as I just love anything that feels a little over-sized, long line and cosy. The colours were gorgeous without being in your face like most of the collections that we've seen so far this month and the use of larger sequins on white garments was a clever way to introduce that particular trend as well as give an extra texture to something so plain. It was lovely to see the designer take her bow and I can't wait to see future collections with her back at the label. Day 5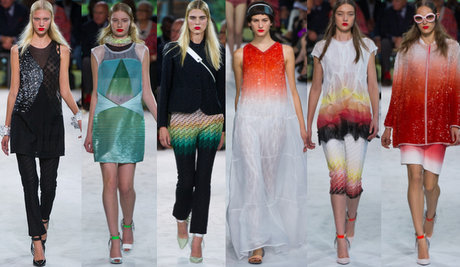 Missoni Texture played a huge part in the Spring 2013 collection by Missoni, with a few garments actually resembling some sort of ligament or muscle. I'm not just being strange: seriously, Google what a muscle looks like and then have a look at the white ombre design second from the right - not the pattern, but the way that the fabric has been manipulated. Similar, eh? What I loved the most from this collection, was the use of sequins to create texture, dimension and a play on the dye trend which has been shown at a few shows for SS'13. I think it's great how the designer used them to play with color and create an ombre effect from red fading in to white. The shoes in this collection were also stunning with the pop of color being shown at the ankle in a minimal way to keep the focus on what was happening up top. It might not be a collection that I would wear personally, but it was certainly lovely to look at and appreciate.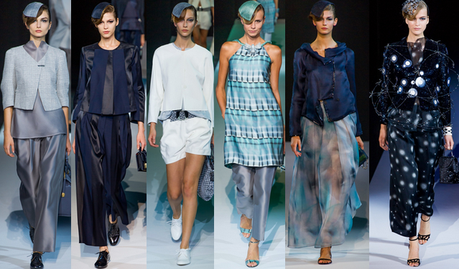 Giorgio Armani How beautiful is this collection? Made up of mainly dove grey, ice blue and navy, the Giorgio Armani Spring 2013 collection portrays a starry sky and just immediately has you wanting to buy something silky. The fabrics are just so luxurious and appealing: they make you want to reach out and see if they feel as good as they look. The injection of print with more subtle looks was done perfectly and didn't overpower those more toned down pieces. It seems that I'm having a little extra appreciation for the Giorgio Armani brand this Fall with this SS'13 collection as well as the launch of his new Maestro foundation in October. If you haven't already popped into your nearest Giorgio Armani concession to try it, you really must. I didn't believe the consultant when she told me that the foundation actually gets better as the day goes on - I mean, hello! I have an oily T-zone, it's never going to stay - but I now happily put my hands up and say that she was right. I didn't even see the need for powder or blotting sheets throughout the day. It really is a miracle foundation. Anyway, that's enough brand appreciation for one day!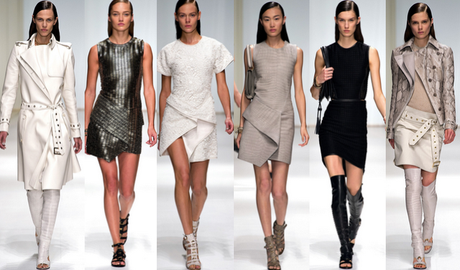 Salvatore Ferragamo

Salvatore Ferragamo clearly had one thing on his mind when he started designing his SS'13 collection - riding; Not classic equestrian though, oh no. It was edgy, updated and actually started to merge into some sort of Roman armour towards the end with the introduction of sequins and metallic fabrics. I loved the muted colours, subtle python print and those over-the-knee-high boots - oh my, weren't those screaming sex appeal? The quilted leather texture, belted dropped waists and A-symmetric folds on the dresses were seriously chic and definitely something that will be gracing the inside of my Spring 2013 wardrobe. I'm definitely more a laid back/casual-chic person when it comes to styling, so this collection is ranking highly on my Fashion Month favourites list. 

Day 6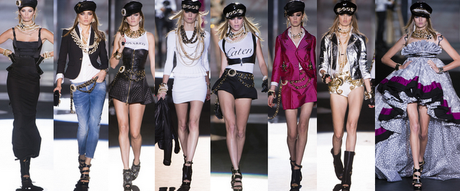 DSquared2 I have always had an appreciation for DSquared2: when I first discovered Fashion TV as a kid, this designer alongside Elie Saab were the first shows I laid eyes on and ever since I've just loved the collections that they produce. I think it's hilarious that they asked Jedward to hang out with them backstage before the show stating that "twins stick together", and it's maybe a reason why I like the design duo so much - they're just so fun. For Spring 2013, the designers channeled the 90's with super short skirts, lots of knicker shorts and even some denim and long length dresses to keep a hold of some dignity. Accessories played the largest role in the collection however, with one look consisting of a black bikini top and bottoms with about 10 necklaces and bracelets layered on top, finished off with a lacquered hat on top. It was crazy and of course totally unwearable unless you're attempting to become the next Jodie Marsh, however the embroidered knicker shorts would look great with some hosiery to keep everything in check. I've already witnessed a girl in Newcastle with her bum cheeks on show (during broad day light), I don't want to see that again - no matter how skinny you may be. It's only acceptable on the runway. My favorite look from the collection would have to be the quilted leather mini dress with t-shirt underneath. I'm just a sucker for quilted leather in general, so when it is combined with the gold accessories I'm all over it.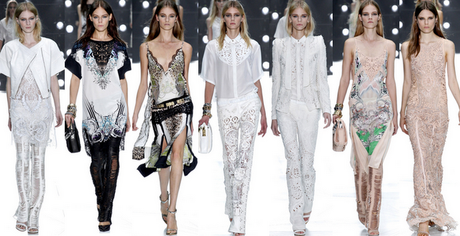 Roberto Cavalli Finally, we have the Roberto Cavalli collection. Much like the Just Cavalli collection shown on Friday, there was a new air about the fashion house. It was fresh, crisp and clean and sported some amazing prints and all-white ensembles. After seeing quite a few designers show large portions of their collection all in white, I'm starting to feel a little inspired to see what I can come up with myself. The shredded trousers in white, black and nude were an interesting concept and had a more punky feel to them: mixed in with the clean whites and amazing prints and you had a winning combination. The collection was over-all elegant, sophisticated and contained just the right amount of edginess to keep the collection from being too grown up or boring. Don't forget to let me know which style of reviews you prefer: whether it be daily, individual shows or a full weeks worth run together in the one post. This helps me give you the best content that I possibly can!

Photo Credit: www.vogue.co.uk - edited on Polyvore

<a href="http://www.blogpoll.com">Free Blog Poll</a>