Milan Fashion Week: Day 1


I feel a little more content with myself now that London Fashion Week has finished and Milan begun: I can finally start to take Fashion Week one day at a time and not worry about missing any shows due to moving or course inductions - 

Hallelujah

! 

Milan kicked off yesterday with shows from Gucci, Alberta Ferretti and today: Prada, Emporio Armani and more. I was going to combine days 1 & 2 together, however now that I have a little more time on my hands I may as well take it a day at a time and give you my favourites from each day. First up, yesterday's shows from Gucci & Alberta Ferretti.

Gucci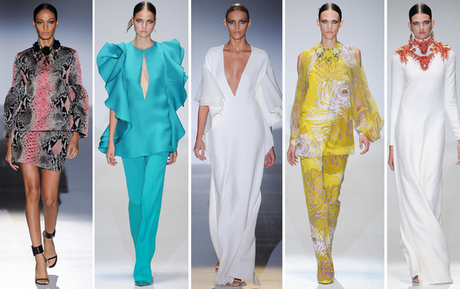 Gucci's SS'13 collection took inspiration from the 60's with fluted sleeves, tunic & trouser combo's and a color scheme which made you think you were in a candy shop - it really was good enough to eat. Shocking pink flowed into floral prints in white, coral and orange. Then came cobalt blues, sea greens and eventually the snake skin print in grey's, accented with pink. Canary yellows followed by Gucci's signature black and white looks finished the show. If the color and prints weren't enough to sell you on the collection, then the sexy and sultry hints of skin peaking through the thigh-high slits, backless pieces and key-hole slit down the front will have you begging for more. It's much more classy to show a hint of skin that the full sha-bang and boy does Gucci understand this. 
Alberta Ferretti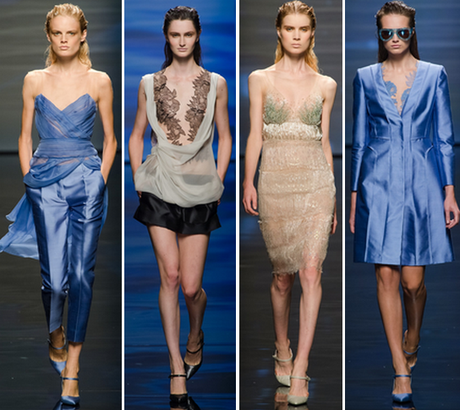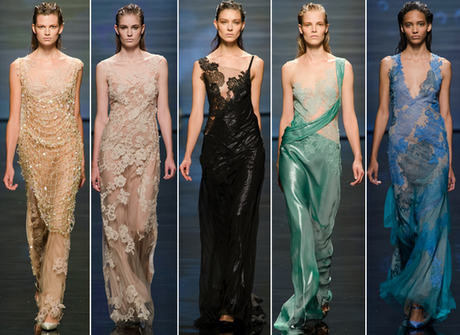 If Alberta Ferretti did one prominent thing with her SS'13 collection, it would be to guide us to channel our inner mermaid. For Spring 2013, the Italian designer took inspiration from the sea and gave us some of the most exquisite pieces yet. Satins and sheer lace just about covered the female body and created looks that would wow even the harshest of critics (Joan Rivers and E!'s Fashion Police mainly). One wouldn't normally consider some fish netting to be the most fashionable of fabrics, but add a little sparkle and drape it over sheer lace and you have a winner. My favorite piece? The slick black floor length gown shown above with cross body lace 

paneling

. Absolutely stunning. I can't wait to see which celebs will be sporting these looks on the red carpet in the near future!

Photo credit: www.vogue.co.uk - edited on Polyvore.