There is a popular saying in Tamil that, "உணவே மருந்து". Meaning the food we eat itself is a medicine. Rasam is the dish which is apt for the above saying. I remember my grandma making rasam almost all the days for lunch. I am fond of drinking the rasam, which my kid follows too:-)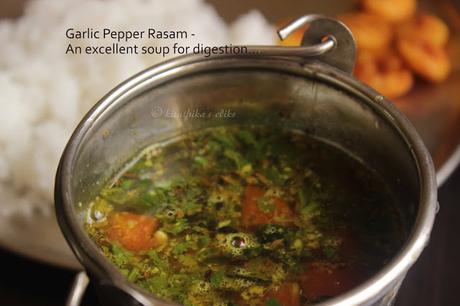 The Pepper, Cumin, Garlic, Tomato, Tamarind syrup, and the coriander leaves, will make wonders in ailing your digestion. Want to treat your cold and cough without seeking doctor, then having rasam for a week along with cooked rice will help you. This helps in relieving constipation and gastric problems also. The first baby food with rice will be mashed rasam rice in my native regions.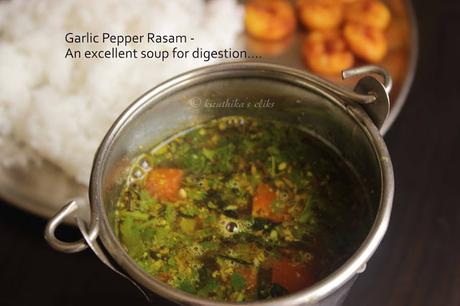 Prep time 5 mins
Cooking time
 15 mins
Ingredients
To boil
Small lemon sized

 Tamarind
1 number 
Tomato
1 tsp
 Turmeric Powder
1 tsp
 Asafoetida 
1- 2 glass of
Water
To grind coarsely
7-8 nos 
Garlic Peeled
1 tbsp
 Pepper
1 tbsp
 Cumin Seeds
1/2 tbsp
 Coriander Seeds (optional)
1-2 nos

 Green Chilies 
To Temper
1 tbsp 
Sesame Oil
1 tsp 
Mustard Seeds
1 sprig 
Curry Leaves
For Garnishing
2 tbsp 
Coriander leaves Chopped
1 tbsp 
Lemon Juice(optional)
As per needed 
Salt
Procedure:
1)In a heavy bottomed vessel, add chopped tomato, tamarind(or tamarind syrup), mash it with hands.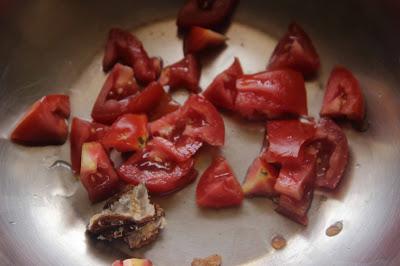 2) Then add water, turmeric powder and powdered asafoetida.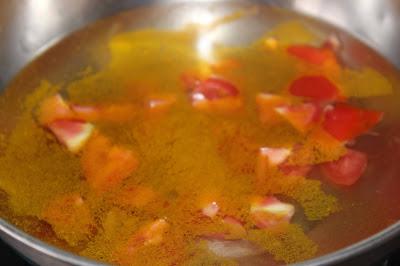 3) In mixer grinder, take all the ingredients to grind and grind coarsely.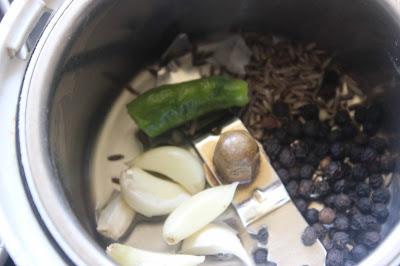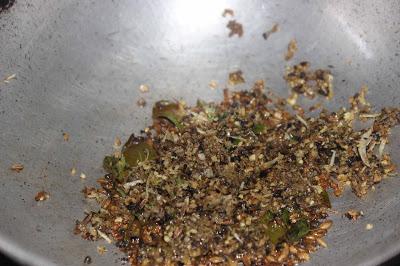 4) In a thick bottomed vessel, add gingelly oil, once hot add mustard seeds, once it cracks, add curry leaves and the coarsely grounded powder. Saute it till the raw smell goes off. Then add the boiled tomato and tamarind water.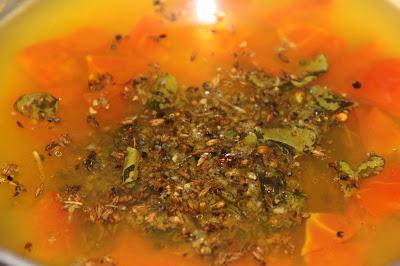 5) Don't allow it to boil, let it hot for few minutes, then switch off the flame and add coriander leaves and finally salt as per needed.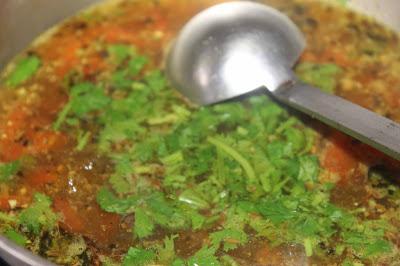 Hence the healthy, tasty, flavorful hot rasam is ready. Cooked rice along with some dal, fries, curries, anything, goes great. I like it with coconut thovaiyal.