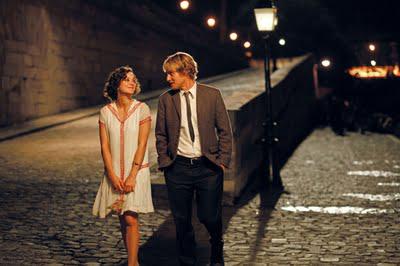 "Talk about a fulfilling movie. That's the kind of movie I could sit through again immediately" That's the sort of remarkable thing my husband sometimes says and what he said to my son and me as we exited our local rep cinema after watching Woody Allen's latest foray Midnight in Paris. Our west-end Toronto street-scape is more like the Wild West than the cobbled, curvy streets of Paris but we sauntered home, with romance in our eyes, expounding on the virtues of this great film.
We're on a bit of a Woody Allen bender at the moment; seeing Annie Hall on Friday and Manhattan on Saturday. My two men were expecting another witty, urbane rom-com and they got it. What they weren't expecting was a little time travel thrown in.
In Midnight in Paris, Owen Wilson plays a Hollywood screenwriter working on his first novel. He's totally besotted with Paris; its beauty and its foibles. Disenchanted with his life, he longs for the days of Hemingway and Fitzgerald. His fiance, exhibiting the best xenophobic American traits, and his soon-to-be-in-laws are in tow, soaking up the best Paris has to offer but putting the city and the French down at the drop of a chapeau.
Wilson's character, Gil Pender, distances himself from his betrothed, her family and their new know-it-all friends. At the stroke of midnight he magically finds the portal that takes him to his favourite time period: Paris in the 20s.
He's startled  to be hobnobbing with Hemingway, F. Scott Fitzgerald, Zelda, and Cole Porter. No explanations are given for the time warp and Gil doesn't seem to want any. He just wants to go back again, and soon.
Actor Corey Stoll plays an excellent Hemingway; "Who wants to fight?". Marion Cotillard is Gil's 1920s lovely love interest. In another hiccup in time, Adriana (Cotillard) and Gil find themselves face to face with Toulouse-Lautrec, Degas and Gauguin.
Rachel McAdams plays Inez, Gil's fiance. Michael Sheen (whom I saw arm-in arm with McAdams on Toronto's Bloor Street, yay!)  plays their pendantic friend. France's First Lady Carla Bruni has a cameo as a guide at the Rodin Museum.
When I saw Kathy Bates' name in the opening credits, I thought who could she be but Gertrude Stein. Check mark! The Surrealists had no problem at all with Gil's time travel. Adrien Brody's turn as Dali (Rhinoceros!) was so perfect I had to see it again. I told my husband I wanted to rent the film as soon as it came out.  "Rent it," he said, "I want to buy it." Could there be a better endorsement?