I am  a big fan of Woody Allen and I have been waiting for his latest film Midnight in Paris for ages. When Warner Bros contacted me about some of their recent movies including this film, I happily agreed to review it.
When the postman knocked the door early Saturday morning, he had a huge shiny red box including a Valentine's Pack for me and the next day arrived another packet for the children for half term fun. What a treat!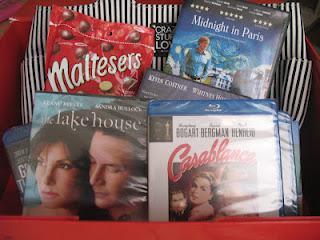 Valentine's Day, Crazy Stupid Love,Going The Distance,The Bodyguard, The Lake House and  Casablanca . It is the 70th anniversary of this classic film so a blu-ray version is out now.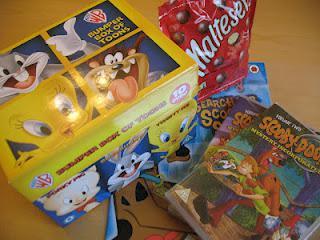 Kids' packet consists of a  bumper box of  Looney Tunes Big Faces Box Set: 10 DVDs including the classics Tom & Jerry, Tweety Pie, Bugs Bunny etc which will be great fun to watch again with Defne. And there is also  Scooby Doo Mystery Volume 1 and Volume 2.
On Saturday night, we watched Midnight in Paris. I shortly mentioned it on Sunday. A romantic comedy about  an engaged American couple who come to Paris for a holiday. The film opens with a marvelous Paris scenery and we have the privilege of watching Paris for about three minutes from Woody Allen's eyes. 

Gil,

 a self-confessed Hollywood "hack" of a screenwriter is on a trip to Paris with his fiance. Gil wants to stroll around Paris streets taking in the cultural environment of the city whereas Inez (Rachel Adams) is more into shopping. As it happens in Allen's movies, the couple finds out they are not on the same track. One night, after dinner Inez wants to go dancing whereas Gil, a little drunk wants to return to the hotel. On the way back, he gets lost and then a car pulls up and the guys in the car call him. Now, I don't want to be a spoiler so will not tell about the rest of it :)  If you like Woody Allen's style, I highly recommend it. Another great film from the genius!


Interview with Woody Allen about the film



Disclaimer: DVDs were sent to us for review purposes,all opinion my own.