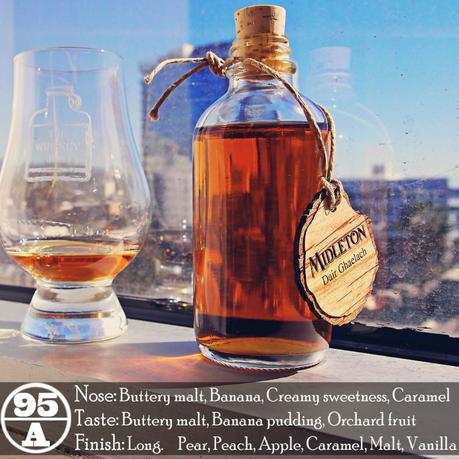 Midleton Dair Ghaelach (Dar Gaylock) takes its name from what it uses to finish this whiskey in – Irish Oak. That's right, no sherry, port, rum or any other kind of casks traditionally used for aging or finishing whiskey in; this is a completely unique and innovative whiskey. I'm not just talking about unique for the category, but for whiskey and spirits as a whole. The reason it's rare is because of the relative rarity of Irish Oak and for that we can thank the English.
Back in the 1500s the English all but deforested Ireland as a two pronged effort to oppress the Irish people. Deforestation deprived the Irish of resources needed to build shelters while simultaneously giving the English lumber to build warships and keep their Navy well armed and mobile. This devious tactic has made Irish oak fairly scarce on Ireland and is just one of the many reasons why the Irish, like the everyone else, source most of their barrels from Kentucky. The Midleton Dair Ghaelach, being the first whiskey to utilize Irish Oak, has made the first small step towards a 100% Irish Whiskey.
To create this whiskey they started with a careful selection of trees that Midelton's master cooper Ger Buckly turned into new Irish Oak Hogsheads. Then a section of Pure Pot Still whiskies all aged 15-22 years were selected, combined and re casked in these virgin Irish Oak casks and allowed to marry and mature for another year. After the year long finishing was completed a selection of casks were dumped, blended, bottled and the Midleton Dair Ghaelach was born.
Midleton Dair Ghaelach Info
Region: Cork, Ireland
Distiller: Midleton (Jameson)
Mashbill: 100% Irish Single Pot Still (malted & unmalted Barley)
Cask: ex-Bourbon, ex-Sherry & Virgin Irish Oak
Age: NAS (mix of 15-22 year old whiskey married & aged 1 year in Irish Oak)
ABV: 58.2%
Cask Strength | Non-Chill Filtered | Natural Color
Price: 270*
Midleton Dair Ghaelach Review
EYE
Ruddy amber
NOSE
Rich buttery single pot still malt rolls out with an accompaniment of banana, creamy sweetness, caramel and oak. Light notes of Baking spices, citrus peels, almonds, vanilla and an herbal character waft through as well; adding dimension and depth.
PALATE
Buttery single pot still malt, banana pudding, orchard fruit, caramel, oak, cinnamon and nutmeg first coat and then give way to lighter notes of vanilla beans, dark fruit, dried fruit and brown sugar. Tasty as can be.
FINISH
Long and complex with layers of pears, peaches, apples, caramel, malt, vanilla, banana and oak.
BALANCE, BODY & FEEL
Excellent balance, a rich round and full body with a heavy oily heavy feel.
OVERALL
Midleton Dair Ghaelach is awesome. It's just… wow. I had a hard time not drinking the entire sample in one sitting, I had to dig deep and find previously unknown reserves of self control to combat the desire to consume the entire thing in one go. It's as if I was being drawn to it. Animal magnetism, but with whiskey – whiskey magnetism.
The nose is like a gourmet banana cream pie drizzled with buttery caramel, the palate is dense and heavy – almost brooding – and the finish is just sublime. It's a complex and interesting whiskey that I think bourbon drinkers would enjoy, Irish Whiskey drinkers will love and scotch drinkers might like unless they're ultra sensitive to the amount of oak in their whisky. Which if that's you I'd recommend moving along, but if you're like me and enjoy a balanced dollop of oak in your whiskey then this could be right up your alley.
On a side note, Midleton Dair Ghaelach definitely deserved Whiskey of The Year over either of the whiskeys that placed above it. It's better than #2 and WAY better than what got the top honor.
SCORE: 95/100
*Disclosure: This sample of Midleton Dair Ghaelach was graciously sent to me by the company for the purposes of this review. The views, opinions, and tasting notes are 100% my own.