Monday, August 17, 2015 @ 10:30 am
Hi … I'm not sure if you remember me, but this is where we USED to post – haven't posted anywhere else just haven't posted here for a very long time – we're thinking just over 3 months – so basically, we've missed summer.  I almost forgot to write this weekend too, but I thought of Dr. Marvin for some reason, and he told us, we should try writing again.  I think one of the reasons we'd stopped writing was because of pain in our arms – particularly our elbows.  Since then we've had nearly 3 months of OT therapy for the tennis elbow.  Valerie our therapist is coming today and then Monday will be our last day, but we did have therapy twice a week and along with OT, we've had PT which has been harder, and we've also been under the care of a nurse.  This all started with seeing another doctor other than Dr. Albright at UIC.  Can't remember at the moment our new doctor's name, but we have seen him twice, and we like him.  He is Rich's doctor as well and I think we're seeing him again around mid-September.  We'll call and confirm before that.
I am thinking that my three support people are getting together this week and making a decision whether I continue therapy or not.  I'm thinking they are going to say not … they extended the first 8 weeks to another 8 weeks, but I think I'm about as far as I go without doing things more on my own.  I seem able to work while they are there, but I don't take the time when they are not here.  The PT also has been coming in twice a week and the nurse comes once – and this all happens Mondays, Wednesdays and Fridays, and then on Tuesday and Thursdays we have been seeing Dr. Marvin – for the most part – we are just getting out of his and our vacation scheduling. 
The problem is is that we are tired of being "in the ready circle" where we have to be committed to something every weekday.  I know that sounds terrible, because we've accomplished some things we don't want to lose.  We're better able to stand – where we've probably gained 2-3 minutes if not more.  I know we can do unloading, loading the dishwasher and cleaning up the rest of the counter in one shot.  It's not as painful at the end – we do tend to sweat it out though and we're keeping a drying rag with us that gets washed frequently.  I think that part – the sweating comes with being overweight with the effort needed to move us around.  Our face is pretty broken out and that part is a problem.
Rich wants to do the treadmill and he wants me to do it with him, but he keeps making excuses and I don't make it any easier.  When I do remind him, it's the wrong time, and if I don't remind him then he says I'm making it difficult for him.  Yeah a LOT of denial going on around this household. 
Dr. Marvin and I have talked about weight for the last 2-3 visits, but its at a pretty lame level.  I'm not jumping into it as I should.  I'm more like do you know it's 80 right now – HOT in the sunroom and it's going to get up to 86 or more today.  Yup there goes our enthusiasm.  We are ahead in that we showered last night so could just get dressed and do it, but yeeks!  That would mean doing it instead of saying it and HEY – weren't we here to be writing?  Hmm, and doing household.  I know usually we write and do household at the same time.  Let's add a BLAH to that right now too, Hmm?
The same old problems with household has got us stuck as before.  Usually the floors and the steaming are the last projects to be pushed through.  We got the e-broom and finding it more difficult because after we sweep, we have to go and clean out all the hair the thing has collected between me and the dog.  Rich has pretty short hair so is not being included here.  That's about as gross – cutting the hair from the brushes, especially knowing what we just cleaned up.  Ok, back to having to get over that too.  AND the floor needs a good scrubbing.  It's been missed most of the summer.  Rich just did one of the bathrooms over the weekend and he's been helping a little – like maybe 2-3 times over the summer in getting the carpet areas vacuumed while I was healing my elbow.  I'm having trouble with the vacuum too in that it is broke so that it doesn't stand up and we're doing more literal picking up of the handle and all that goes with that like the bag.
BUT, if we were going to do something that would be put back on the list too.
Hmm, what else has been going on?
Dakota is just normal.  He was a sandwich thief the other day – I just left my sandwich on the desk and the keyboard was out past that because I'd forgotten to take my medicine while we were up.  I got back and he was chomping down the sandwich backed away from where it had been.  Yeah, I'm thinking I DO know who my sandwich thief is!  He had no remorse and then went back under my desk for the piece of sandwich he missed.  By that time, we were like sure take it all, I don't want to clean up after you!
So that was a case of Dakota being bad – AND he's been just as sneaky going into the laundry room to eat the cat's dry food.  We've gone back to leaving up the gate – whereas, it has a smaller CAT-size door on the bottom but otherwise – it's waist high and fits the door frame so Dakota is on the OUTSIDE.  Cat Loves it.  Hehe
Nothing much has happened to the house.  Rich is doing pretty good between fishing, work and the rest of his life in taking care of the yard.  We're having Don mow it every Friday, but the rest of the yardwork has been done by Rich.  He does say that the flowers he planted are all for me to make me happy.  I especially see the little rose garden when I let out the dog.  I've had trouble though with going outside because Don then always comes over for long talks.  Dr. Marvin had given us a sheet of paper to back him away, but I only did it once, and then decided ummm, too hot outside.  Rich has taken us out there a couple of evenings when Don DIDN'T come over.  We've been appreciative of that and usually have a nice drink while were out there, but again I feel safer inside.
Pretty much since the start of the summer, at least about the time that I was backing off from writing and going through the therapy schedule, I've picked up a new hobby and Rich doesn't know the total, but we've spent $776.98.  We've offered to show him, and now that we're admitting to it out loud in our journal, I wouldn't be surprised if someone told him.  He knows it's over $500 though the first $250 was free as part of our birthday gifts or reward money from credit cards.  Maybe I'll include a list of what was purchased on our ongoing coloring list.  We have to add a few things, but the total of $776.98 is still good. 
I know, I know.  What in the world does people spend that much money for?  Maybe we'll clean that up right now ... hold on … ok, got THIS list updated, now we're going to skim down and see what we think – you might want to do the same.  I know people don't spend the same, but you can see a range of objects, PLUS a LOT of coloring books

L


Ok, skipping to the next paragraph, we decided to put the items not only alphabetical, but also to put the items by category
Coloring Utensils - $309.40
24.99 Best Gel Pens – 60 Pcs 31.00 Faber-castell Watercolor Pencils - 48 Pcs10.49 Faber-castell Oil Pastel Pencils - 50 Pcs19.20 Fiskars Gel Pen 48 Pcs97.50 Prismacolor Colored Pencils - 132 Pcs12.99 Prismacolor Verithin Colored Pencils - 24 Pcs7.01 Pro-Art Sketch/Draw Pencil Set – 18 Pcs9.59 Pro-Art Soft chalk Pastels – 48 Pcs12.96 Sharpie Brush-Tip Markers - 12 Pcs *5.37 Sharpie Chisel Point Assorted - 8 Pcs*35.97 Sharpie fine-point Limited Edition Markers – 28 Pcs36.90 Sharpie fine Point with Neon - 36 Pcs5.43 Sharpie Metallic Fine Point Markers Assorted colors – 6 Pcs *
Containers - $148.76
18.09 Global Canvas Pencil Case - Blue (for 48 pencils)18.09 Global Canvas Pencil Case - Red (for 48 pencils)18.09 Global Canvas Pencil Case - Beige (for 48 pencils)30.75 Global Art Canvas Pencil Case - Black (for 120 pencils)63.74 InterDesign Storage Organizer – 12 drawers for pens and markers
Coloring Books - $112.199.19 Balance Coloring Book10.76 Centered Coloring Book8.96 Dragons, Knots, Bots Coloring Book9.63 Enchanted Forest Coloring Book13.46 Enchanting English Garden Coloring Book8.01 Fantastic Cities Coloring Book11.59 Lost Ocean Coloring Book9.74 Secret Garden Coloring Book8.98 Splendid Cities Coloring Book12.88 The Art of Nature Coloring BookFree - The Coloring Cafe Coloring Book8.99 Wings and Things Coloring Book
Books and Magazines – Color Theory - $59.32
19.13 Colour 2nd edition (Book)*15.19 Color Choices:  Making Color Sense Out of Color Theory (Book)*25.00 Color-On Magazine – 12 Months
Assorted tools that support the coloring - $88.17
4.87 Art Alternative Stumps and Tortillions - 10 Pcs5.79 Avery Top Load Sheet Protector – 50 Pcs10.56 Gamsol Mineral Spirits Painting Kit5.74 Gesso Soft Wash Paint Brushes – 3 Pcs5.90 Krylon Workable Fixatif15.99 Neenah 110 lb. Index Card Stock - 250 pcs5.91 Prismacolor Blender - 2 Pcs2.80 Prismacolor Kneaded Rubber Eraser2.00 Prismacolor Magic Rub Eraser – 3 Pcs5.49 Prismacolor Premier Pencil Sharpener6.62 Prismacolor Scholar Pencil Eraser - 3 Pcs12.51 Royal Brush Set 12 Pcs3.99 Sanford Art Gum Eraser
Gifts - $59.14
8.99 Jillian's Sharpie Neon Fine Point Markers – 12 Pcs20.99 Jillian's Sharpie Ultra Fine Electro Pop Markers – 24 Pcs10.49 Mom's Accu-gel Highlighters for Bible– 6 Pcs18.67 Mom's Sakura Pigma Micron Colors for Bible – 8 Pcs
$776.98 Bottom Line *
WOW!  Ok, we're back sort of … we've been going over the list.  We cleaned it up a bit and made sure everything was on it.  It was a pretty good list to begin with just added some new things * not included.  We left the asterisk, because we have to update the inventory pages.  Later … just want to get back to writing.  We also stopped to have medicine and eat lunch.  It's now about 12:11 pm and no housework has been done, but we're happy that we're writing again.  It still takes a while to do.  We sometimes speak what we're writing and we know that it takes longer than normal conversation.  Fortunately, we're a PRETTY fast typist.
 We're back again.  We were doing a few things that had to get done SERIOUSLY today.  Basically, we had to straighten up the house (a bit), get dressed, then we got our newest book on coloring in the mail, and then we read or skimmed the pictures for about 45 minutes and then Doda, the PT person came.  We did our exercises – abbreviated, and then we walked 6 lengths of the house.  Soooo, we are doing better there – six is the highest number of times we've tried.  SO that was good, although our whole lower back was numb from pain.  Oh well, that's why we're doing this, right – to get better control of our body.  No complaining there.
We talked to Dakota and took care of his needs before sitting down and now Missy is up to get at the fresh water.  It's a hot one out there.  The accu-weather station says that it feels like 87 degrees.  I guess that's how that goes.  I don't know where Rich is at with his day.  He had a full agenda.  I know that at 2 (the time it is right now) he was supposed to be at his mother's to talk to the new support people.
That was something going on around the last time we wrote too.  She had a couple episodes where she had to be hospitalized because her breathing was so low.  After the first time she'd been given oxygen, but chose smoking over the other and she can't do both at the same time obviously for safety reasons.  After the second hospitalization the doctor told Rich if she hadn't come in, she would have been dead by that night.  SOOO, after that stay she went to the nursing and stayed there just short of 3 months.  She came home on Saturday, but the new rule is no smoking in the house, or anywhere for that matter, but that is where she is at most often. 
She's already set out to cause problems with that after not smoking for 3 months.  She is going to be in the same setting as before, so she's got to do it in her mind with now not smoking, but she is the type that is going to bother and nag EVERYone she meets for as long as she can.  It is going to be a struggle and the care both her and Bud need are going to press all edges.  She is supposed to get more help at home – 7 days a week, so that should help, but there will be times in-between where Rich is going to be called at 2 am, because she wants a smoke.  That we just have to adjust to.
So that is that.
I'm thinking we're going to catch a few facebook things to see what we've done over the last three months.  Maybe we can do some pictures, too, hmm?
May 4 – Lady and Max were here for the week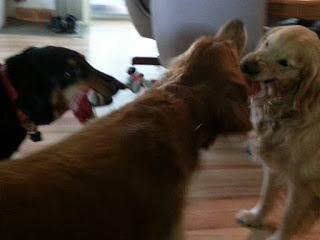 5-9-15 Dakota was very sad when his cousins left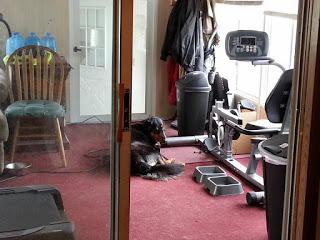 5-10-15 was Mother's Day – don't remember anything about the day and thinking it was a quiet one. Though we did put together a collage that reminded us of having kids hehe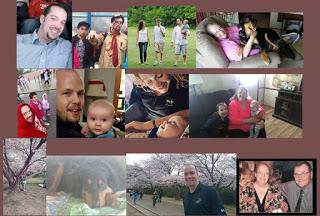 5-21-15 Celebrated Rich and Dakota and our own home life by making out of the garden rhubarb pie and we were spending time outside on the patio.  We had problems though in that Don was pushing me by being here every time we went out.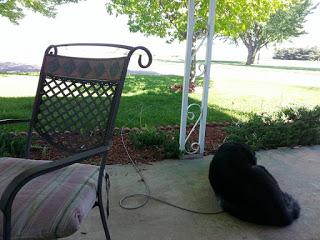 5-26-15 – I think Rich was still celebrating mother's day, because he gave me permission to spend some clothes money at Catherine's which was especially nice because we got a coupon for $100 for $200 spending – so in a sense $200 clothes for $100

J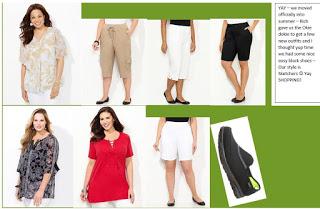 5-31-15 The next nice thing is that Jillian – Rich's daughter, her husband and stepson came for a visit and in doing so Rich got to go to Cubs Park with them and they were reported to have had a good day.  They stayed over here one or two nights, I don't recall.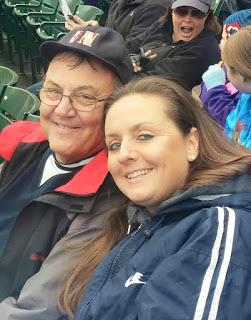 We couldn't manage the park with our lack of walking/standing ability, but we were in a good position to watch their two dogs – this one is Starlet the older dog making herself comfortable in the sunroom – she really liked the windows

J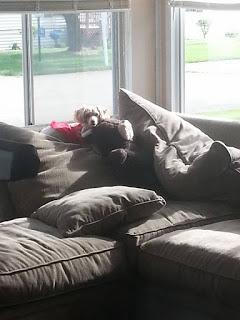 This one is of Wrigley – in honesty she never had a problem with the sunroom either … the dogs loved the fluffy cushions AND windows!  Ok, maybe they were also waiting for their family to come home.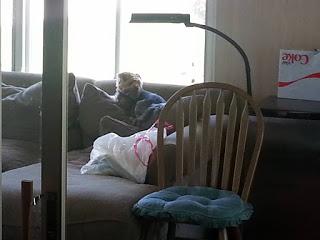 6-10-15 Ame Graduated 8th grade YAY!!!!  And btw yesterday the 16th of August she started her first day of high school double YAY!  Not sure what color her hair is now, but on that day it was blue!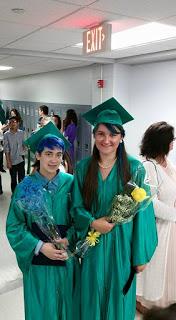 6-11-15 Maury and the girls AND the dogs came out again about this time so that we could celebrate Ame's graduation and because we would be dog sitting again.  The dogs get along very well, but have to share the same bone.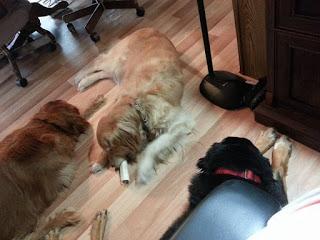 6-11-15 2 Got a glimpse of Alex and started working toward them coming out to visit.  I think we were working toward July 5th.  Alex gets cuter by the day!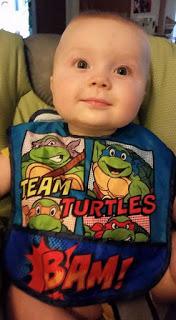 6-13-15 We caught a picture of Austin and his step-father Mike out mowing the lawn … definitely summer over there, but we were never able to reach an agreement on dates to be over.
Austin said maybe after he gets settled in school.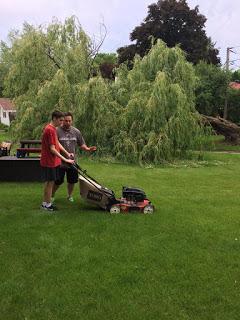 6-14-15 I believe the week before we'd been to quilting with the girls and we started working on the pomegranate squares, but we didn't get very far … maybe only 4 were done, before company came and we put our sewing away.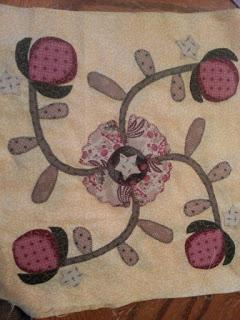 6-21-15 Happy Father's Day came without too much ado – everyone was doing their own thing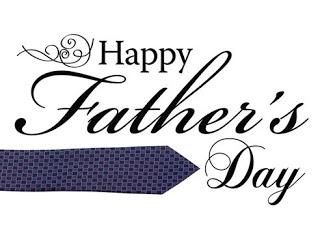 6-27-15 Somewhere around here … things took a real turn.  This is where and when the coloring started to happen.  I know I had gotten for my mother's mother's day a special Bible to write in – so she could communicate to me some of her thoughts.  In the process we got some special Bible gel pens and highlighters.  That was really the start of it.  Oh I'm remembering now too.  Mellissa Killen one of our FB friends had shown a picture of a REALLY neat coloring book from Johanna Basford called, "Secret Garden."  She had stated about wanting it and then being us, we wanted it too, but it took a LONG time to be off back-order.  In the meantime we got this other Garden book and some markers, and we went to town.  We even went back outside.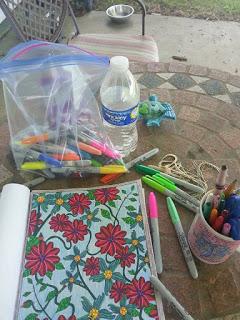 Yup us and our buddy!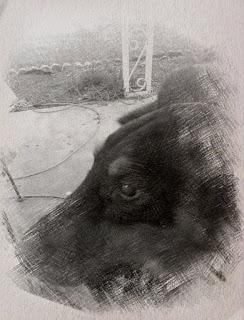 6-27-15 We were figuring that Dakota wasn't getting enough stimulation so we bought a brain toy for him.  He had to remove the cups to get to the treats.  Unfortunately, he conquered this within 2-3 days and we haven't done much with it since.  BUT, it was fun!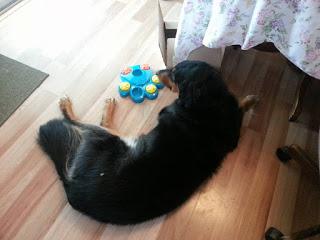 Hmm, 2:52 pm and we're getting a LOT of thunder from what seems like the SE – it's dark over there too, but so far no rain – you remain on hold there!
7-1-15 ok … here we are just acknowledging that the Garvey grandkids are SWEET!  This is my son Joe with his son Alex

J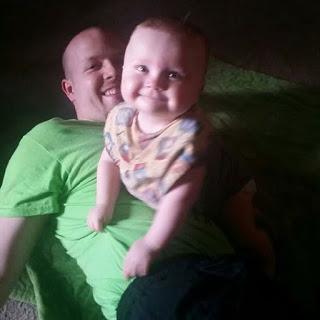 7-4-15  We had Maury's dogs through the 4th of July – these dogs have seriously bonded!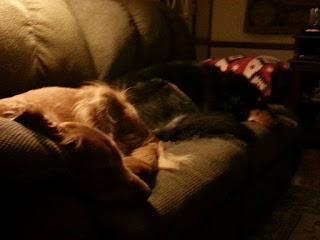 7-5-15 – Maury AND Cari AND Joe AND Alex AND the dogs – were all here for … well just to be here – we were seeing Alex in REAL 3D AND Maury was picking up his dogs.  Alex ate dinner at the table and it was pretty snazzy!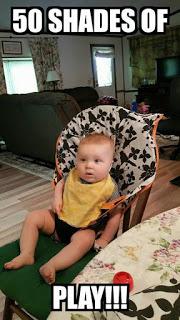 What was really amazing is how well the dogs did with the baby – I think he was about 8 months then.  The KING of dogs?  Turns out to be Max.  He cuddled that lucky kid as much as possible and made sure he didn't get into trouble!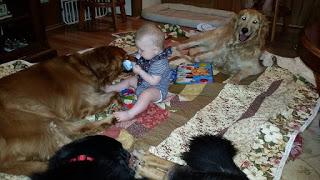 7-8-15 – ok, don't really know how this next part happened, but it was pretty darn quick!  Thinking it's coming up to Ann's Birthday – and 3 out of 4 weekends Rich was fishing … EXCEPT the weekend we went to see my mother in MN, well I went to my doctor's appointment on Tuesday and that night about 10 pm I came home with a new car.  No not much else thought of in-between.  Rich was naturally upset and had called local and state police because we're regularly not out that late, and we weren't going to call him because we didn't want him to stop the processes that were unfolding.
The bottom line was that Rich was very much ok, by the next day, we got to keep the car and it's a beauty.  It's another Honda Civic, but it is the 2015 model with all the bells and whistles, including leather seats, computer, special side mirrors AND heated seating YAY!  This is Ann's new ride!



Looking forward to the August 29th trip to WI with the girls.  We figure its dark gray and mature, but here we are only acting the part. Maybe not so reserved.
Ah and THAT reminded us to reserve our room!  We called New Berlin in WI, but Carol was on vacation.  We had to make reservations with the desk and they have to confirm with Carol on the price.  Just have to wait all that out and hope for the best.  Moving on …
7-9-15 we had mentioned this coloring thing?  Well from then on we stay very close to it.  First all our drawings were markers and Rich kept fishing and fishing and we kept on ordering – well you've seen our total, but first were different coloring tools, then coloring books, then stuff to put it in, and then stuff to help us work on it.  We have seen a LOT of videos and now have a few color theory books.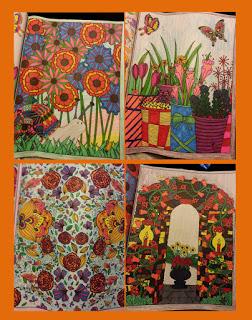 7-12-15 By this time we are listening to a LOT of different women and even a few men in Facebook Groups for coloring … I think I'm in about 15 groups right now although there are a few really popular ones that hold about 7,000-10,000 people.  There is a lot of activity and posting and good advice, well actually most don't post, but most likely for various reasons like they aren't sure of the quality of their work.  I'm obviously not one of those.  Along with listening – well, that's when you start getting more stuff especially in the medium and coloring books.  Lot of subjective opinion, and you always want the most, best and top-rated stuff.  I might have over-concerned ourselves here.  We did bring Dakota to the dog park a couple of times, but once there was one dog and the other time no dogs.  I'm figuring we just got a bad set of times, but Dakota did like it – just that he wasn't coming immediately so that unnerved us a bit and we have to get our confidence back up.  On the side he's gotten a couple of summer haircuts at the groomer's and has been keeping up with all his vet needs including for a while he had an ear infection.  That all seems good and he's up-to-date on all his shots, vaccinations – including the one for flue going around Chicago Parks, and he's up to date with his flea and tick.
7-16-15 about this time Rich and the boys and their families played a little trick on me.  Rich was going to take me out a few days early for our birthday because he was going to be fishing on the day, but he didn't tell me my whole family was involved – all except Austin and Thom, but the group was together and included the boys' friend Alex.  I mostly had a good time, but was a little crabby the boys kept up a separate conversation throughout dinner and they had chosen a place, I don't do so well with and this time they put fish in my sweet and sour pork … we didn't want to cause problems, but having Joe, Alex and Maury – in a separate world was hard to handle.  Ame stuck with that conversation.  The good part was talking to Cari and watching her with Alex and Isa.  Rich never talks a lot at these kinds of events, but we were proud of him being there and he covered the expense.  He didn't have to do that, but we were proud of him anyway.  It was nice for everyone to be there – that part was still good.  And, Ame was interested in sharing our birthday dessert with Isa and me – so felt a little camaraderie there YAY!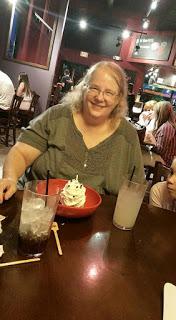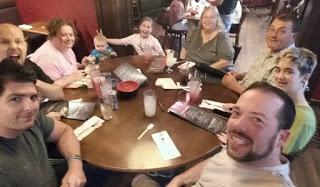 Birthday continue on though even after our official dinner.  One of the nice things was that over a 100 people stopped by our facebook to acknowledge our special day – which for the most part turned into a birthday month.  YAY JULY!!!  It was this kind of sparkle!  And we got to talk to some special people on the phone.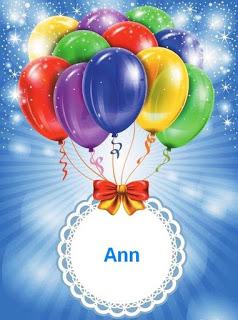 The birthday dinner was on a Thursday and Rich left Friday for fishing – not to return until Sunday.  One of the birthday surprises was that Joe and Cari got us a gift certificate to Amazon – I'd like to blame them for this spending spree, but they are the last to do something like that.  They just cleared in savings 3-6 months in case something happened, and they are now starting to save for their first house.  YAY – they are very reasonable with their money … Us?  Maybe not so much.  The next surprise was that my mother sent us a gift check which was by this time we figured ALSO going to be spent at Amazon – everything was going toward coloring.  AND THEN, one MORE surprise.  When we went to check out with the first gifts, we found that we had a credit on one of our credit cards that gave us $132 free spending OMG – AND the MAN was OUT of TOWN!  Lordy did we have a shopping spree.  We only spent about $13 of our own money, but the gifts were soooo much fun and appreciated.  This is the majority of gifts that came in by Monday two days after our birthday – we were in 7th heaven!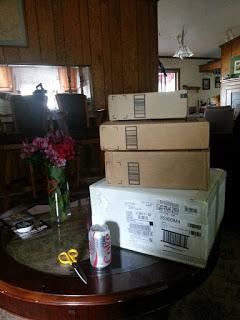 This is the majority of what we got – the big items were gel pens, my special 132 count Prismacolor Pencils and the boxes for storing the pens and markers – Isn't this just a blessing!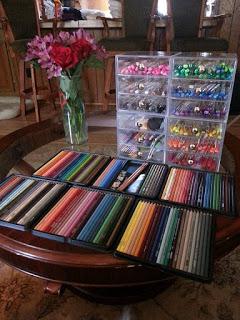 The next thing that happened though it was too overwhelming with all the other things going on, but T one of our artist friends we've been connected to through blogging and Facebook offered to help me with some drawing lessons.  She established that we should draw three of the cherries that were in our fridge and that she would give us some lessons on drawing.  She's an artist that has specialized down in Florida painting huge murals on the side of big buildings.  I was sooo proud and happy she'd do that for us, but then we went next to my mother's and by then everything was happening too fast.  I hope she's going to give us a raincheck.  Learning drawing AND coloring is a lot, but we want to do it all!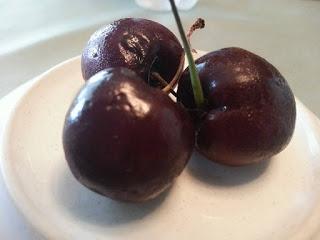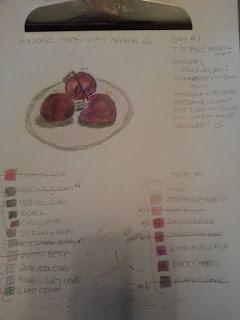 T was especially careful to tell us not to get frustrated, and we did realize that it wasn't like we'd turned automatically talented, but it was overwhelming.  We had gotten a few new coloring books and a means to come up with color using our Jinny Beyer colored fabric fan – oh man those pencils were so inviting.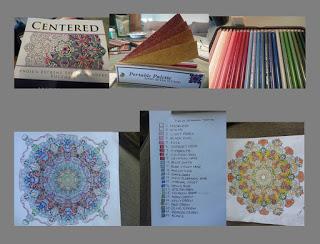 There was a little success and failure here, but nothing really outside the scope of just starting a long journey in learning about coloring.  I did like the Jinny Beyer technique (usually used with quilting), but we were using way too many colors and we had to look for things that joined in the Angie Grace coloring books – both "Balance" and "Centered."  She has a certain style and you have to look at a lot of pictures until you start seeing things that will work or not work.  We're a little disjointed with her now, because she said something about cleaning up her site where people like me were posting and she erased all the people's pictures and just left her pictures of her colored designs.  That was off-putting, but we'll get back to her.  We've saved a lot of pictures of the last one done by different colorists.  I'll go over it more carefully before we return to her book. 
7-22-15 This is Dakota by the way looking GORGOUS after his last grooming.  We got his hair cut on Wednesday and we left Friday morning for my mother's up in Northern Minnesota.  It was just under a 10 hour trip.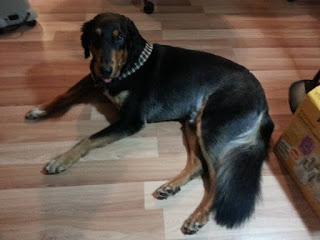 Before that though?  We got a call from son #2 after a LONG while of not hearing from him.  He was really excited about his new position.  He had gotten the job that was left by the guy ahead of him.  Thom is REALLY young to be getting the position and I think GS13 category is like a Lieutenant Kernel.  One way or another he has his work ahead of him.  He deals a lot with security – ok, I'll be the mother – he's practically running the airbase!  Ok, maybe not, but he's doing a hell of a job and it seems that he and Cathy are doing very well – though he's less likely to talk about that. Newlyweds!  *sigh*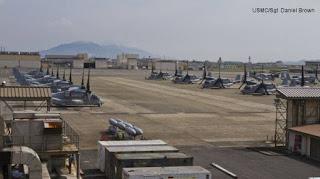 7-28-15 The next part we foreshadowed was going up to MN.  The first and most important thing was that my mother seemed to have a very good time with us up there and she had a strong bond develop between her and Dakota.  That was a great thing.  Dakota had a pretty good time, but again as shown in the first picture when we got packed he packed himself so as not to be forgotten!  We had a pretty busy time, but not too much.  We got up Friday around dinner time and she'd arranged to have brought over the hamburger and fixings dinner they were making at a charity event.  That turned out to be fine.  She'd asked us about an hour out of town if we wanted to go to it and it was like NOOO – didn't want to do that.  She seemed to handle it and made the secondary arrangements.  I brought my box of markers and pens, plus the extra box of pencils and in-between everything we spent time making the circles we colored for each of the colors so we could tell what we were getting when we looked in the container.  The pencils didn't work too well, but the others are doing fine.  Saturday after breakfast – toast and curd cheese we'd had from going through WI.  It was decided that we should take Rich to Itasca state park 1 ½ hours away so he could walk across the headwaters of the Mississippi.  That was only a so-so deal.  The ride was fine, but we ran into a lot of people and dogs and Dakota didn't do so well behaving.  That upset us and we were crabby – mostly thought because we remembered too late we'd skipped two medication periods.  When everything is askew.  We rebalanced and then apologized.  Rich was pushing ice cream, because they didn't sell much more and we were skipping lunch, but we were argumentative because we were grouchy and ice cream had been taking a toll on our stomach.  We got through everything, but it was better after eating real food.  We watched Canadian TV – Northern American Panama Games – so that was relaxing.  The next day we went to church and then out for breakfast.  Rich made ham while we were up there and then the next day he made grilled ham and cheese sandwiches.  I forgot what else the last night, but on Monday we stopped at a craft store, but mostly it was things other people had made – so we only spent $15 on a cute sign.  It's wood and painted and says, "This is the life."  We put it over the wooden bear coming into our house.  Hehe
Most the time we were there my Mother talked – she talks a lot.  A really lot.  BUT, we were doing something easy with our hands and stayed pretty calm about things.  On Sunday night when we were eating Lord knows what?  Hehehe well after dinner, Rich and us had gotten for her a towel set for both bathrooms.  She had very old towels that were more like hand towels to Rich and us.  I think she liked her gift very nicely – we had also given her some Bible gel pens and highlighters as they had come up in conversation and I'd already had them.  AND THEN!  We guessed right in that carrot cake was her favorite so all in all it was very nice.  AND again Dakota did everything else fine and he was using her yard without a leash nicely (without fence).  Mostly he was real easy to pet going from Rich, to our mother and back so he was a good icebreaker.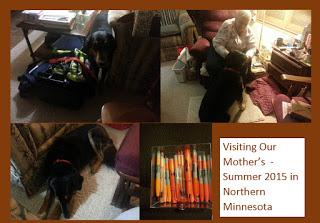 Pswhoo!  That was a lot.  It really is a big deal – it's our one for sure vacation a year.  Though I think we're going to visit Jillian's again in NM this fall and I think Rich wants to see his aunt and uncle again next spring.  It be nice to go somewhere on our own too, but have to admit, we like seeing these people and if given a choice I'd still see family.  Mostly they are long weekend trips.
7-31-15 By the last of July we were fully invested in Amazon and were checking out things through video and groups to be doing things like trying to curve the edges in our pictures.  We're drawing a blank as to what that's called again … two terms – just way out on other trains of thought.  Rich has been on the phone discussing things with his younger son and now that he's off the phone, he's got the TV on so it's a lot of noise in the background and we're not relaxed.  It's about 5 pm now when the OT should be here, but she usually calls first so she's obviously going to be late which means dinner is late too … just growled at Rich because he's eating popcorn which feels like to me then dinner is going to be very late if he's not hungry.  I know we're really waiting on OT, but the phone call was the Holiday Inn in New Berlin saying we've got our price for the room – not this next weekend, but the next for our quilting event.  We'll have to figure, if we're going to be able to get back to quilting, or if we're going to just bring the coloring.  It's a long day, but we're looking forward.  These are a few pictures that were happening then.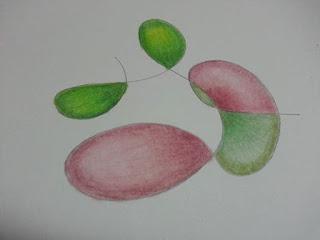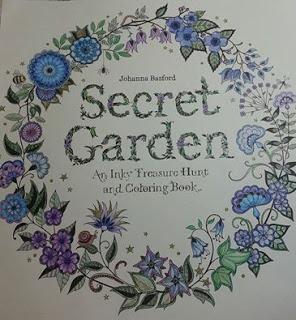 8-2-15 The next exciting thing was that we celebrated National Coloring Book Day.  We got really gutsy and signed on to go to a library about 1 ½ hours from here – a BIG one – to sit down and color with other people all around the Chicagoland area.  There were 26 meetings like this throughout the United States.  The Chicago meeting was third biggest behind San Francisco and New York.  I was really proud of us and got some nice coloring done, but most people knew us because of Dakota – a couple people stopped and asked to take his picture *sigh* he is a very beautiful dog *whimpering*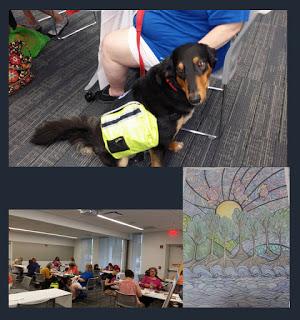 8-16-15 This hummingbird was the next picture done.  Again we're working on the 3D part.  It takes some getting used to and knowing which colors to use and how to place it … Just because we can see the really beautiful ones, doesn't mean we can do it yet.  Some people can do it naturally, or had better time coloring growing up, and then there are us others who just have to work on it.  Hmm, there was a series of pictures that were done – maybe we'll collage some of them too.  Hold on
Ok, maybe TWO Pages of collages.  We just got a call from the OT saying she would be here in about 15-20 minutes.  Then that will be pretty much it.   Just a few moments left … think she'll be coming here directly and it should be pretty soon.  Rich was in the kitchen and cooked dinner so that we could eat after Valerie the OT person leaves.  I'm a bit sad though in that I think this is her second to last time here.  PT said today that there would be next week and then we would do once a week for the next 8 weeks and I'm not sure about the nurse.  Maybe we said this before.  I have to admit house is smelling pretty good – leftover meat – pork from last night that was real good – mixed with rice, BBQ sauce and other.  We also went to the bathroom, took Dakota out, fed him, and got our personal self-ready. 
I have to admit by adding all the pictures this blog entry came out pretty long.  I think I can just Control A and collect all the pictures we put in a separate file – and we ordered them by date and number so that they fall onto the page all at once, and then we're going to have to go back and in-between all the pictures the comments we've been writing.  Now as we look at the page count – have to apologize because we're up to page 50.  YIKES – Mostly though it's pictures.  It has been good for me/us to get the time done – we'll skim over it ourselves and try to figure out in a quicker analysis of what's happened.  Mostly though I think we're between having the trained support staff here and doing all the work involved in that – and being conscious of our house, along with getting the $776 or whatever in art supplies and all the coloring that's happened. 
I'd like to think there were an abundance of other activities – mostly family, but they are never enough.  I did decide that because we've not been contacted by anyone in our family for about a month that I didn't want the task of babysitting one of their sets of dogs next month while he saw his father's family again.  We're still complaining about that, having the conversation stolen from our birthday dinner and only being contacted if needs a favor.  AND, when they are here, they are all on the phones connected even when sitting lounging – just holding and then interrupting contact to talk to their friends – the people they like spending time at.  And, then when one did talk to me he "scoffed" at the idea of me spending time coloring … like where else should my time be spent, family?
I can't say I'm happy about complaining out loud.  I think it's because my dinner will be an hour and a half late – though those other things are true.  I guess when we came to a summary though of this three months – that part happened too and it has something to do with the amount of time we're doing trying to isolate ourselves.  I don't know how to feel about the therapies closing down.  They made decisions without including our opinion of whether we would like them to stay or go.  I think the doctor will be satisfied for the mid-September appointment – though we're between appreciating their care and wishing we could have our time back – to be doing the opposite of what is good for us – like time dressing and cleaning house for company.  *sigh* Anyway I believe she's here because we heard a car door as did Dakota and he is up at the door.  I think this is one that comes in on her own and then is waved in.   Lot's going on, and then not much.